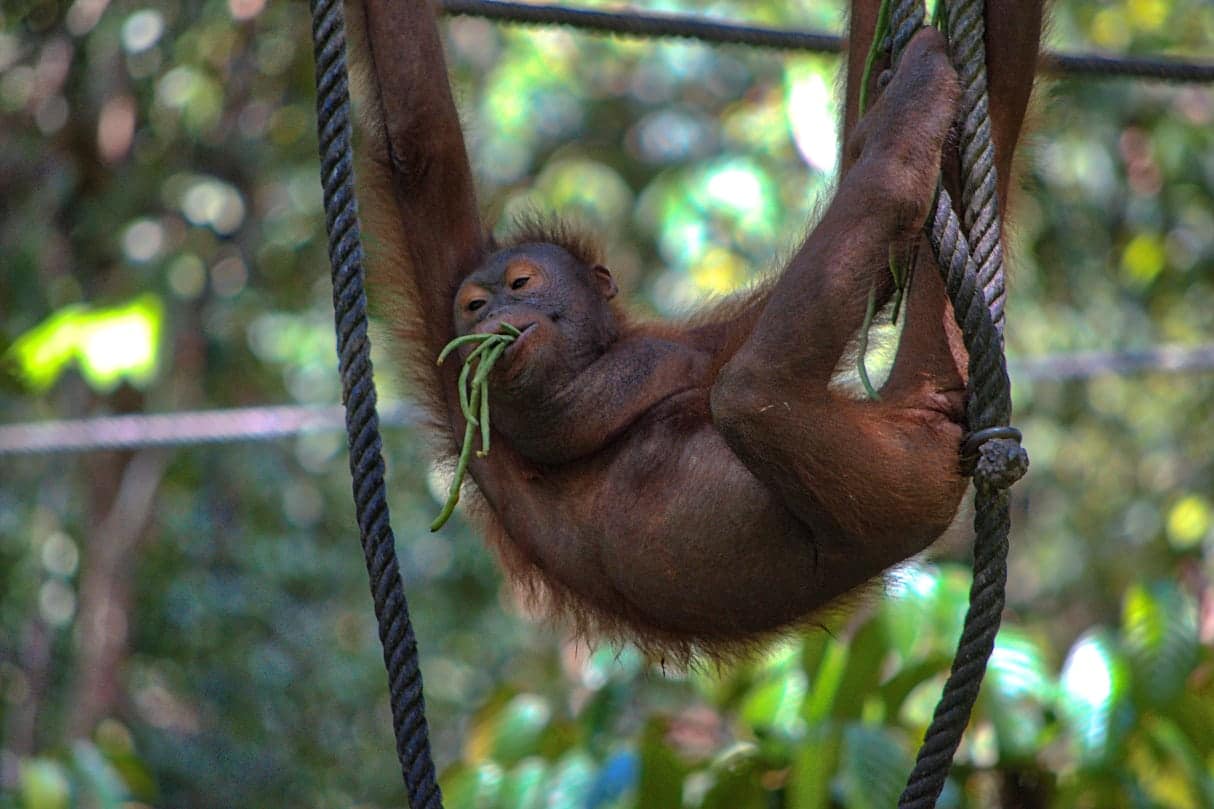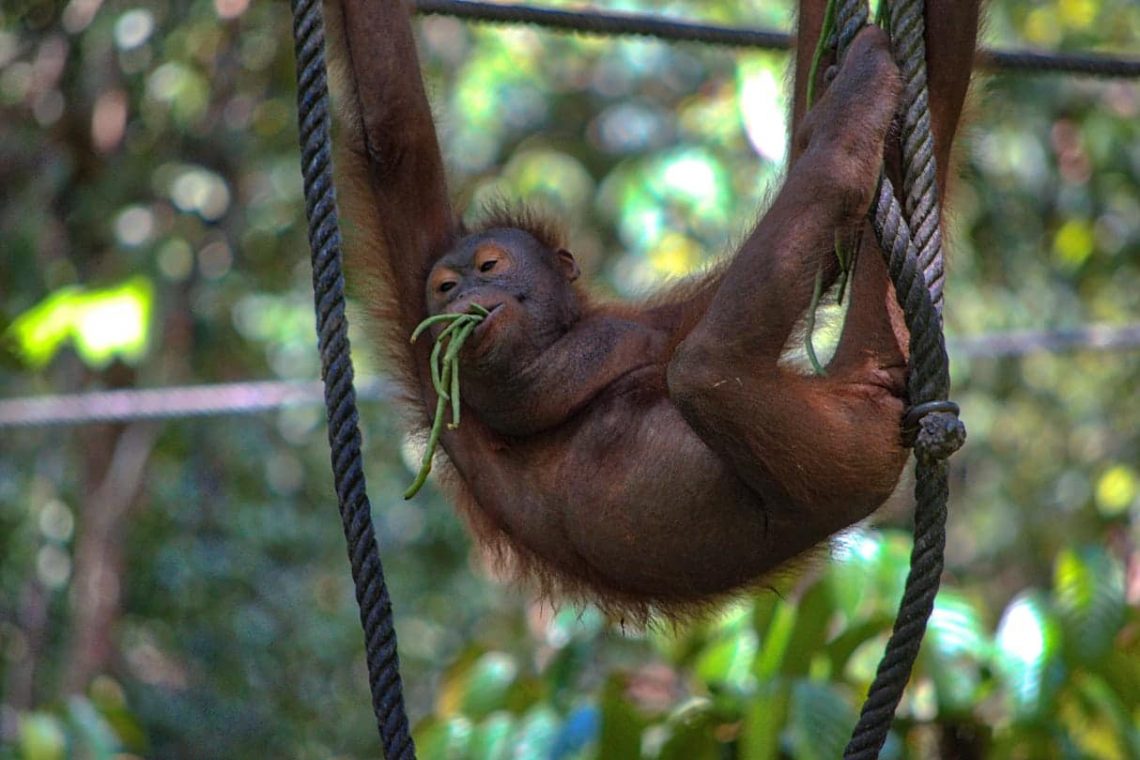 Men of the Forest: the primates of Borneo
I'm staring out the window of a 737 as we clear the coast of Borneo. Down below me is a sea of palm trees, one of the many palm oil plantations which have taken over the island in recent years, causing untold damage to the ecosystem. But from up here they are a beautiful sight, extending in pleasingly uniform rows across the landscape.
To be honest, I'm still a bit shellshocked to be here at all. It wasn't part of the plan; having just come to the end of a fortnight's tour around Indonesia, I had intended to make a three-day stopover in Kuala Lumpur on the way home. I love adding these city breaks to long haul trips. There is something incredibly frustrating about passing through a city without actually experiencing it, about being geographically in the same spot on the planet but seeing nothing more than an international airport. So I had a few days of exploring planned out.
But a few days earlier, on a boat around the Komodo Islands, my left calf muscle decided it had other plans, and tore for no reason whatsoever. Have you ever had the feeling that someone has kicked you in the leg, but there's no-one there? Apparently it is a classic sign of a torn muscle; either way, through no fault of my own I suddenly couldn't walk without extreme pain, and a city break was clearly out of the question, certainly if I wanted to do it properly.
In Bali, sitting poolside on my birthday with a strapped leg and feeling sorry for myself, I decided I needed to rethink. And so I ended up revisiting an earlier daydream: to go and see the orangutans of Borneo.
And so it was that, two days later, I had jumped (ok, hopped) onto a plane from Kuala Lumpur to Sandakan.
I don't know what I was expecting – I hadn't really had long enough to think about it. I knew I was still in Malaysia – the magical word "Sabah" was stamped next to the Malaysian entry stamp I'd received arriving in KL the night before – but I think I was expecting a village of mud huts instead of the modern town I found. Still, the airport was tiny and my taxi quickly headed out of the city, taking me and a 20-something volunteer called Flo (who had cadged a lift at the taxi rank) to our final destination: Sepilok Orangutan Rehabilitation Centre.
If you are visiting the centre, there are really only a couple of options for accommodation, and since everything was cheap by European standards I treated myself to three nights the Sepilok Nature Resort, the nicest hotel in the area. Well, I mean, I had a sore leg and I booked it on my birthday. But for £45 a night it was spectacular: individual bungalows around a huge lagoon, with a great restaurant and bar prices that, whilst they were much higher than Indonesia where I had just come from, were certainly low enough to justify the odd cocktail of an evening.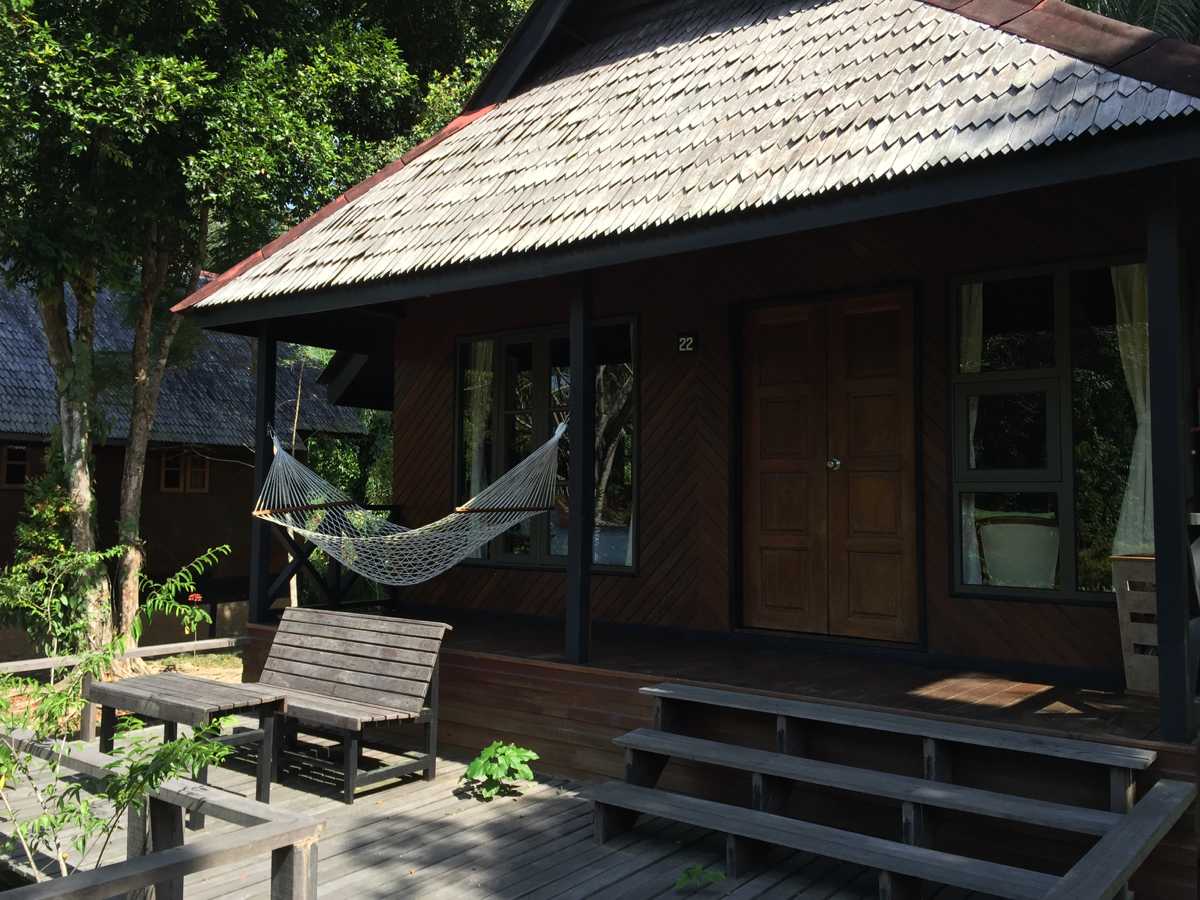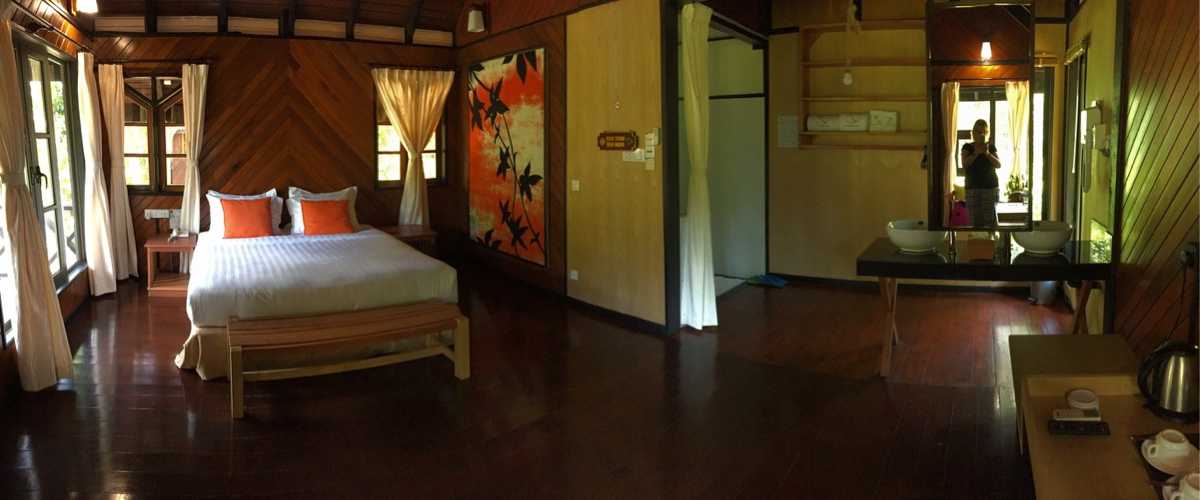 Arriving in early afternoon, I set straight out into the sticky tropical heat. Apart from the orangutans, there are two main draws in the Sepilok area. One is sun bears, based in a sanctuary close by, and the other is proboscis monkeys. So it was that I set off in a minibus for the half-hour drive to the Labuk Bay Proboscis Monkey Sanctuary.
Well, I might have fallen in love a bit. Proboscis monkeys are only found on Borneo, and are the oddest looking creatures. They look something like alcoholic old men, with their huge red noses, but the ones at the sanctuary, habituated to humans and aware that the "no touching" rule keeps them safe, are curious and happy to come close and stare at you for as long as you stare at them. They are free to come and go from the sanctuary – there is no fence – but, with a source of free food twice a day, they're not that stupid. I spent a wonderful hour gazing at them and taking photos from every conceivable angle.
(Disclaimer: I know I have moaned about monkeys in a previous post. This does not extend to the proboscis variety. It's my rule and I can change it if I want to).
I mean, seriously… (By the way, I think the one on the right is staring at my bandaged leg. Either that or he really hates purple).
The next morning, however, was the big one: ORANGUTAN TIME. There are only two places in the world where these beautiful primates can be seen in the wild: the island of Sumatra in Indonesia, and here on Borneo. The sanctuary at Sepilok is large and, like Labuk Bay, open to the surrounding jungle. If you've watched documentaries about the centre (Paul O'Grady's Animal Orphans being the most recent), you'll know they take care of anything from very small babies, raising them to adulthood and independence. The smallest babies are kept behind closed doors, but the public are able to view the older children and teenagers as they play on their jungle gym, learning to climb and feed themselves whilst showing off for the tourists behind the glass windows of the viewing gallery.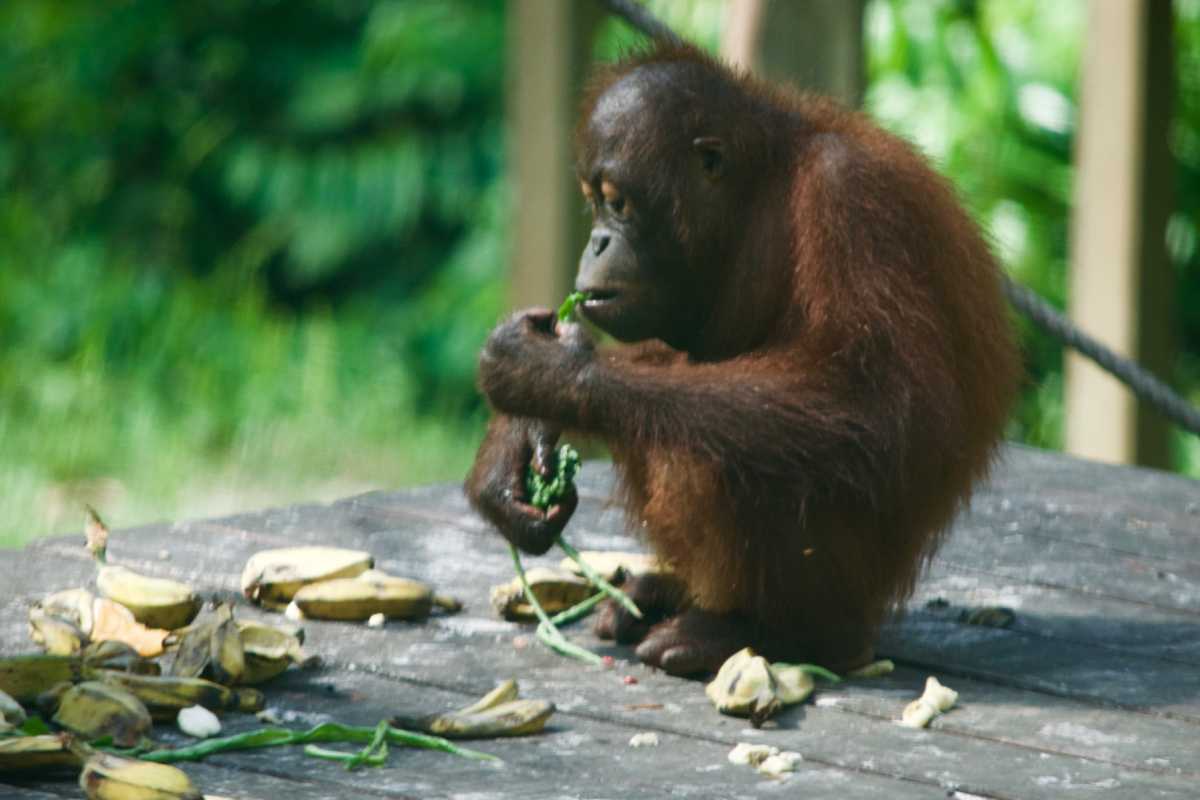 But the big draw is the main feeding platform. Approached along a metal walkway (a somewhat longer walk than my limp was designed for), we encountered an orangutan before we even got to the platform, relaxing in a tree far above our heads. But the real viewing took place at a purpose-built area, with cables strung from the trees to guide the orangutans in if the smell of the bananas doesn't do the trick. The feedings take place twice a day: a keeper places a heap of fruit on the platform and leaves the animals to help themselves. At first nothing happens, then an excited murmur moves through the watching humans as the first leaves rustle and the orangutans start to emerge, swinging their way along the cables to reach their free meal. They are oblivious to their audience and the clicking cameras as they munch their way through the food, occasionally taking a break to swing along the cables for the sheer enjoyment of it. Needless to say, I went to both the viewings permitted on my day ticket, and on both occasions saw three or four orangutans, before the macaques turned up to spoil the party and cash in on the free food. My recently restored love of monkeys took a serious nosedive again…
On my final day at Sepilok I was up early for a leisurely breakfast by the lagoon, before setting off to see the sun bears. Another severely endangered animal indigenous to Borneo, they are being beautifully rehabilitated in a purpose-built enclosure where they have plenty of room to explore. From a disappointing start when the bears didn't seem inclined to come out of their overnight accommodation, my patience was rewarded with some superb sightings, and plenty of chance to get the photos I had hoped for.
All in all, my last-minute trip to Borneo was the ultimate adventure, seeing animals I never thought I'd see on an island I had dreamed of visiting for many years. Kuala Lumpur and I have some unfinished business to attend to, but you know what: if I am ever in Malaysia again, you can bet there will be a return visit to Borneo involved.