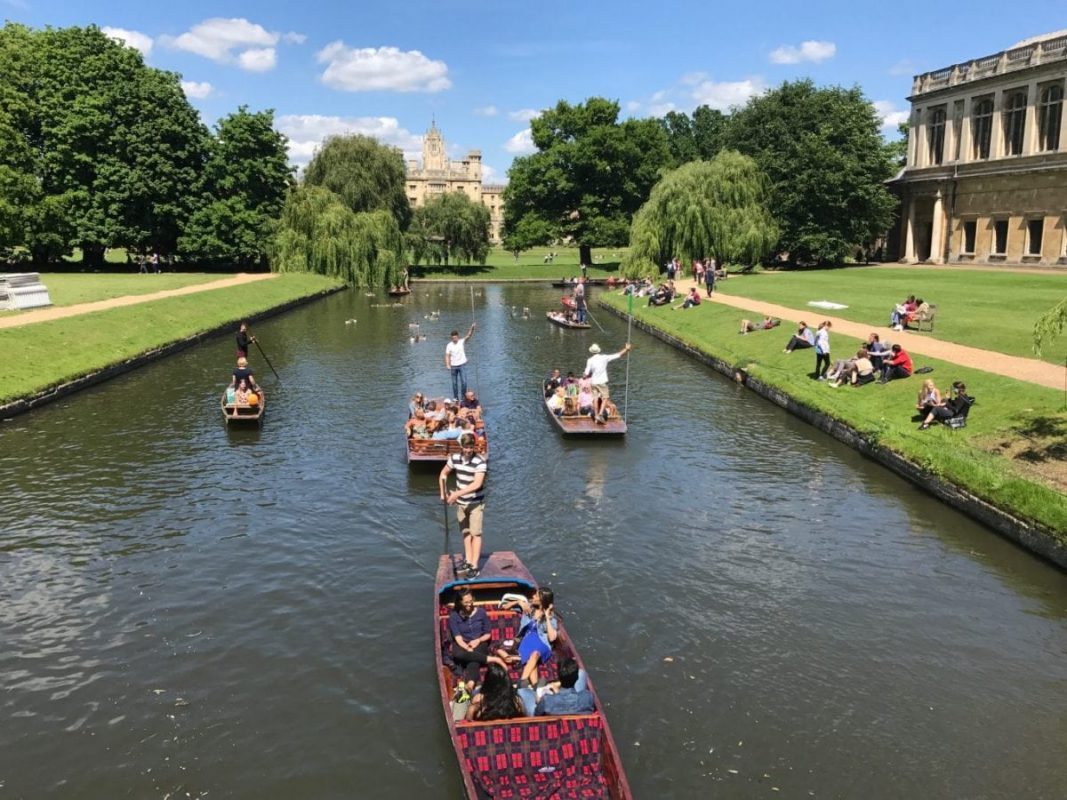 How to try punting on a Cambridge day trip!
The university town of Cambridge is home to one of the UK's most venerable institutions. One of the oldest universities in the world, alongside its counterpart Oxford to the west of London, the town of Cambridge is dominated by the various colleges that make up this historic seat of learning, and both Cambridge and Oxford make perfect days trips from the British capital.
Punting down the Backs, the water meadows of the River Cam, is one of the most traditional things to do in Cambridge and has been enjoyed by students, residents and visitors alike for centuries. Fancy giving it a try? Punting on the Cam River isn't solely the preserve of university students or members of a punting club – it can be enjoyed by visitors of all ages who come on a visit to Cambridge. Here's everything you need to know to try punting on your very own Cambridge day trip!
Pick your location
There are several locations where you can sample the full Cambridge punting experience, and it just depends on your mood. In the city centre, there are a number of places where you can rent a punt yourself, join a punting tour, or just hire a punt with chauffeur! The popular spots are, of course, busy, and although you will be gliding past the classic college views and water meadows you will also be sharing the water with a lot of other people, most of whom have no idea what they are doing. But it's all part of the fun! Alternatively, you can do as the locals do and head further out of town where the views are less historic, but there is much more peace and quiet. You can travel down the River Cam as far as Grantchester if you really want to enjoy punting on the river and take your time.
Choose your punt
There are various shapes and sizes of punt, and you can choose the best size for your party: from small boats seating up to 5 people, perfect for a small family or a romantic moment with your beloved, to big 12-seater punts suitable for large groups (these have to be piloted by a professional, so you can lay back and enjoy the ride!). A common sight is groups of friends on stag or hen (bachelor/bachelorette) weekends, enjoying the sunshine with a cooler of beer or wine to get the party going. Those punts are probably best avoided unless you are in the group yourself!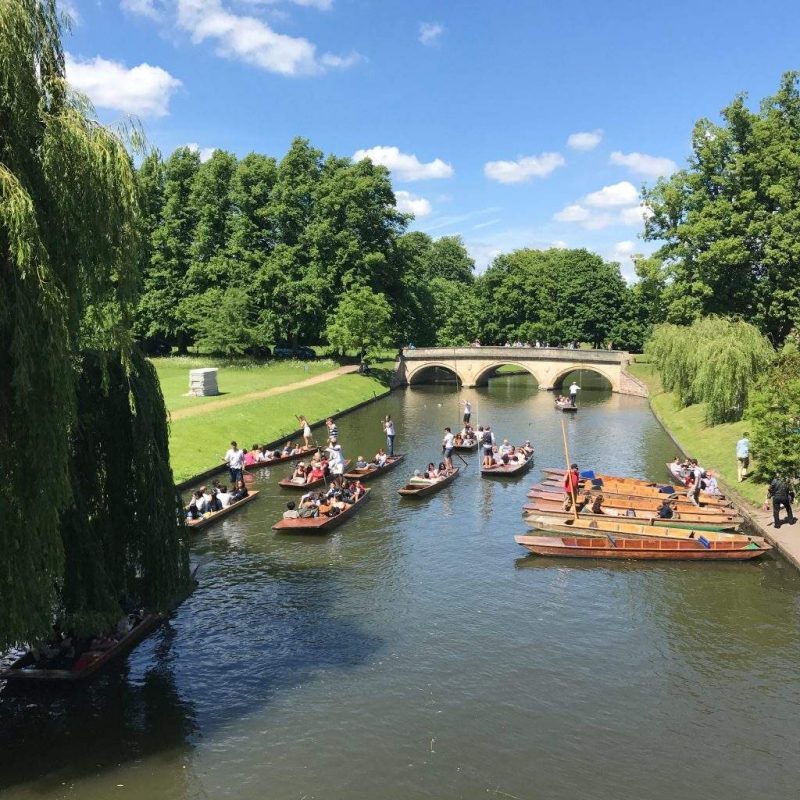 Do it the Cambridge way
The two ends of a punt are not identical. One end has a large, flat platform, and it is here that the punter stands. This is also the back end of the boat; your passengers are at the front. Don't be tempted to stand inside the punt at the other end – that is the Oxford way, and not how things are done in Cambridge!
Steer it like a pro
Punting is about more than just putting your pole on the riverbed and pushing. Bend your knees and get right down as your pole hits the bottom, and give as big a push as you can. Then straighten, raise the pole slightly and let it drag in the water behind you. Let the pole drift to the left or right as required to steer the punt. Watch the professionals and you will get the idea!
Don't lose your pole!
Of course, the most common punting fail is to push your pole so hard into the riverbed that you can't get it back out again, and you sail away downstream with your pole stuck in the mud behind you. There should be a paddle in your punt for just this situation, allowing you to go back and retrieve the pole before the embarrassment gets too much! But it's also a great way to make friends on the river, as other punters come to your rescue and bring your pole back to you. Be sure to do the same if you see it happen to anyone else!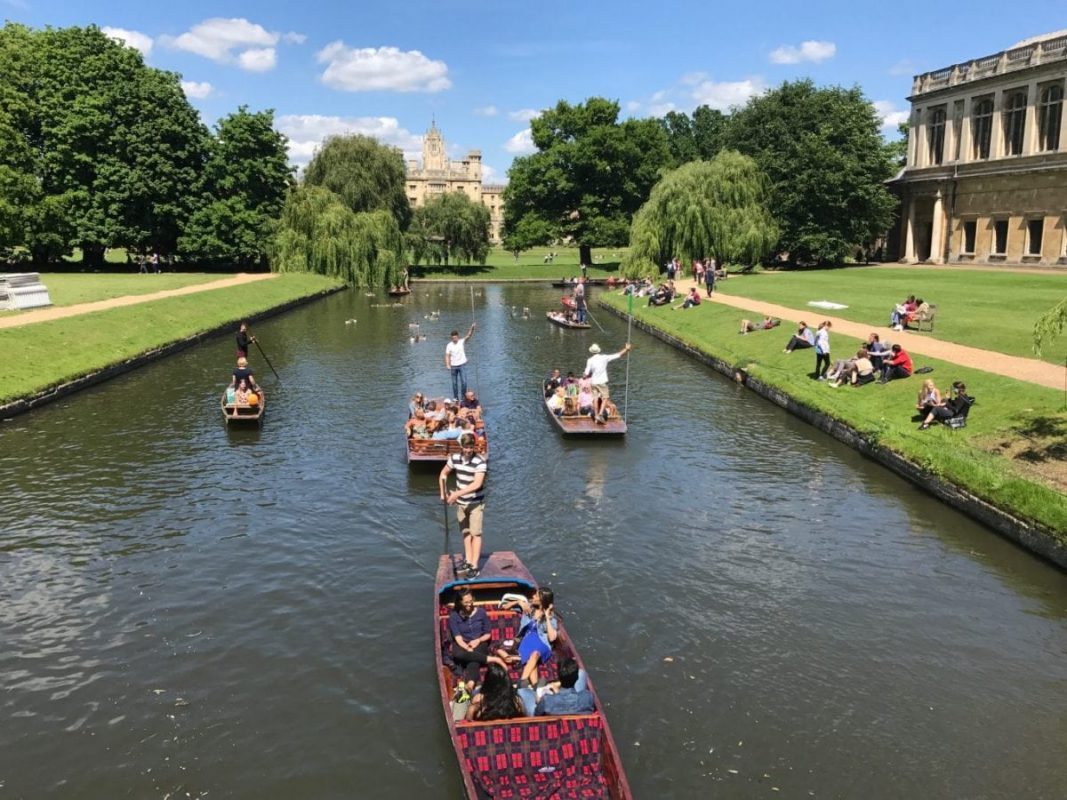 ---
Punting in Cambridge – Practical information
Who can punt?
So you're spending a day in Cambridge and fancy giving punting a try – but are you up to the challenge? The good news is that punting is an activity for pretty much anyone: no particular fitness level is needed. You do, of course, need to be able to stand on the back of the punt without falling off! Minimum age to operate the punt is normally 16 years.
Where to hire your punt:
See the map below for details of punting companies and locations.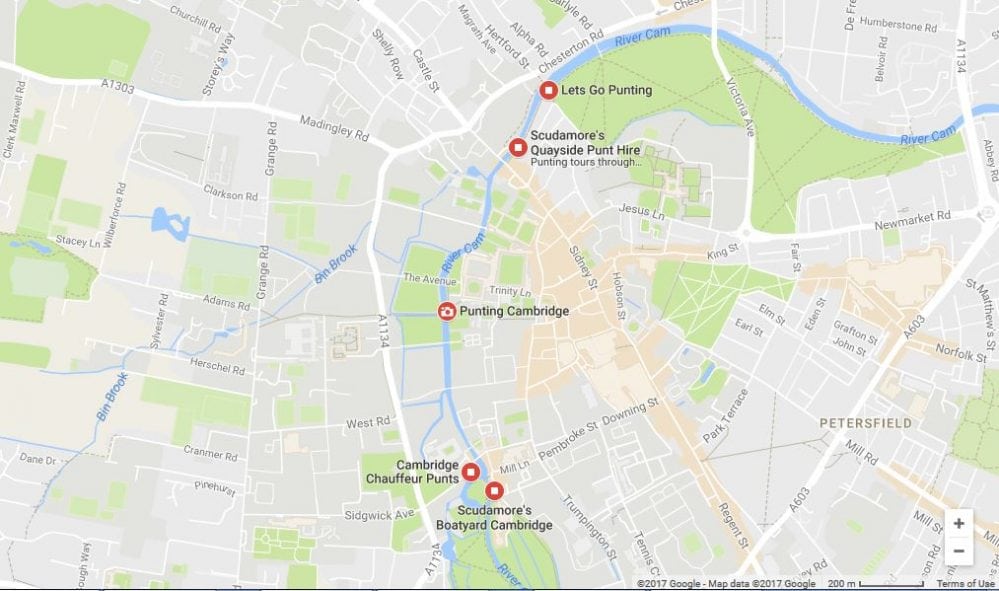 Punting in Cambridge prices: how much does it cost?:
Prices vary from company to company, but as of summer 2018 you can expect to pay around £79 for a 50-minute private tour for 6 people Monday-Friday, or £99 for up to 12 people (prices: Let's Go Punting). Prices are higher at weekends.
Shared tours start at £12 for adults and £6 for children (more at weekends; prices: Let's Go Punting). On these trips, you will share your punt with other visitors to make up the numbers. Book online in advance for the best prices and to secure your place at busy times.
Or hire your own for around £30 per hour (up to 6 people) or £120 for the whole day (prices: Scudamore Punting Cambridge). You need to be at least 16 years old to hire a punt. Be aware that in windy weather you may need to demonstrate that you are competent at punting.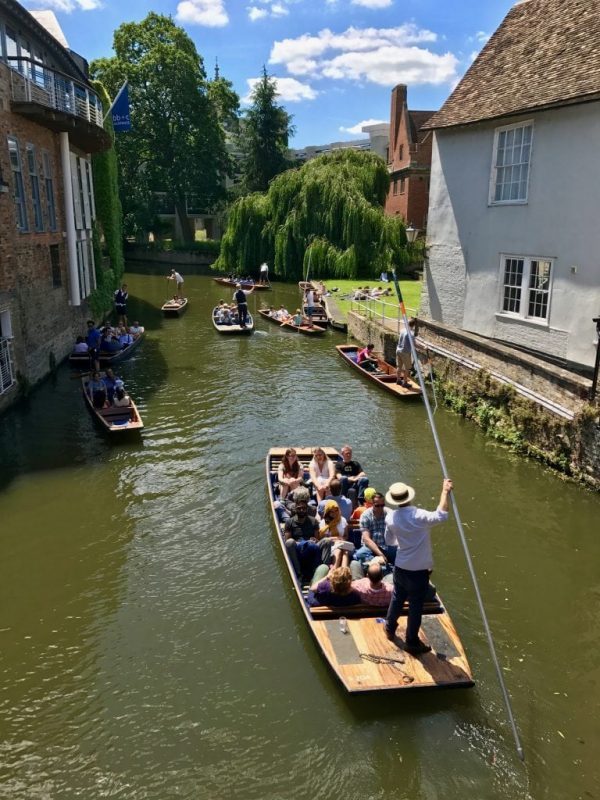 ---