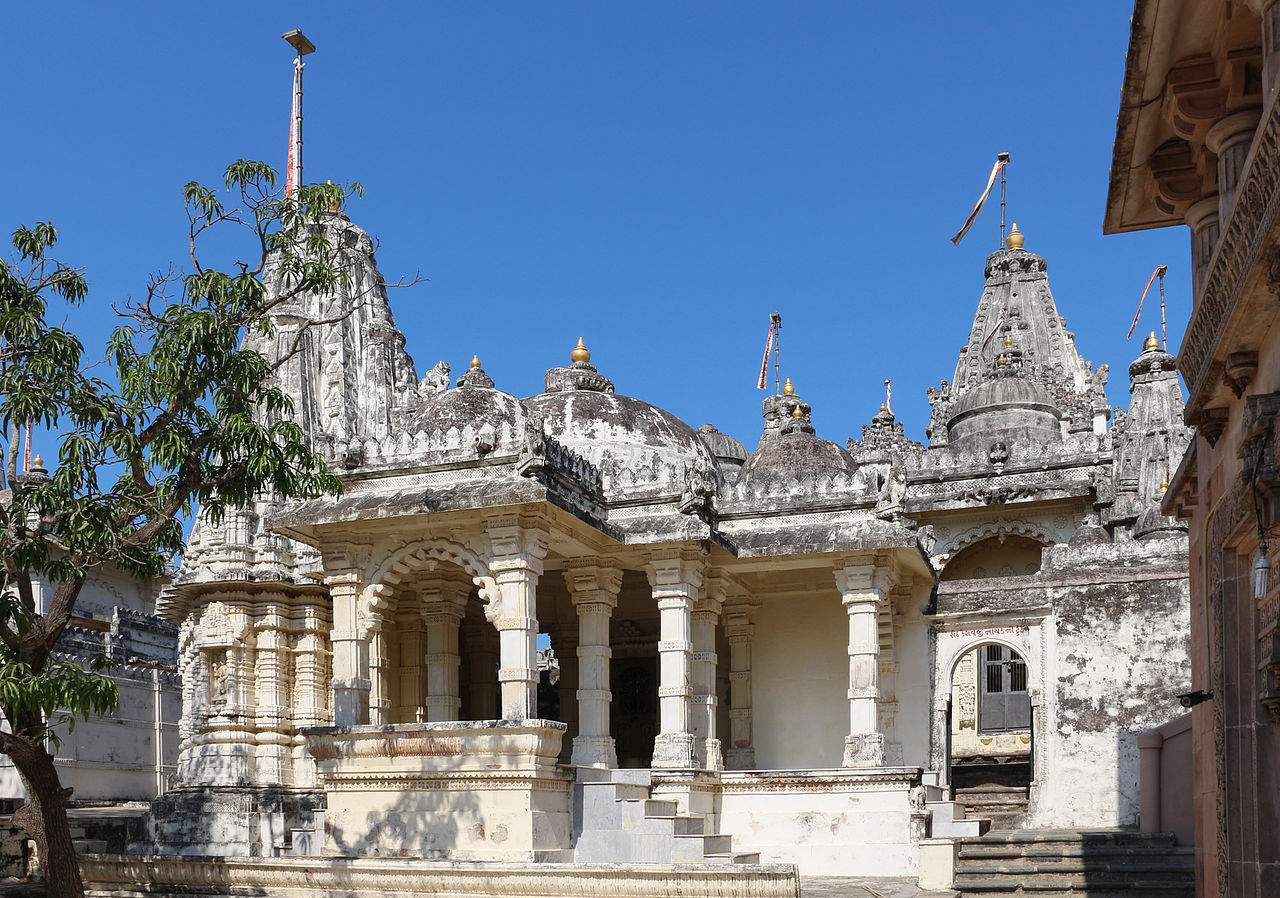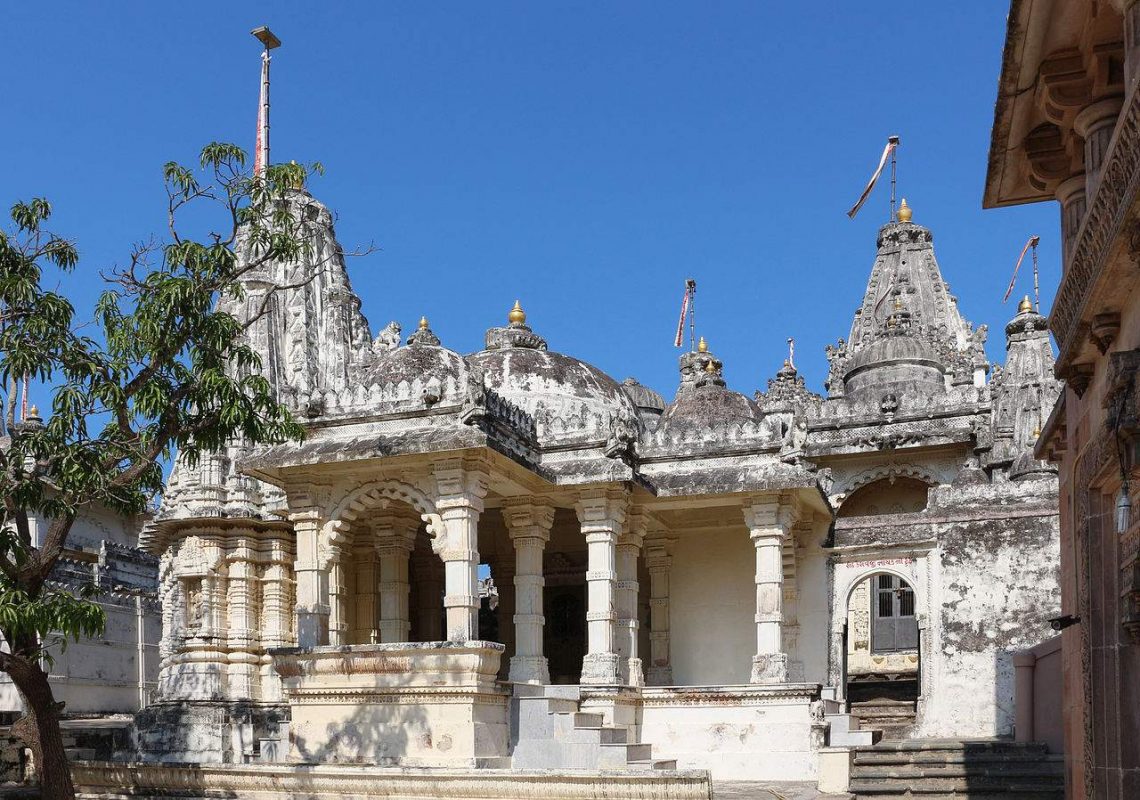 Shatrunjaya: The Jain pilgrimage site of Palitana, Gujarat
We arrived at Shatrunjaya early in the morning, and it was just as well.
Situated in the town of Palitana, just over an hour's drive from Bhavnagar in the western Indian state of Gujarat, Shatrunjaya holds tremendous significance to followers of the Jain religion. A massive temple complex built on top of a hill that dominates the surrounding landscape, 23 of the 24 tirthankars who founded the Jain religion visited here, making it a very holy site. Today it is a place of pilgrimage, as devotees climb the 500m-high hill via a series of 3300 steps to pray at the massive temple complex at its summit.
We were promised that the climb up Shatrunjaya would be easy and the steps shallow, and to be fair, the path to the top is well-maintained with sturdy, regular steps of stone, partially coated with the lime that keeps the insects at bay and reduces the risk of accidentally stepping on one. Followers of Jainism believe strongly in living as peaceably as possible, which includes going to some lengths to preserve living beings. Strict vegetarians, Jains forego not only meat but also all root vegetables such as onion, potato and garlic, since the process of harvesting the vegetable disturbs the soil and risks killing the worms and microorganisms that call it home. For the same reason, Jains will often cover their mouths and noses, especially in a temple, to ensure that no insects, spores or bacteria are accidentally inhaled.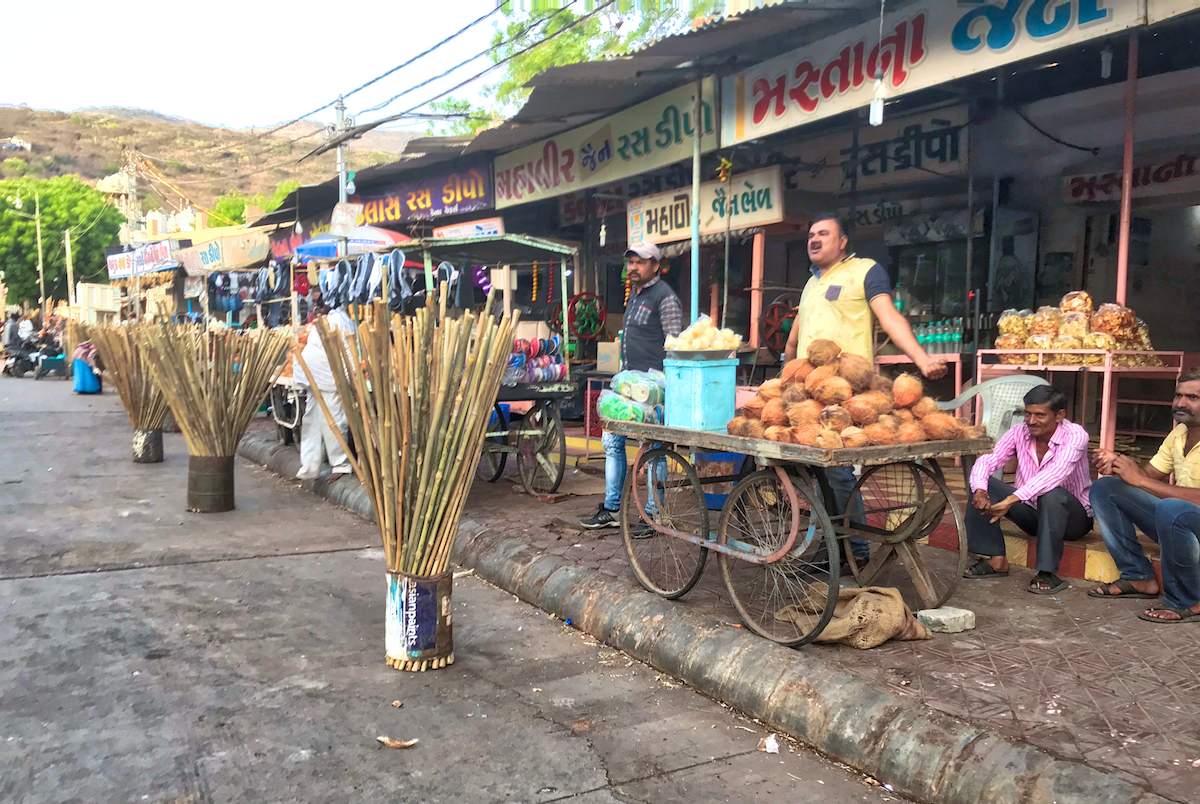 Arriving at the base of the mountain at 07:20 am, we started our climb. In truth, the adventure started the second we pulled up, as swarms of local men crowded around our van, vying for work as porters. The job of a porter is not an easy one as they are not carrying bags, they are carrying people. Palanquins come in either the two-man or four-man variety. With the two-man version, the passenger – normally an Indian lady of a certain age – sits cross-legged and often sideways on a woven straw platform dangling from a pole carried by two (presumably very fit) porters. The four-man palanquin, which I had imagined as some sort of exotic covered box, turned out to be an ordinary garden deckchair tethered to two poles, with one man at the front and back of each.
It was fascinating watching the porters at work, as they negotiated the 3300 steps with their heavy load, a clear routine in place each time they negotiated a turn in the path or stopped for a break. Almost as fascinating was watching the person being carried. At one point a two-man contraption overtook us, with the lady passenger chattering away on her cell phone. Modern India.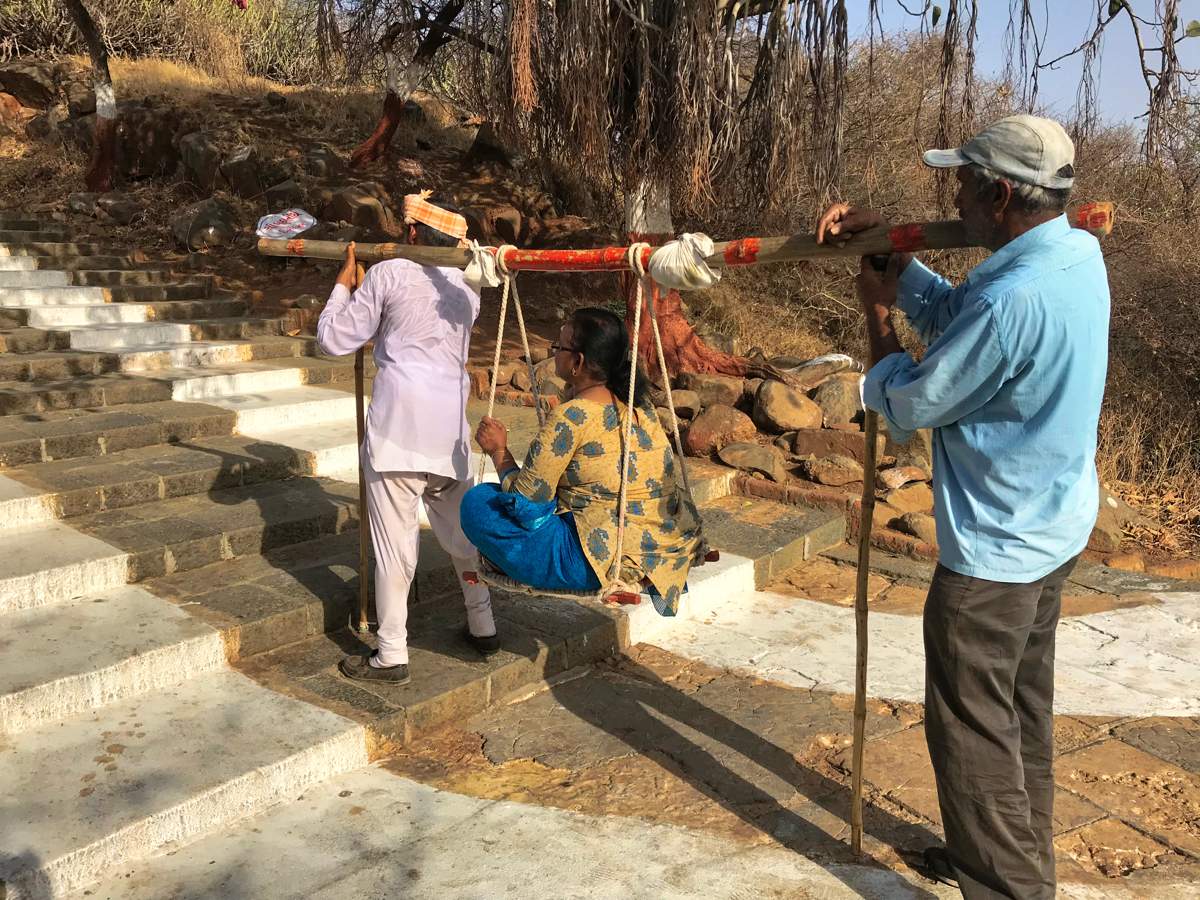 The path to the top wasn't especially steep, but 3300 steps is a long way in anybody's language. It didn't take me long to work out that the steady pace I had set myself wasn't sustainable, especially since the temperature was 29ºC even at the start of the climb. The further we climbed, the hotter it got, and the more my legs ached. If you are planning to make the climb yourself, be prepared. It took me 2 hours to reach the top – if you are really fit you might make it in 1-1.5 hours – and I was regularly shamed by the much older, whippet-thin nuns and monks steaming past me. About halfway up I was seriously considering converting to Jainism just because I had put so much effort into the pilgrimage, but to really show your faith you are apparently supposed to make the climb 7 times in a single day, between dawn and dusk. That wasn't going to happen, and my plans were quickly abandoned!
Every now and again we passed porters desperate for business, so bottling out and getting a lift is possible, but I was determined to make it by myself. And I did. Two hours after I set off, I emerged, sweaty and hyperventilating, at the top of the mountain – and the temple complex took my breath away. Jainism is a comparatively affluent religion, and the temples are accordingly ornate; at Shatrunjaya the majority are in marble. The main temple is dedicated to a single tirthankar or spiritual leader, but the other 23 are celebrated in smaller peripheral temples, and wherever you turn there are icons and places to pray – in fact, I have never seen so many in one place.
The main temple itself is staggeringly beautiful, consisting of a tall stupa carved so ornately it was like looking into a series of images where each one contains a smaller reflection of the one before. Each ornate carving is made up of many more ornate carvings, and the effect is hypnotic. Outside the main temple is a smaller replica made entirely of silver, and everywhere people were praying, reading one of the many small Jain religious texts and shaping piles of rice and other offerings into delicate patterns of the swastika which is used in Jainism to represent the 7th tirthankara, Suparshvanatha.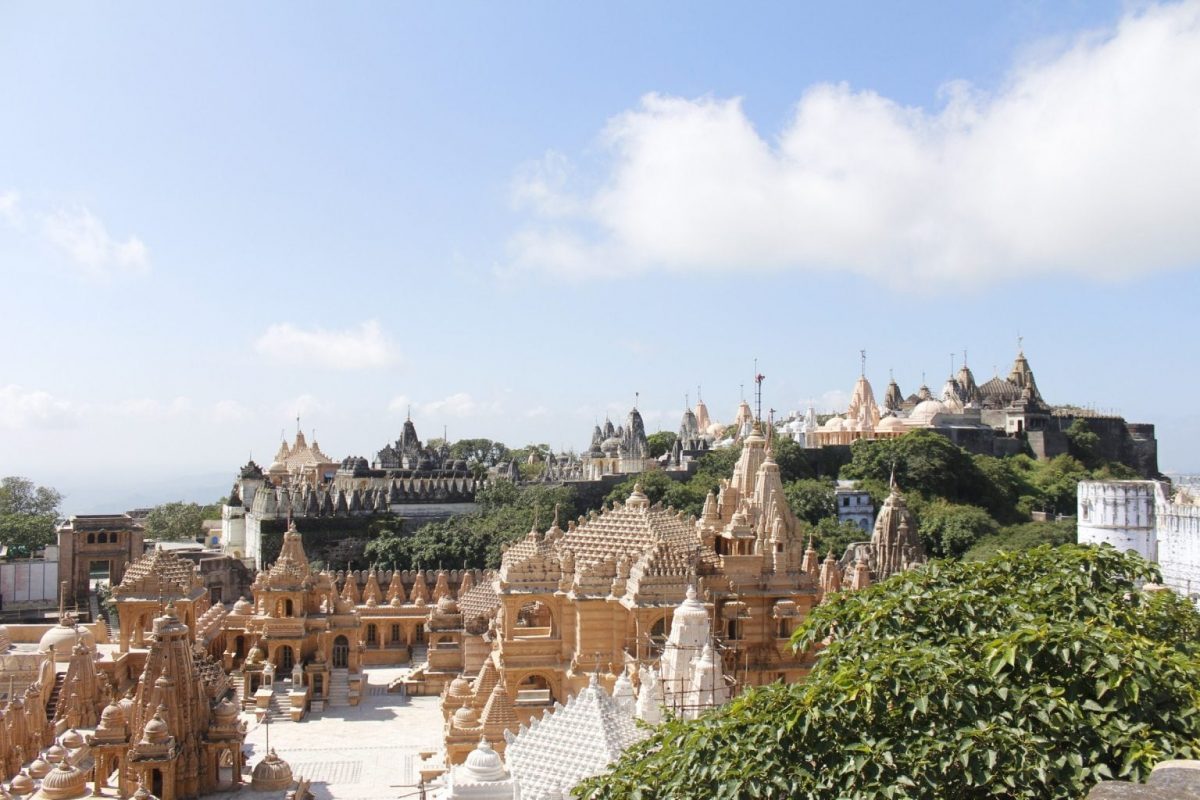 Traditional offerings in Jainism include such items as uncooked rice and cloves, natural treats which have reached the end of their cycle of regeneration and will never grow into something else. In this way, the person prays that they will cast off worldly indulgences and end the cycle of rebirth themselves to transcend to what lies beyond. Wherever I looked there were devotees sitting cross-legged on the ground with their tiny texts and patterns of offerings on a raised platform. Once the selected text has been read (there are many different ones in Jainism, rather than a single larger text), the offerings are collected back up and distributed among the many temple icons. And how many there were. The Shatrunjaya complex is a labyrinth of temples and stupas, and it is easy to slip down a side passage and find yourself alone in a quiet courtyard, away from the hustle and bustle, or in a tiny temple with only a monk in attendance. I could have got lost there for hours. And every surface is decorated, carved, or adorned with marble icons. It's a magical place.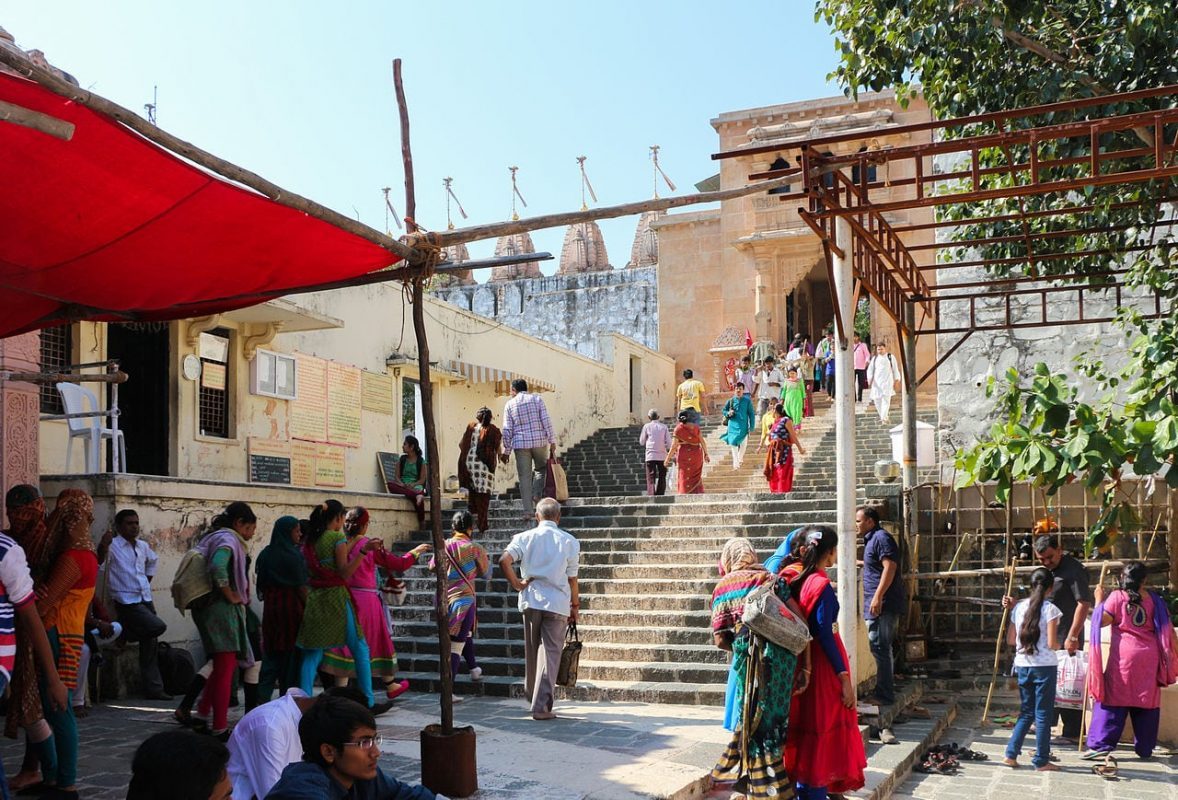 All too soon it was time to make the descent down the mountain. By this time it was 10:30 am, and the day was hotting up. Climbing down 3300 steps is, of course, a lot easier than climbing up them, but still no laughing matter. Setting off, I started a gradual but steady descent, heeding the advice we were given to keep moving and not stop for too long to avoid shaky legs. But I couldn't help stopping when a lone Jain monk, clad all in white cloth (draped around the body rather than stitched into clothing – unstitched cloth is considered more pure and therefore better), shaven-headed and carrying a sturdy walking staff, wanted to stop to chat. He spoke good English, and asked if we'd enjoyed the temple. On hearing our enthusiasm, he proceeded to explain that we would really see the benefit of our pilgrimage if we would give up all meat and alcohol from this day forward. Since we were both vegetarians, we were happy to agree to the meat, but alcohol was more of a challenge. Sensing our reluctance, our monk friend urged us to promise. Not prepared to lie outright to a monk, he unfortunately left disappointed, but the fact that this holy man took time to stop and encourage us was a special moment.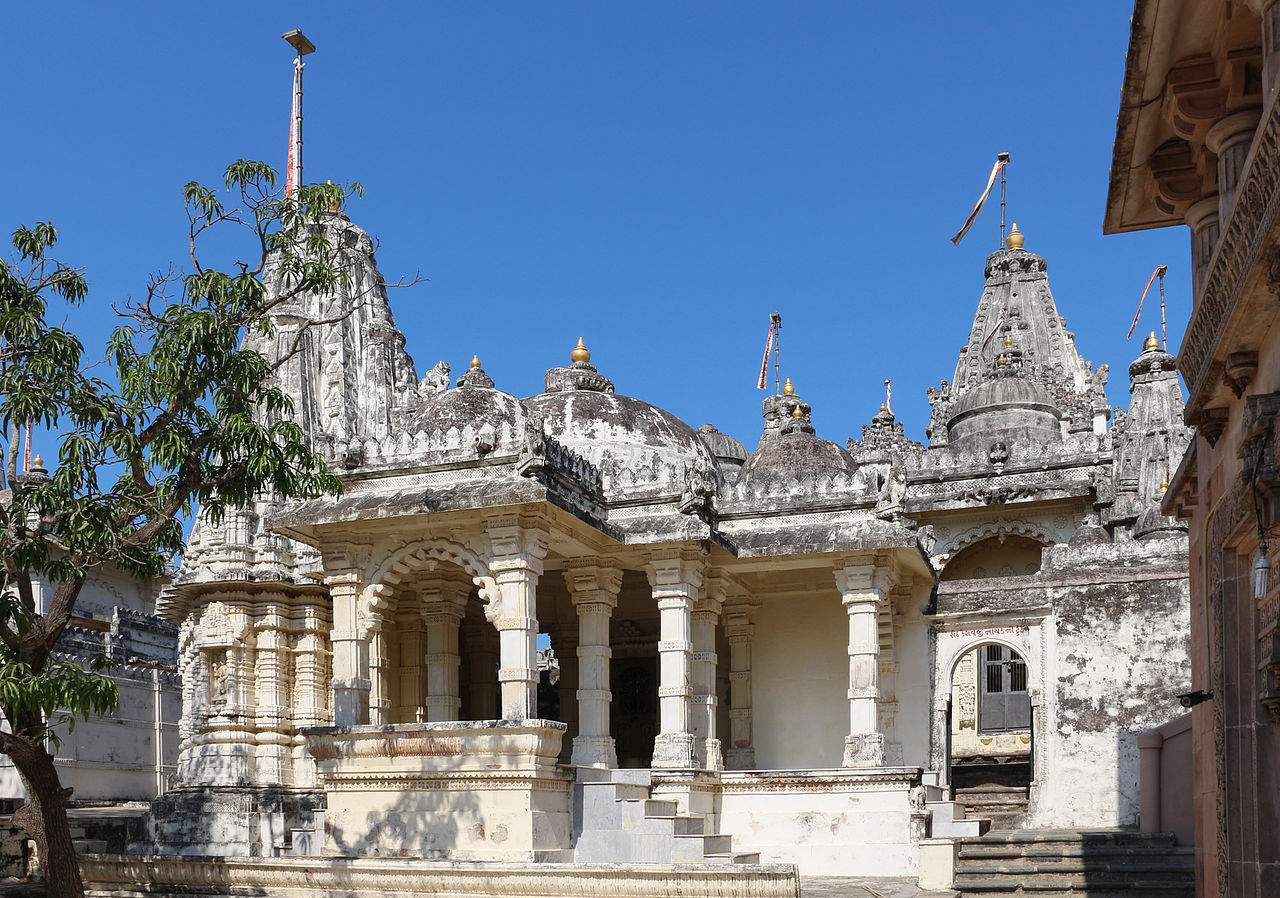 As we descended, the temperature continued to rise, eventually reaching 39ºC with blazing sunshine. There is very little shade on the path, and a hat and plenty of drinking water are essential, but even so, I was starting to struggle. I'm not the best at coping with heat and tend to know my limits, but there was nowhere to escape. There is really not much you can do – I could have taken a palanquin as there were still plenty of offers, but that wasn't going to get me down much faster OR get me out of the sun.
The path passes through gates at regular intervals, and at one of these a local lady called me over. She was manning a water stand, and offered me a metal beaker of water to cool me down. Seeing me carefully splashing it on my face, she took over and proceeded to throw fistfuls of water straight at my face, leaving me spluttering but feeling distinctly better. I gave her 10 rupees for the privilege, but at that point I would have happily given her every note in my wallet if she'd asked for it. That water was just what I needed at that time to continue on.
In total it took me about 1h15 to reach the bottom of the hill, legs wobbling from the climb down and lightheaded from the sun. Collapsing in a cafe in the street below the temple, downing lime soda with salt to help with rehydration, it would be easy to feel that it wasn't worth the effort. But the sense of pride in making it up and down the mountain unaided more than made up for the hardship. And the wonders of the temple at the top of the mountains are something which will stick with me for many years to come.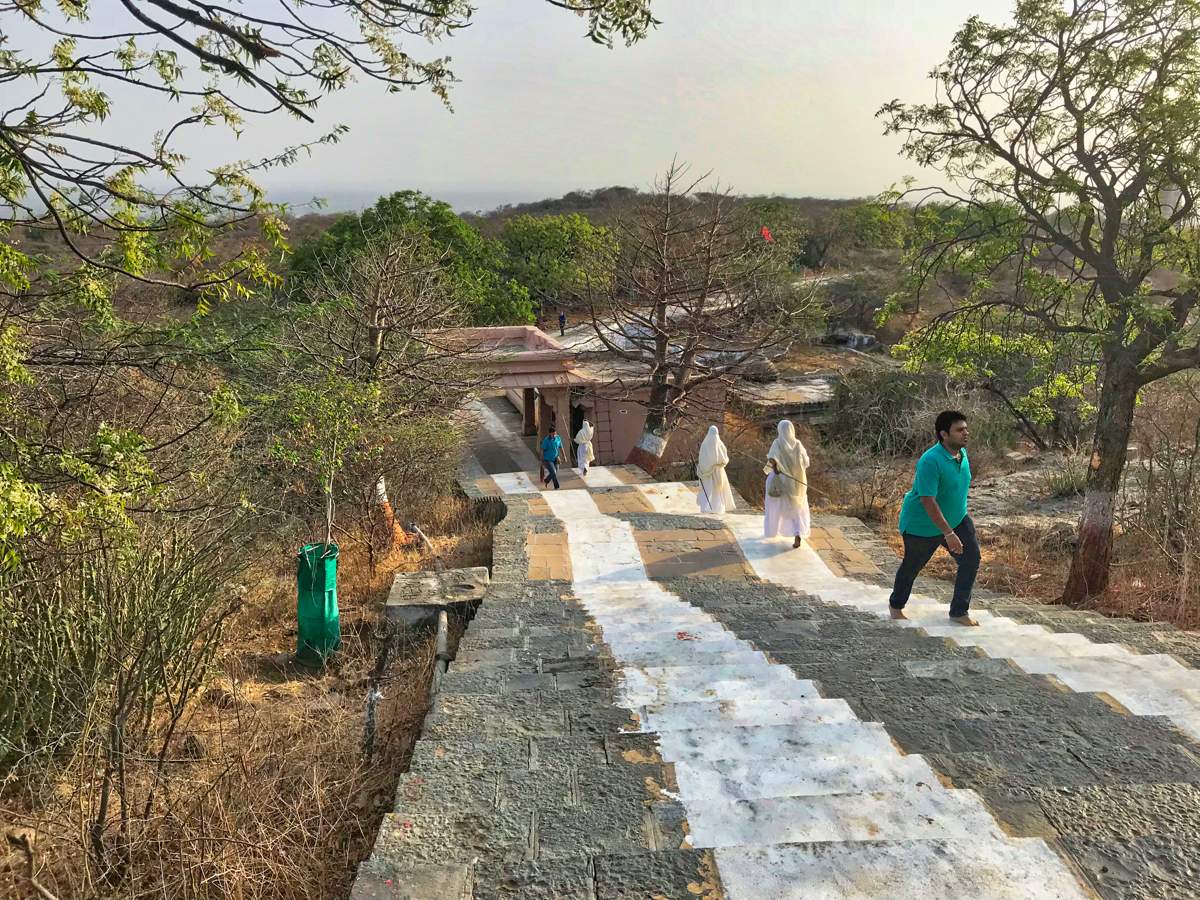 ---
Photography is not permitted inside the temple complex. For this reason, I have used stock images for any pictures of the temple itself. All photos not otherwise credited are my own.
---
Enjoyed reading about Shatrunjaya? Pin it!