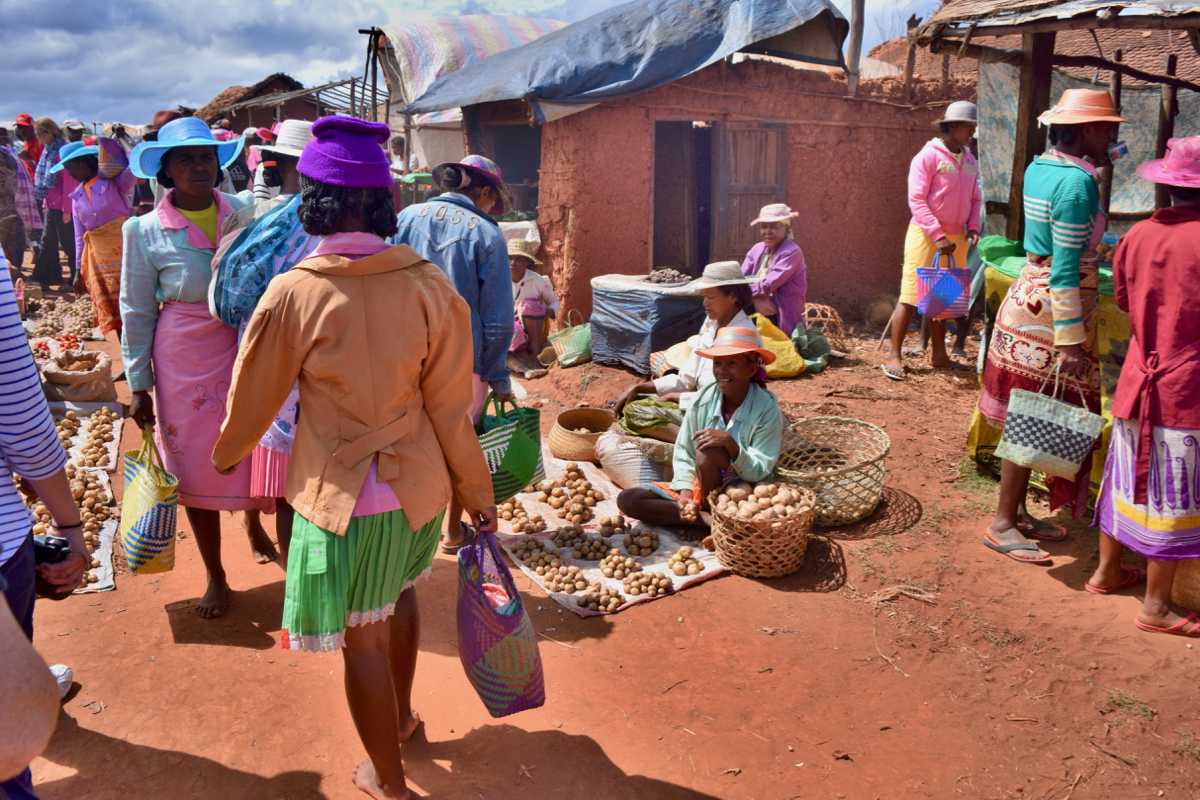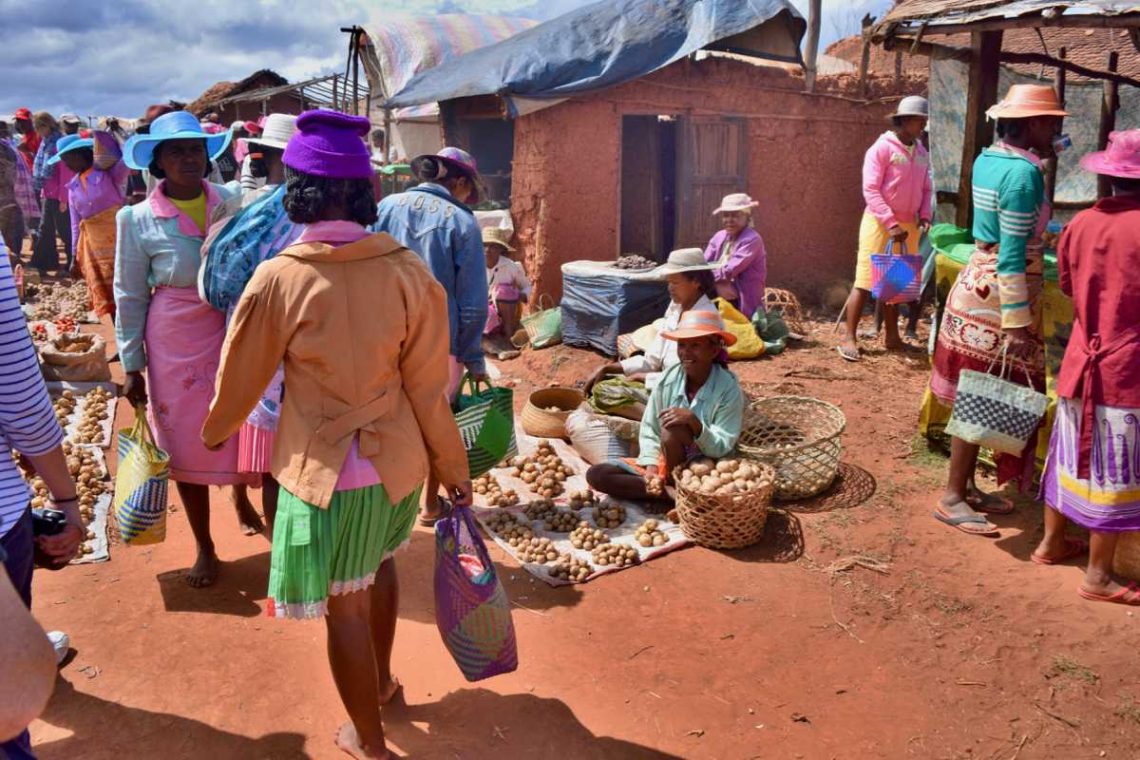 An African market day: The local market at Camp Robin, Madagascar
Madagascar is a remarkable country, famous for its unique flora and fauna and incredible natural beauty. But a visit to this huge island, off the southeast coast of Africa, will show you so much more. One of the many interesting facts about Madagascar is that its inhabitants come from a mixed heritage: the Malagasy people of Madagascar are a unique blend of Africa and Asia, the product of ancient immigrants from both the African mainland and as far away as Borneo. And the Malagasy culture is no less unique.
One of the joys of travel is to arrive in a country with certain expectations and discover so much more. And if you want to see some of what local life is like for the people of this blessed and blighted island, one of the most colourful places to visit in Madagascar is Camp Robin market.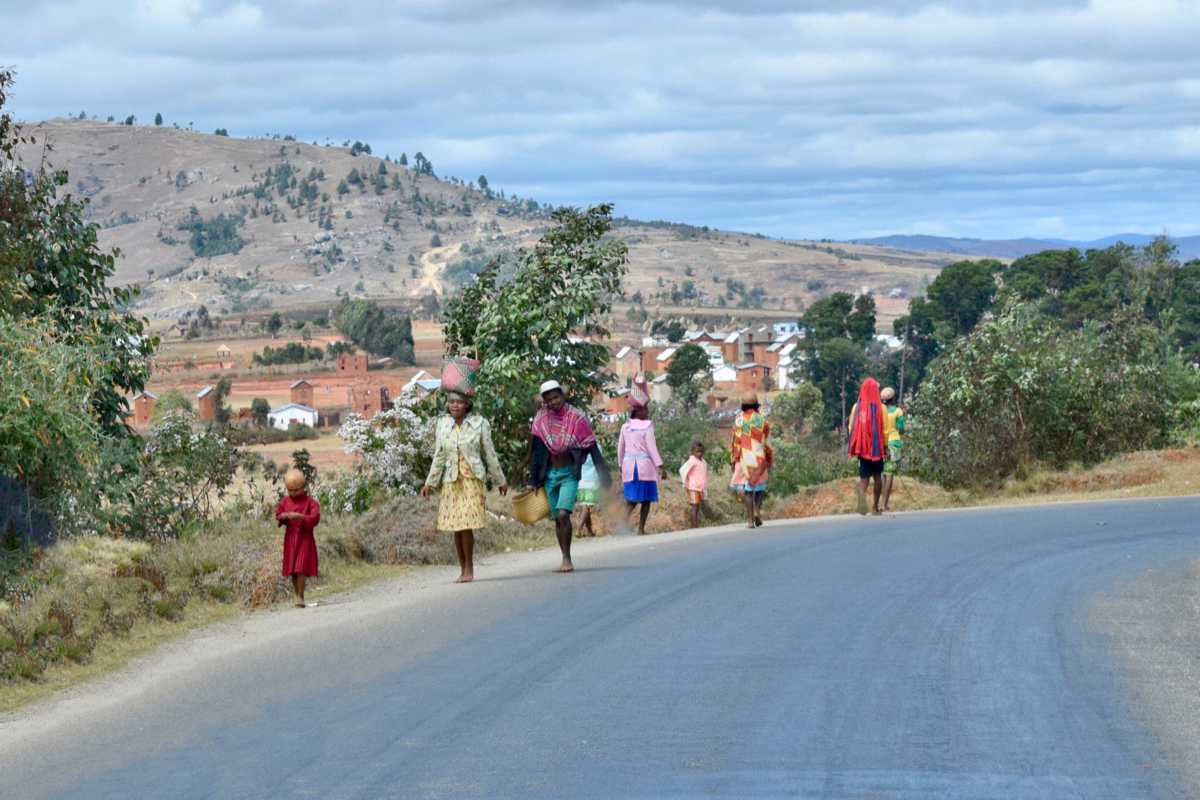 The tiny settlement of Camp Robin is both hard to find on a map, and hard to miss on the road. Located on the N7 highway about halfway between Antsirabe and Fiananrantsoa, two of the major cities in Madagascar's Central Highlands, the main road passes right through the village. Don't be fooled about the roads in Madagascar; the N7 is one of the major routes down the centre of the country, but it is still a single-carriageway road which winds its way up and down the hilly Madagascar landscape, frequently slowing down traffic with its regular potholes.
We passed enterprising children who were excavating the nearby sandy slopes to fill in the potholes and charge passing motorists for the service. Enterprising, but not particularly wise as they are slowly eroding the sides of the road – but any opportunity to make money in this largely poor nation (the average income in Madagascar is just a few dollars a day) is seized with both hands.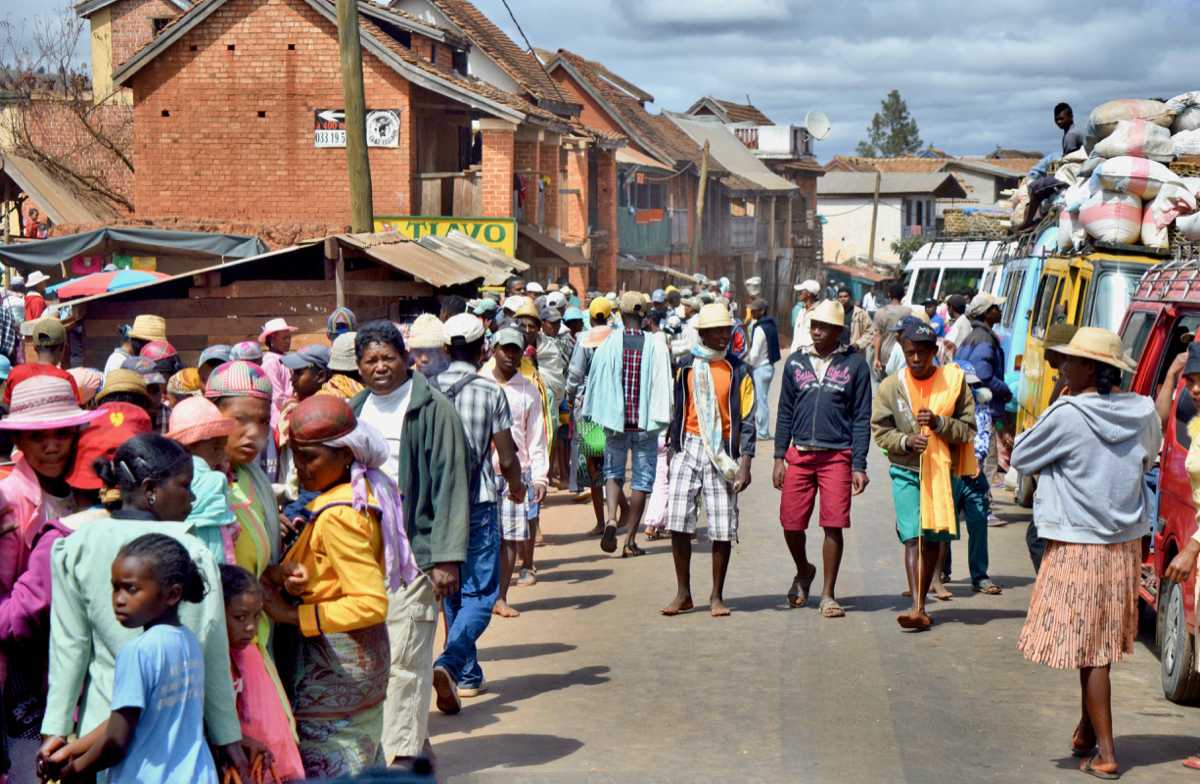 Camp Robin Madagascar may be largely missing from the maps, but if you are visiting on market day you will be warned long before you get there by the procession of local residents making their way on foot to the village. Those who are going to sell are carrying their wares, often on their heads, the women swaying impossibly gracefully along under their heavy load. It's a long walk, often many miles, but this huge market is worth the journey.
Arriving in town, the stream of people swells to a milling crowd. Those lucky enough to own cars and vans have lined them along the sides of the main road, and everyone is heading to the huge marketplace. Imposters in this local community, we headed in the same direction to be greeted by the sights and sounds of a genuinely local Madagascar market where we were the only outsiders.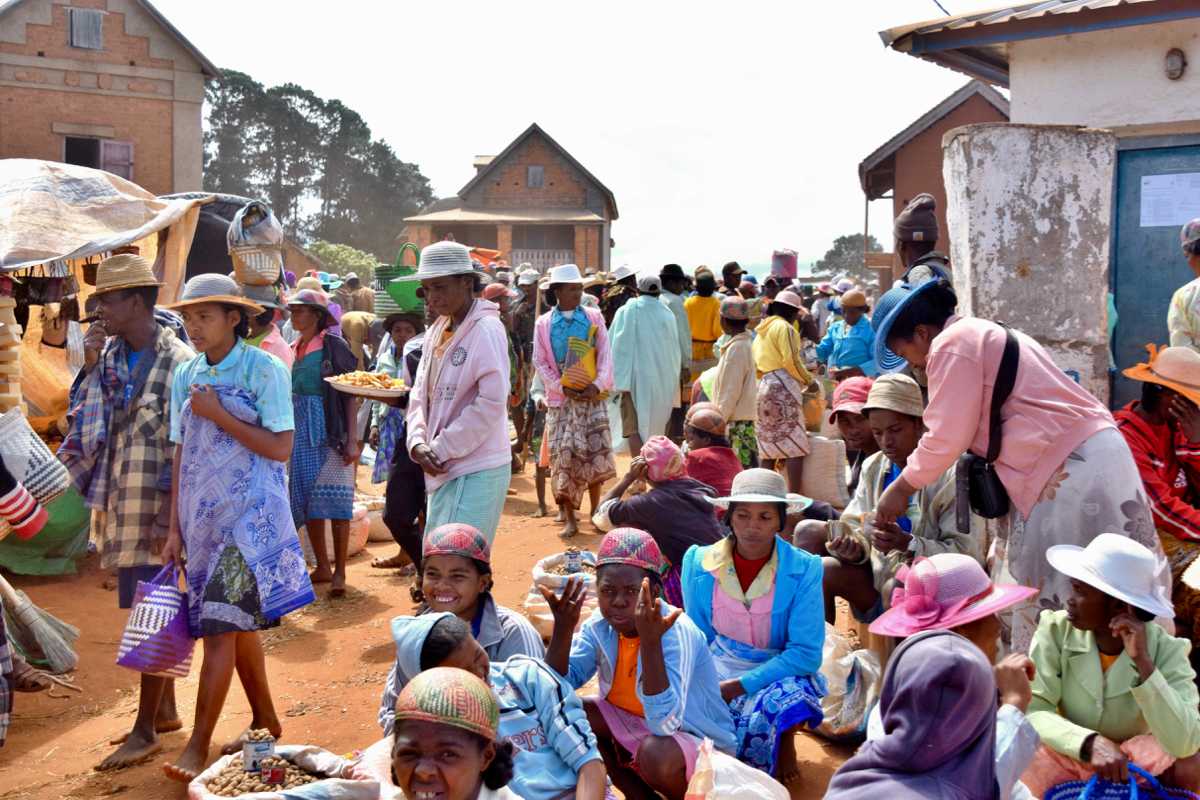 Madagascan style, particularly for the women, is something else, and especially on market day when the ladies were out to impress. Colourful pastel suits and spectacular hats were the order of the day for many of those come purely to shop and socialise. As outsiders, we had no hope of blending in anyway, but we felt impossibly scruffy by comparison.
Chickens changed hands at stalls set out on the ground, the birds flapping in indignation as they were flipped upside down to be examined by knowledgable buyers. Their squawks were drowned out by the buzz of conversation, negotiation, and friends greeting each other across the crowd, while small boys circulated bearing hot snacks, heavily laden trays balanced on one hand.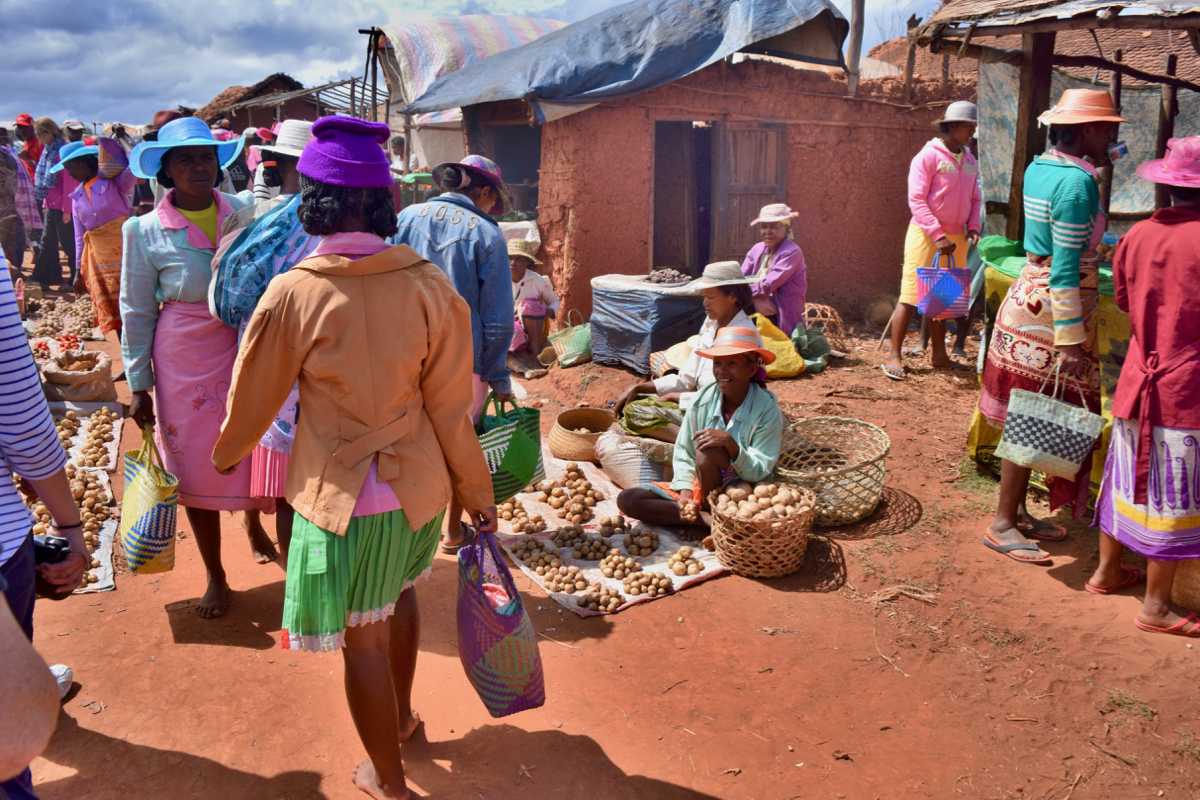 Heading through the market, we left the fresh produce and livestock behind and reached the clothing and fabric stalls. Malagasy fashion is colourful and eye-catching, and we gazed at bolts of cloth in rich pastels and floral prints. Witchdoctors, likewise, had set up stalls, seated on the ground with an array of treatments before them – barks, bead and other items we couldn't identify. Meanwhile, closeby, building work was continuing unabated on new houses, the workmen tossing bricks from ground level to their colleagues on the upper storeys. Despite the weight of the bricks and the precariousness of the scaffolding, they never seemed to miss.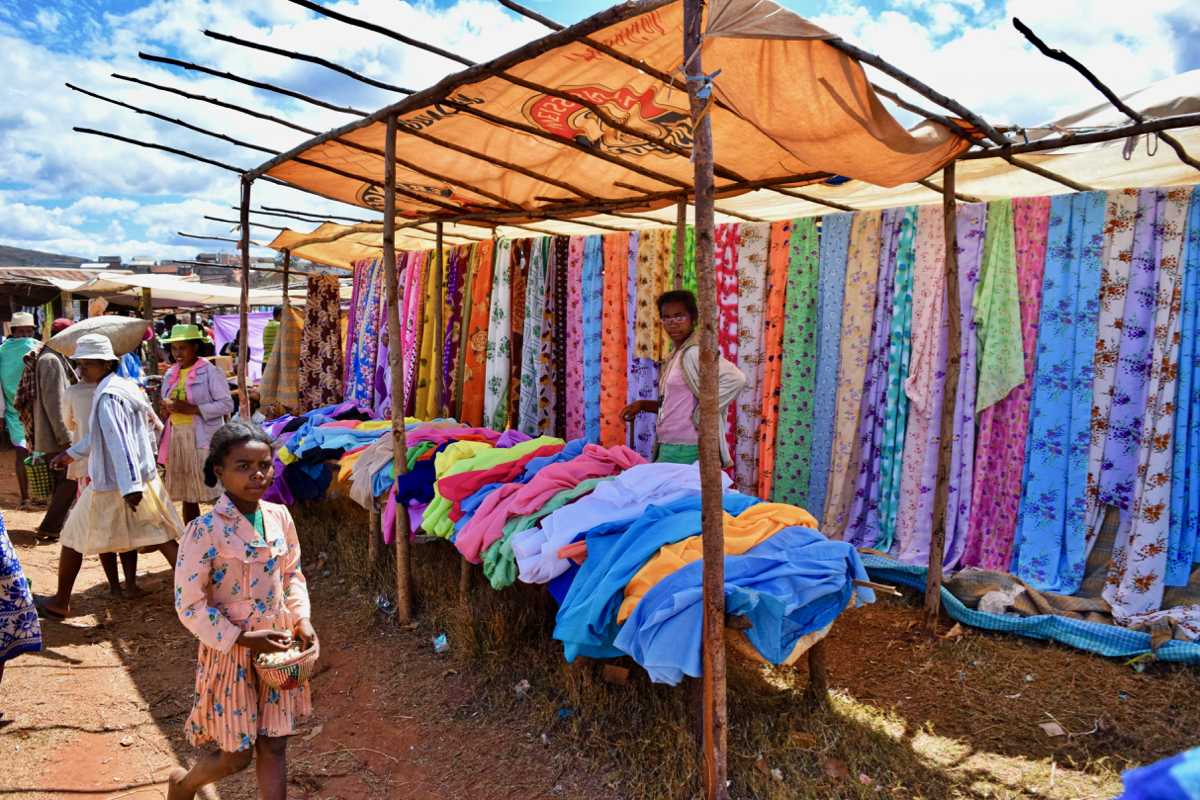 In this part of Africa market day is both a retail and a social opportunity, and a large area of the market was given over to resting, relaxing and chatting in the sunshine. Groups of women caught up on the local gossip, while teenage boys hung out with friends – all enjoying their day before the long journey home.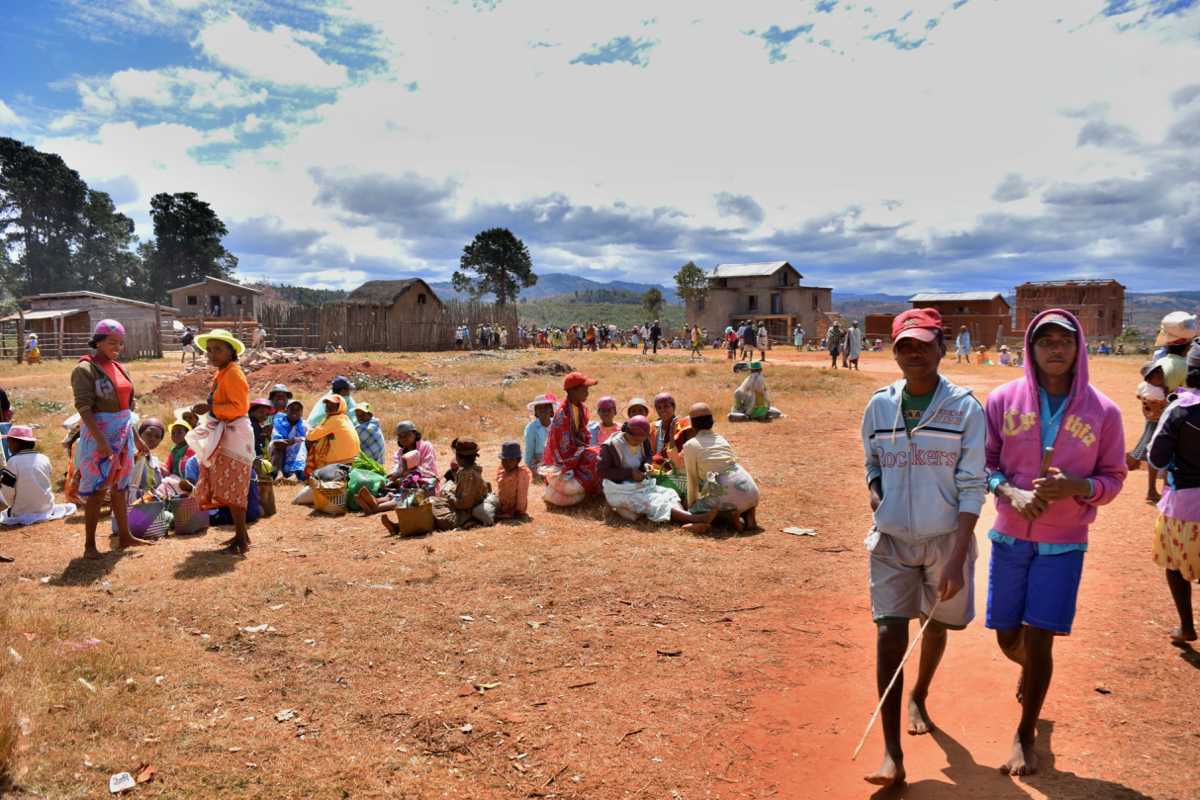 A visit to Camp Robin local market is noisy, colourful, and an assault on the senses. Outsiders we most certainly were, but market day is busy and purposeful, and local life went on around us without paying us any attention. Camp Robin is definitely not a tourist market; there is little you will want to buy here, but stallholders know this and will pay you no attention, allowing you to explore to your heart's content. If you want to experience a traditional African market with a Malagasy twist, Camp Robin is definitely the place to go.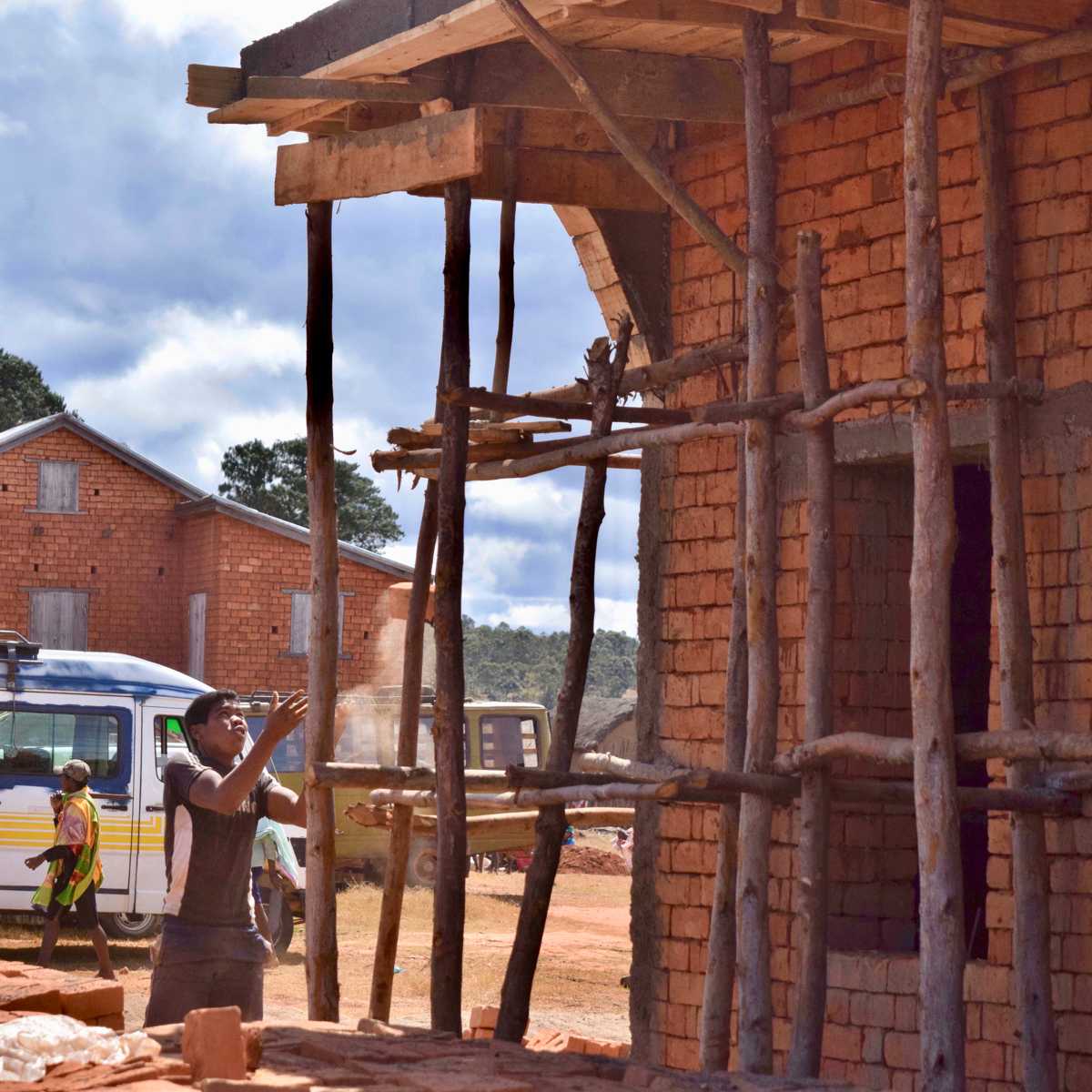 How do I get to Camp Robin market?
Camp Robin is roughly halfway between Antsirabe and Fiananrantsoa on the N7 highway, which runs from Antananarivo, the capital of Madagascar, down towards the far south. Travel time by car or bus is 2-3 hours from either city, giving you plenty of time to enjoy the spectacular Madagascar scenery on the way.
If you are taking one of the many Madagascar tours available, ask your guide to make the stop-off part of your itinerary on your journey south.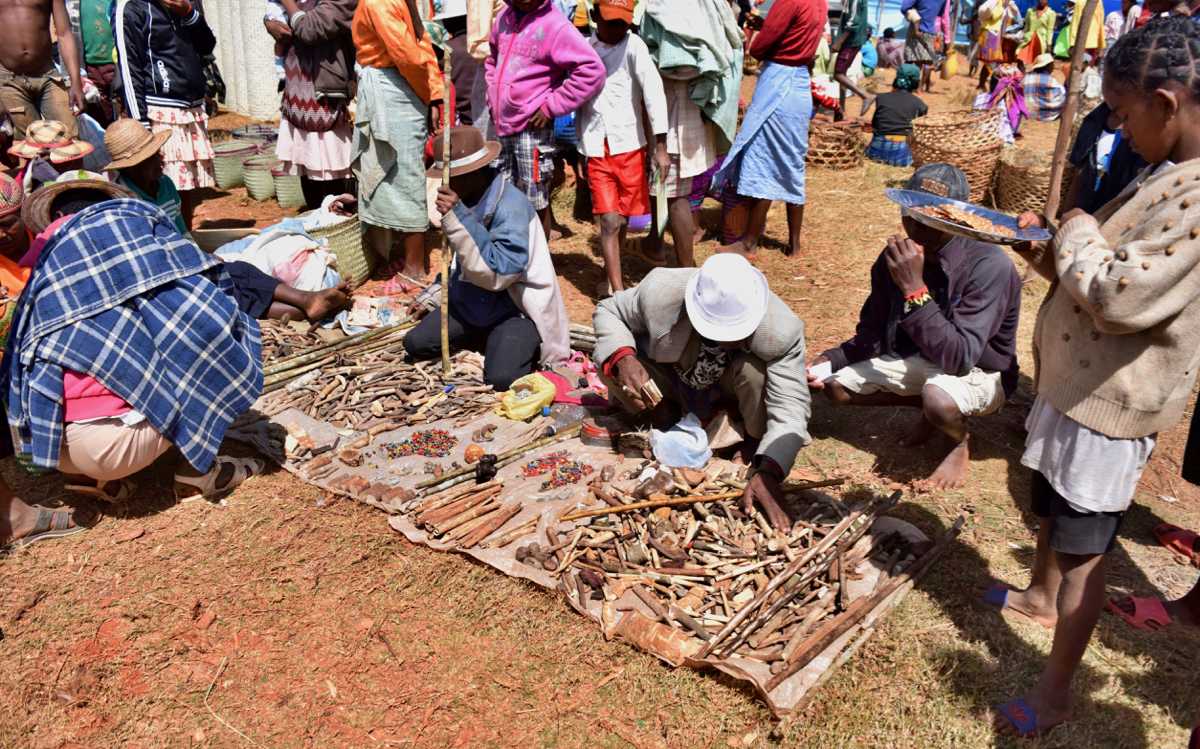 Top tips for enjoying Camp Robin market
This is a busy market in the hot sunshine, so a hat and water is essential. Since it is a local market, dress respectfully; there is no particular dress code, but locals cover shoulders and knees and you should do the same.
Camp Robin is not a tourist market, and it's unlikely you will want to buy anything. Treat local people with respect and allow them to get on with the business of making money. We found people were not particularly interested in us, which made for a great atmosphere and the chance to enjoy what was going on around us. Normal common sense applies with regard to keeping valuables secure, although we never had the sense we were at risk.
We saw a number of chickens for sale; if you are sensitive to unhappy animals being treated as food, make your way quickly through this part of the market. We didn't see any livestock being slaughtered on the day we were there.