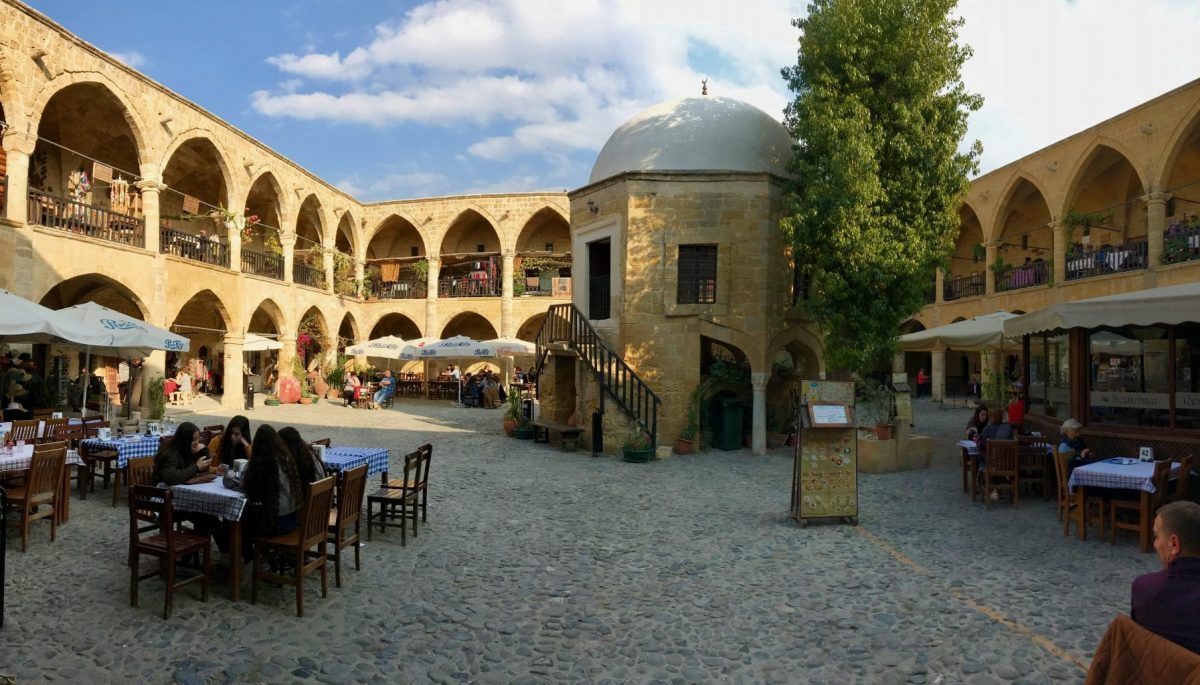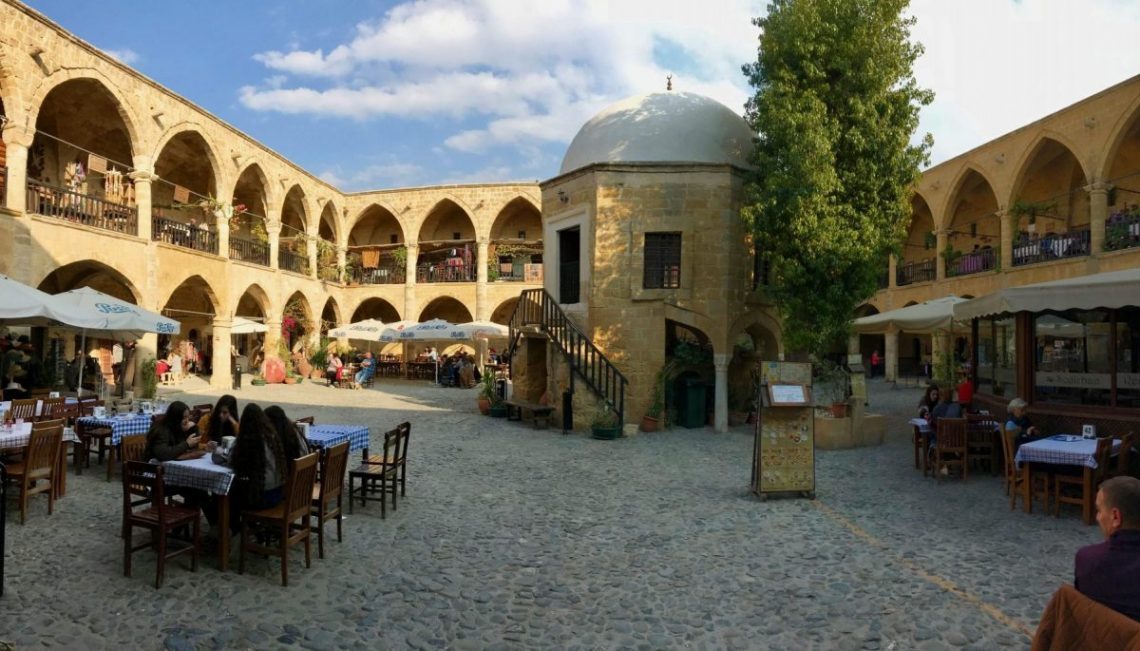 Things to do in Nicosia old town: Cyprus's divided capital
When I decided to go to Cyprus, one of the places I was most keen to see was the island capital, Nicosia. Known as Lefkosia by the Greek-speaking population and Lefkoşa by the Turkish speakers of North Cyprus, Nicosia is a city divided, and one that has only been openly accessible to both sides of the line in the last decade. Despite the long history of Nicosia, the city was fundamentally altered by the arrival in Cyprus of the Turks in 1974; the invasion left the island split into two, with the Green Line (as the border is known) stretching from coast to coast. And the Green Line, which still exists today, cuts right through the heart of Nicosia old town.
I don't like to be political in my writing, and this is something that I am very conscious of when writing about places like Cyprus. I like to view the places I visit from the point of view of the inhabitants, not the politicians, and the majority of Cypriots are going about their lives with little or no involvement in the politics of the island. So whilst the subject of Cyprus's division is contentious, my trip to Nicosia was rooted in simple curiosity, in wanting to experience the different cultures of North and South – the contrasts between the two, but also the similarities – as both populations live their lives in a city which has been united much longer than it has been divided.
As I quickly discovered, there is a wealth of things to do in Nicosia, making it one of the best places to visit in Cyprus if you really want to get a feel for this island nation. If you are wondering what to do in Nicosia, never fear – there is so much to discover.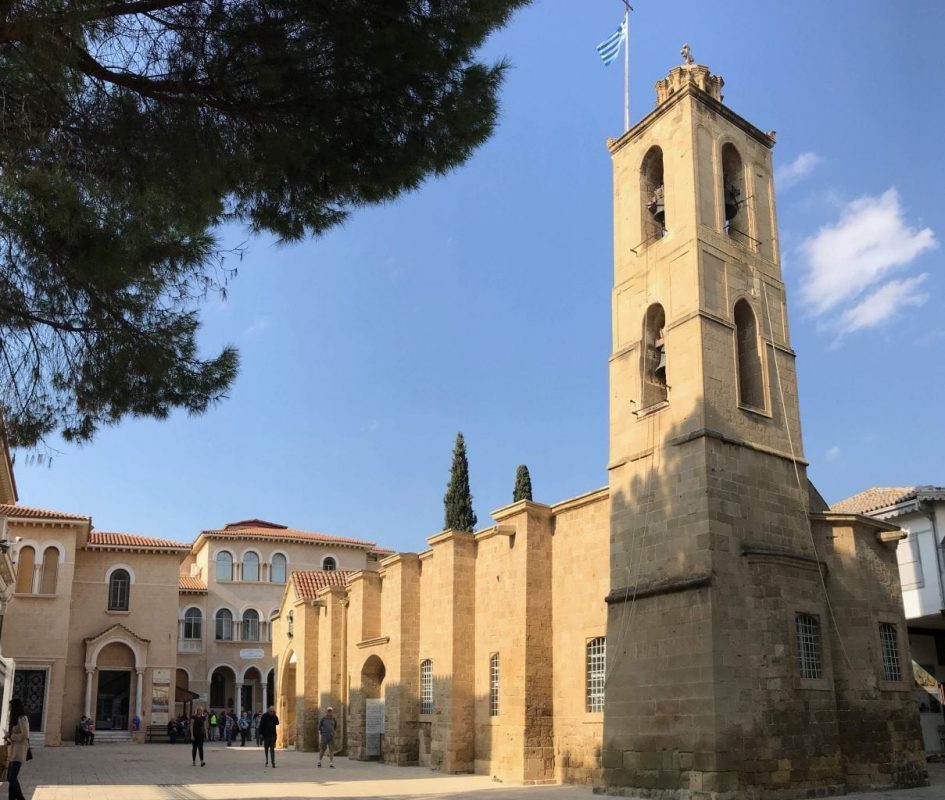 It is an easy day trip from Larnaca to Nicosia (less than 1 hour), as well as from Limassol and the resorts of the southeast coast, while Paphos to Nicosia is a drive of less than 2 hours. I had rented a car, so a smooth motorway took me close to the city – where I hit Cyprus's traffic issues. With empty roads most of the way across the island, the one thing Cyprus doesn't seem to have worked out yet is traffic management in its cities, where traffic lights at every junction seem deliberately designed to bunch vehicles up and slow them to a crawl. But most transport goes by road in Cyprus, and while there is a great network of intercity buses that will get you to the capital if you don't have your own wheels, you are still going to get stuck in the same traffic. At least it gives you plenty of time to look around and soak up your surroundings.
I normally like to get a feel for the whole city when I travel, both the tourist areas and the districts where its inhabitants live out their daily lives. But with just a day at my disposal and so many places to visit in downtown Nicosia, I skipped over the new town and headed straight for the old city. Within city walls, Nicosia's streets narrow down into winding alleyways, most of them one car wide. Visiting in late December, the weather was sunny but tourists were few; it was therefore easy to find a parking space in one of the many car parks in the old town. I was parked next to the Ömeriye Mosque, the first sign of the variety of cultures in this historic city.
The city has been continuously occupied for over 4000 years, and has played host in its day to Romans, Crusaders, Ottomans and the British before its ultimate invasion and division. Remnants of every aspect of this history are on display, and a walk through the old city reveals many of its secrets. I set off with half a plan of what to see in Nicosia, but ended up just strolling the narrow streets and enjoying the atmosphere. One unmissable stop on any Nicosia sightseeing tour is the Archbishop's Palace, an imposing building which, somewhat improbably, plays host to two impressive vintage cars in its courtyard. Next door is the picture-perfect Agios Ioannis (St John's) Cathedral. A further wander south and east brings you to the city walls themselves, and the Famagusta Gate. A well-known spot for photographs, the gate itself is a little underwhelming. But, through an unprepossessing car park nearby, it is possible to climb up onto the city walls for a panoramic view across modern, Greek, Nicosia.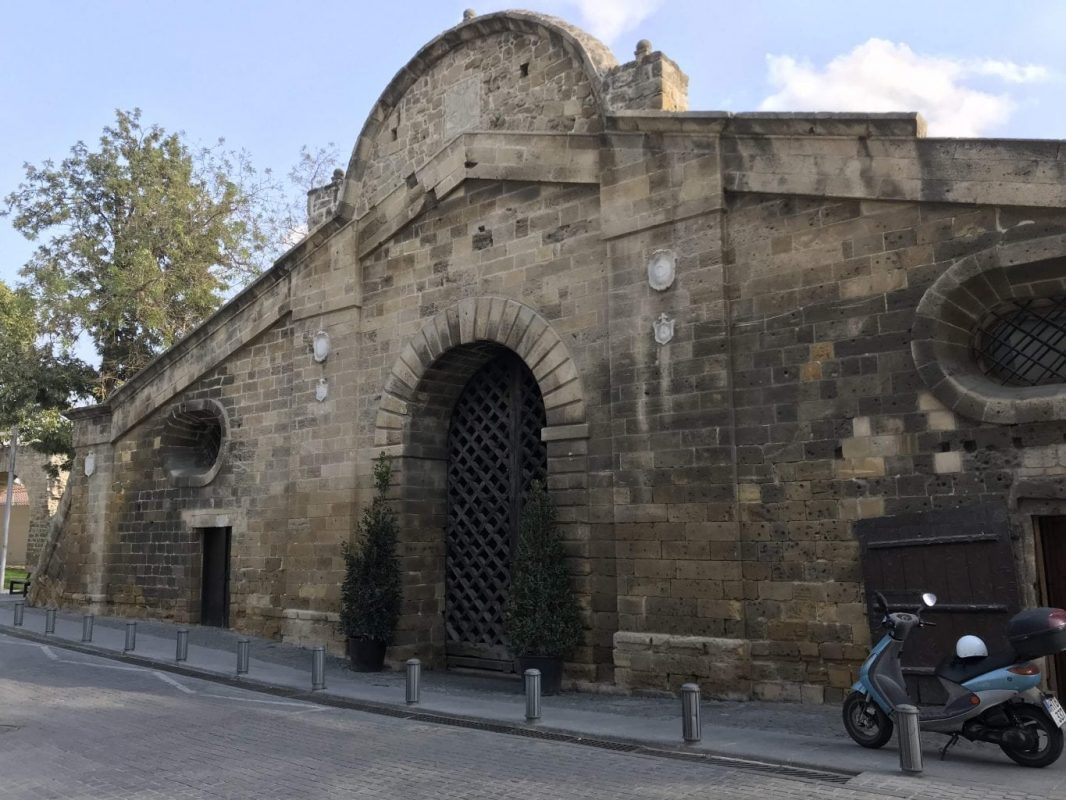 I stopped in a cafe for a Cyprus coffee, made in the Turkish style in a small espresso cup with a thick layer of coffee grounds at the bottom. Served with a glass of water on the side, learning to drink it is an acquired art – let it sit for a few minutes, and then clamp your lips around the cup so the liquid can just seep through without getting a mouthful of gritty coffee grounds! Cyprus coffee is cheap, usually just a couple of euros, and is great for a quick sightseeing break. Rested and caffeinated, I set off once again, back towards the Ledra Street border crossing.
The most direct route brought me close to the Green Line, one of the more controversial Nicosia attractions. This border that divides the island into two slices straight through the capital in the form of a no man's land, all barbed wire and barren wasteland, where you will be watched and photography is prohibited. From a sunny Mediterranean city, I was suddenly in a land of oppression. In recent years a certain amount of effort has been put into regenerating the areas of the city either side of the Line, but the slickly-paved streets still break into rough fences and political slogans at irregular intervals, before you stumble back into the manicured streets again. It's an unsettling contrast.
Ledra Street Nicosia is the bustling heart of the Greek old town. A mix of shops, restaurants, chain brands and tourist souvenirs, the end of the busy street is the pedestrian border checkpoint to cross into Turkish North Cyprus. Only a decade or so ago this crossing was difficult to negotiate at best; now, anyone with a passport or identity card can cross easily, and it's a common sight to see North Nicosians heading south to the Republic for a night out. Crossing the Nicosia border is straightforward but confusing in equal measure. I joined a queue at a police checkpoint before noticing how many people were walking straight past. As an EU citizen, I started to question what I was queuing for, and headed off to follow the people bypassing the police post. Nobody paid me any attention. Arriving at the Turkish checkpoint, it was a little more obvious that I was supposed to present myself at one of the immigration counters, where my passport was checked and scanned but not stamped. EU citizens don't need a visa to enter North Cyprus, unlike mainland Turkey, so there was no charge and I was quickly through and into Turkish Lefkoşa.
The cultural change is immediate. Directly past the checkpoint, you are thrown into a warren of shops and souvenir stalls, restaurants and bustle. North Cyprus uses the Turkish Lira as currency, although I never touched any and everyone was happy to accept euros or credit cards. I stopped for a meal at a restaurant just outside Büyük Han, a walled caravanserai which is now an attractive place to eat and shop – if you are wondering where to eat in Nicosia, you could do much worse. After a lunch of Cypriot meze with a Turkish beer, I wandered further, down collonaded streets lined with more shops and old men playing chess on the pavement. North Nicosia is visibly similar to its southern counterpart, but also visibly different. The historic buildings have an exotic twist that is a contrast to the Mediterranean atmosphere across the Green Line.
My next destination was the Selimiye Mosque. Previously St Sophia's Cathedral, it is an interesting building, and not just for the whirling dervish performances that take place for tourists next door. I went inside to take a look around, removing my shoes at the door and taking one of the headscarves hanging on a coat rack at the entrance. Like all mosques, modesty is required (long trousers and covered shoulders for all, covered heads for the ladies – none of it a problem in December, but worth planning for in the hotter months when the temperature in Nicosia can soar; there is normally clothing you can borrow if necessary). The former cathedral was converted to a mosque in 1570 when the city fell to the Ottomans, and the inside, whilst carpeted and devoid of pews, is still very obviously a once-Christian building. Churches always face east, with the altar at the eastern end; mosques, on the other hand, must direct the praying faithful towards Mecca – which is not east of Cyprus. The mihrab (the focal point for worship) is therefore in what used to be the south transept of the cathedral, set on a diagonal and giving it an eccentric and slightly ill-fitting air. I wandered the mosque undisturbed, enjoying the peace and smiling at the small boys playing on the carpet in one corner. It was fascinating to see this example of a place of worship repurposed in this way.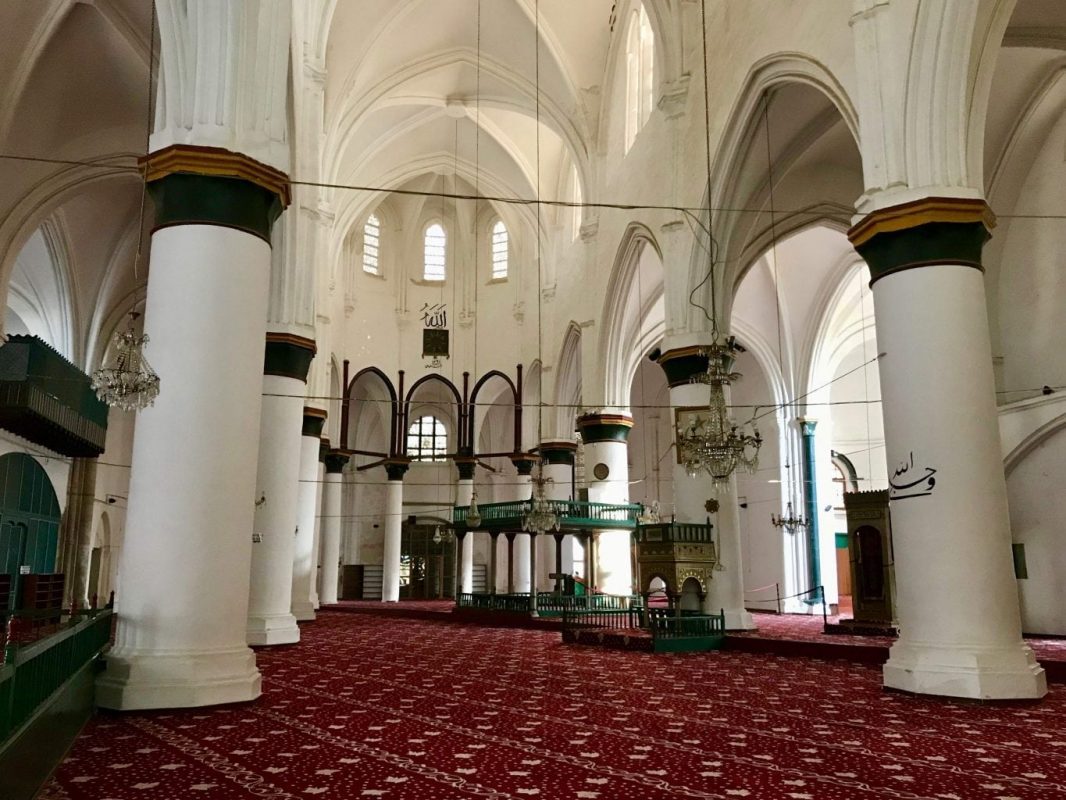 North Cyprus is overwhelmingly Muslim, so hijabs are a commons sight and mosques are plentiful. As I wandered the streets of the old town, the call to prayer rang out all around me. It's one of my favourite sounds, and always a joy to hear. Strolling onward, I eventually reached Kyrenia Gate, another of the 3 gates of Nicosia's old town and the only one north of the line, where the new city lay ahead of me. My time was too limited to venture on, but Kyrenia Gate is where you will find buses onward to Girne (Kyrenia) on the north coast, and other North Cyprus destinations. If you want to travel further afield, buses are probably the best bet. Although Republic of Cyprus hire cars can be taken into the North, you will have to pay for additional insurance which only provides third party cover in the event of an accident. Safer by far to use the cheap and accessible public transport, or hire a new car if you will be here for a little longer.
Turning back from Kyrenia Gate, I had one final stop before heading back across the border. Belediye Pazarı is located close to the Ledra Street checkpoint, and is a covered bazaar lined with stalls selling vegetables and many other products. I arrived relatively late in the day and the market was packing up, but it is still worth checking out, especially for those unfamiliar with Turkish and Middle Eastern markets. For me, it made for a suitable swansong to my brief visit north.
Crossing back across the border was simple enough – a passport check leaving the Turkish area, followed by another slightly confused stroll straight past the Republic's police checkpoint. This time I passed a policeman, whose complete lack of interest at least reassured me that I hadn't missed some essential immigration procedure. In fact, the border is a strange anomaly for the Republic of Cyprus, which considers the entire island to be part of its territory, with the Turkish illegally occupying the North – so the Cypriots in the south don't need to check you in and out of the country because you haven't actually gone anywhere. As such, I got the impression nobody was too bothered about seeing my passport, but please don't take my word for it. Feel out the situation for yourself on the day.
And so I was back in a world of McDonalds and Starbucks, euros and the Greek alphabet – a stark contrast, even after such a brief visit to the Turkish north. Nicosia tourism is steadily taking off, and the city – on both sides of the border – has a lot to offer visitors. Northern Lefkoşa is certainly more conservative, obviously Islamic, and somewhat more exotic than southern Lefkosia with its Mediterranean charms, but both sides of the divide deserve exploration. The coastline may be the island's biggest draw, but if you truly want to experience all the best places to visit in Cyprus, don't forget to take a trip inland to see what Nicosia had to offer.
---
Map of Nicosia
Wondering how to find all the top Nicosia things to do in Cyprus's divided capital? Check out this Nicosia map to discover what the old city has to offer!
Are you inspired to visit Nicosia? Wondering what to see in Cyprus away from the capital? Check out this post to discover the many other Cyprus holiday destinations, as well as why winter is the perfect time to come!
---
---
Enjoyed reading about the best things to do in Nicosia old town? Click on an image below to pin it!