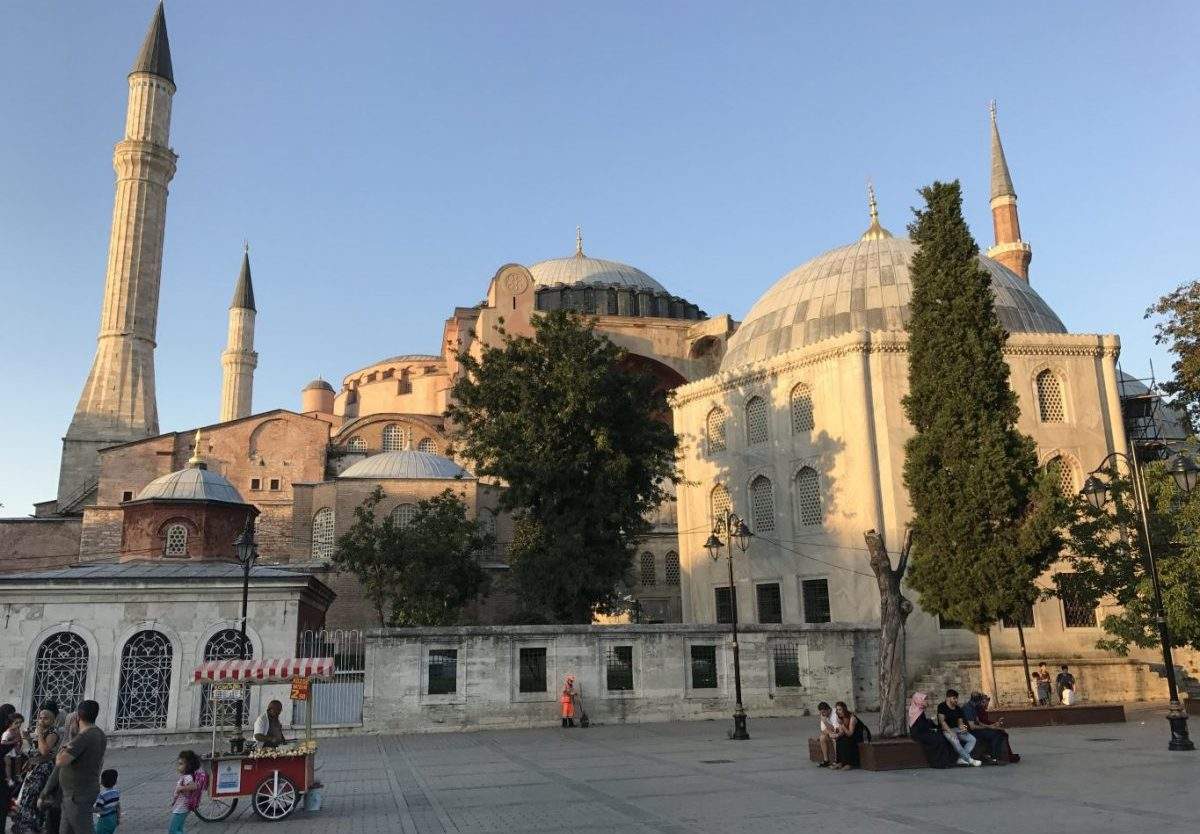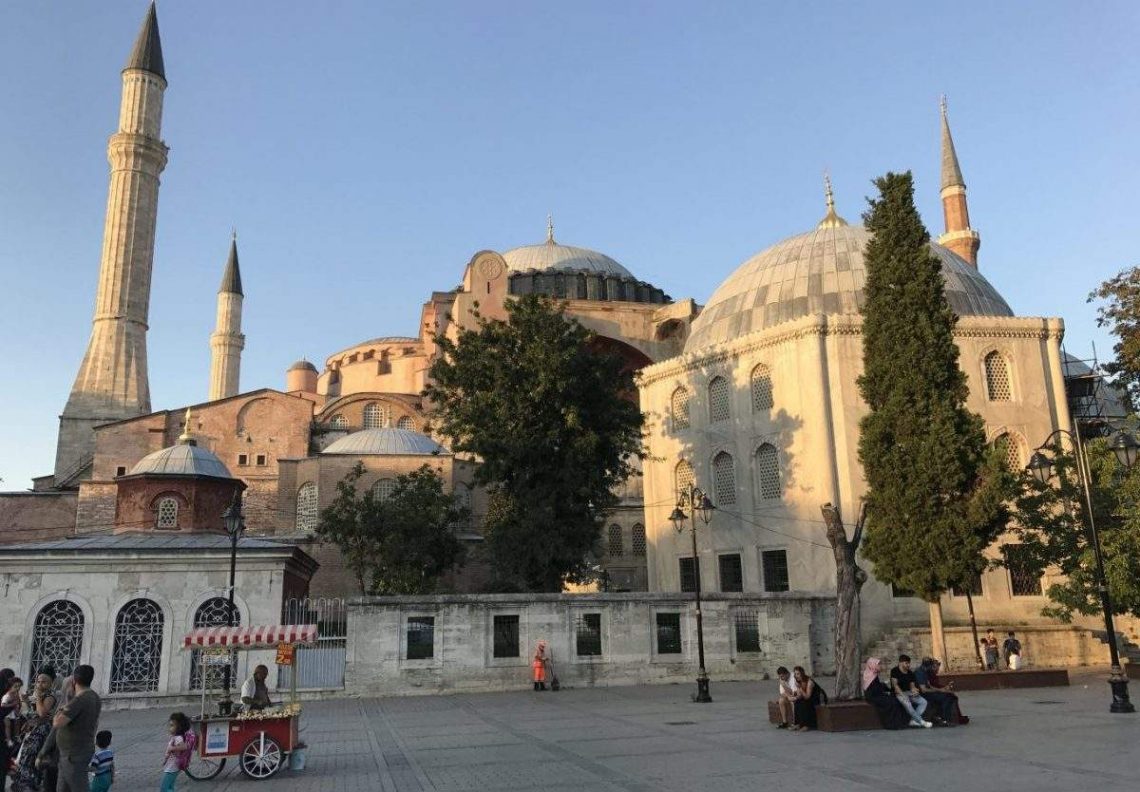 Istanbul layover? See the city highlights on a transit visit
---
Note: Since this post was published, the new Istanbul airport has opened to the north of the city. Transport and airport facilities in this post are based on arriving at Ataturk, the old international airport, although all other information is still relevant. I will update this post the next time I have an opportunity to pass through Istanbul!
---
Istanbul is a major hub for reasonably-priced flights from Europe to the Middle East and further afield, but it is better known as a fascinating city in its own right. Got a layover in Istanbul? Here's how to make the most of your time and experience a little of the city.
How long do you need?
I transited through Istanbul with a layover time of 7.5 hours, arriving at 4.30pm and leaving again just before midnight. My recommendations are therefore based on this timeframe, which I would consider the minimum to make a transit visit worthwhile. But if you have longer you can see even more!
If your airline operates several flights a day from Istanbul to your final destination, check to see whether you can book a later onward flight to give you more time. Usually, this will cost no more than the suggested connection, and sometimes it can even be cheaper! Note, however, that it is best to do this before you make the booking, as it may be expensive or even impossible to change your ticket later.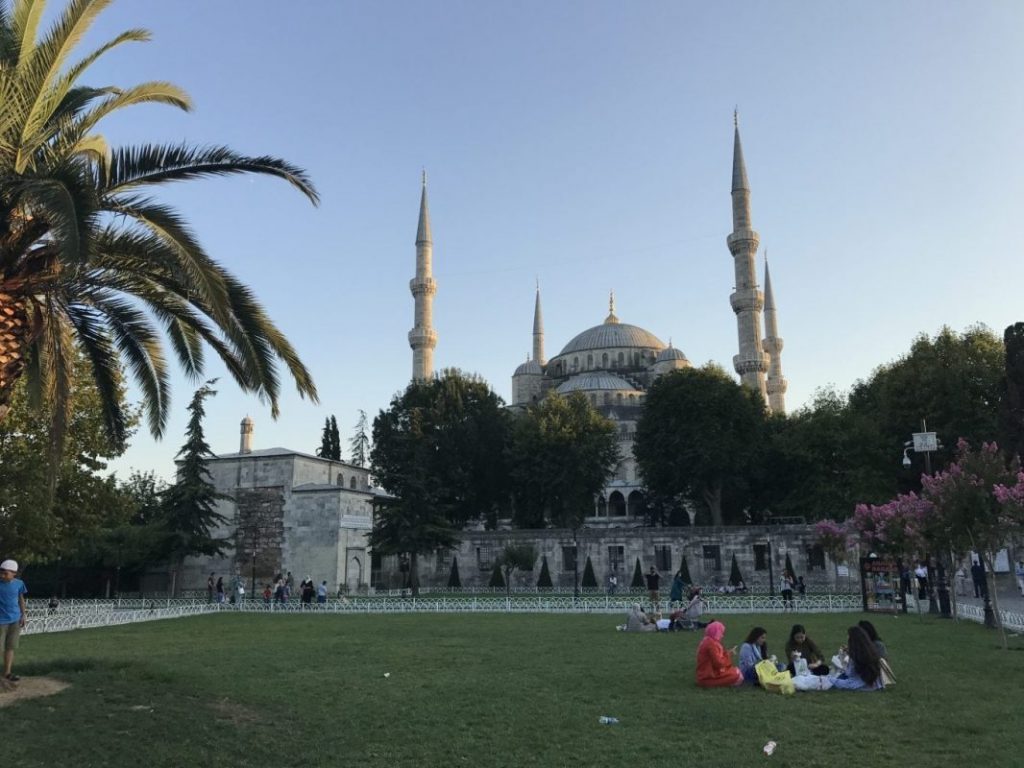 Clearing immigration
The majority of visitors to Turkey will need a visa, which you will need to organise in advance. As a UK passport holder, I entered on an e-Visa, which I arranged a few weeks before my trip and carried with me as a printout.
To exit the plane and clear passport control you should allow approximately 60 minutes. This can obviously vary depending on how busy the airport is that day; my timings are based on a busy day with long queues at passport control.
Left luggage
You will probably not need to collect your suitcase; check with your airline at your departure airport that the bag is checked straight through to your destination, but this is normally the case unless the layover is particularly long.
There is a left luggage counter just after arrivals in the terminal at Istanbul – turn right as you come out of customs and look for "Left baggage" . For a moderate price you can leave your hand luggage here and take only what you need around the city. Prices for a medium size bag or suitcase are currently 24 lira (£5 / €6 / $7) for 24 hours.
Getting to the city
The most efficient way to get into the city is via the metro system. The airport station is clearly signposted in the arrivals hall, and the journey time to Sultanahmet station (close to the Blue Mosque, Hagia Sofia and the Grand Bazaar) is around 55 minutes. Take metrol line M1 (the only one that serves the airport) to Zeytinburnu, then transfer to tram T1 in the direction of Kabatas, getting off at Sultanahmet. You will need to buy two tickets, one per mode of transport; as of 2017 these cost 5 TRY per ticket.
Alternatively you can take a taxi, which will be easier but more expensive and liable to traffic delays.
Easy sights to see
For a 7 hour layover like mine, I recommend heading to the Blue Mosque and Hagia Sofia, before ending at the Topkapi Palace. If the Palace is closed (which was the case for me), wander through Gülhane Park down to the Bosphorus for views across to the Asian continent. If you have more time you can add the Grand Bazaar, either at the start of the itinerary or as a stop-off on your way back to the airport.
Most sites close around 6 pm, earlier in winter, so depending on the time of day you may not be able to go inside. I was there in the evening; be prepared to run the gamut of would-be guides informing you the sight is closed!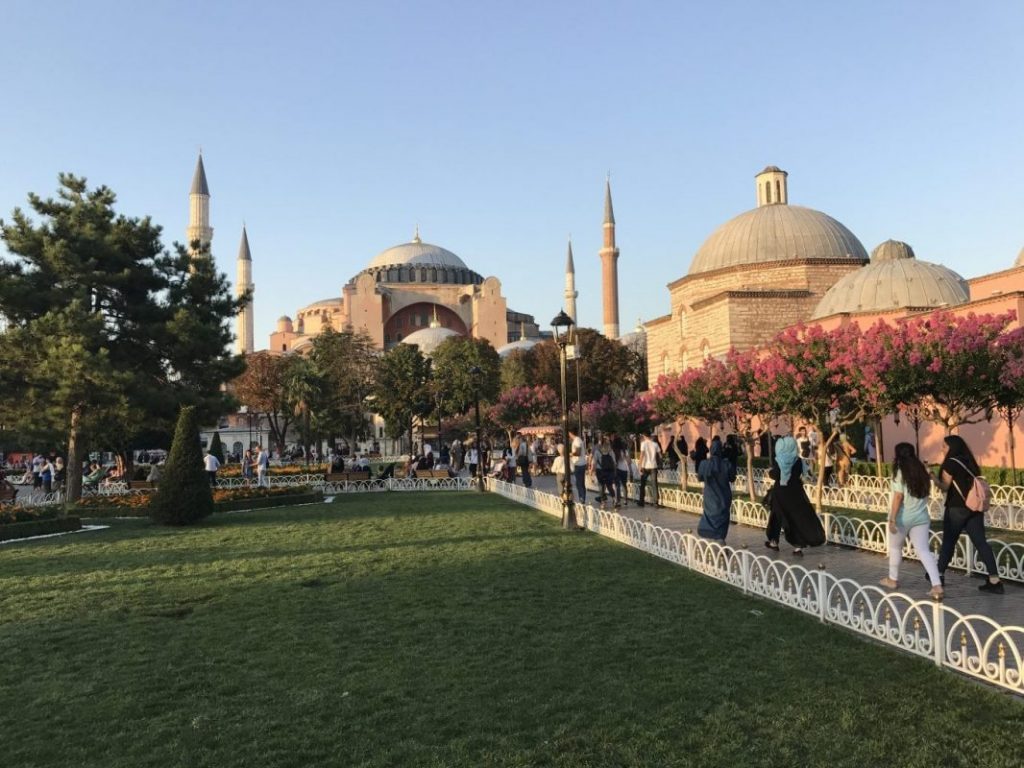 Eating
Depending on the time available, you may want to eat a short meal downtown. Restaurants are plentiful in the old city downtown area; for a traditional Turkish option check out Gülhane Sur Café, hidden down a side road behind Hagia Sofia and close to the entrance to Gülhane Park. I didn't try it myself as the vegetarian options are limited, however they have a wide range of meat kebabs and you can even order a shisha pipe for the full Turkish experience!
Alternatively, the airport has an extensive selection of restaurants and a fast-food court if you would prefer to eat once you have arrived back for your flight.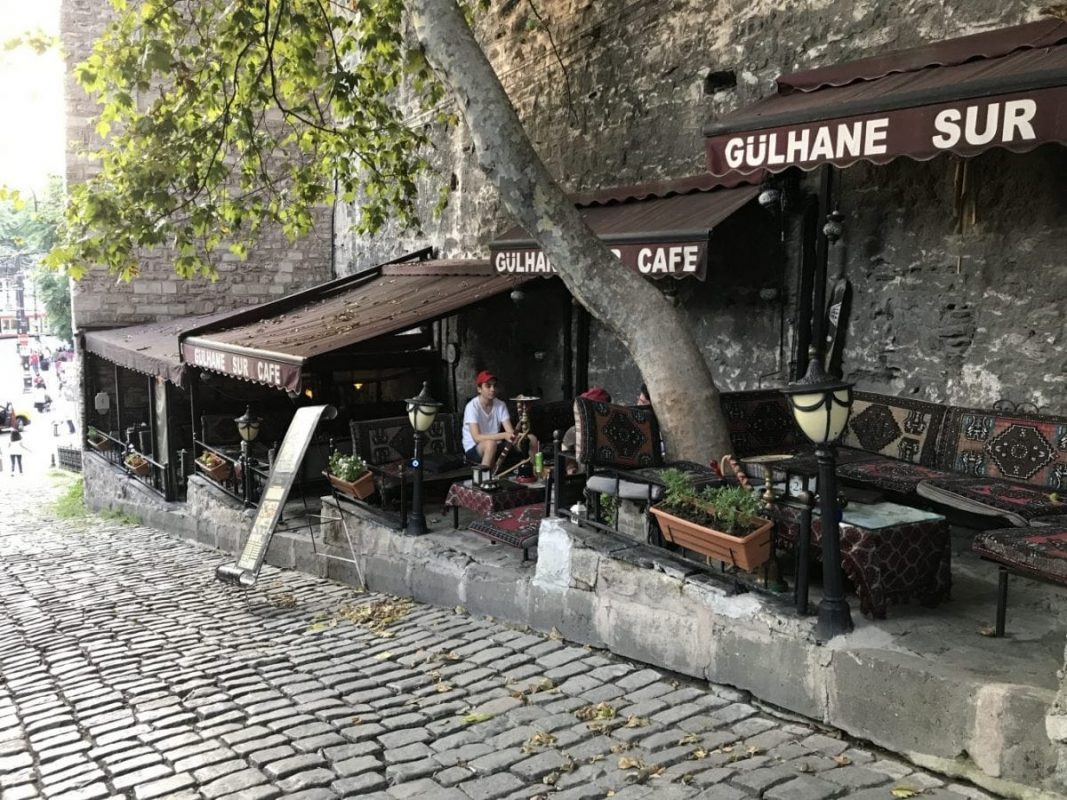 Return check-in
Depending on your boarding time and whether you need to re-check your suitcase, you should aim to be back at the airport around 2-2.5 hours before your departure time. This means leaving the city centre around 3-3.5 hours before your flight. I recommend returning by the same route, leaving from either Sultanahmet or Gülhane tram stop.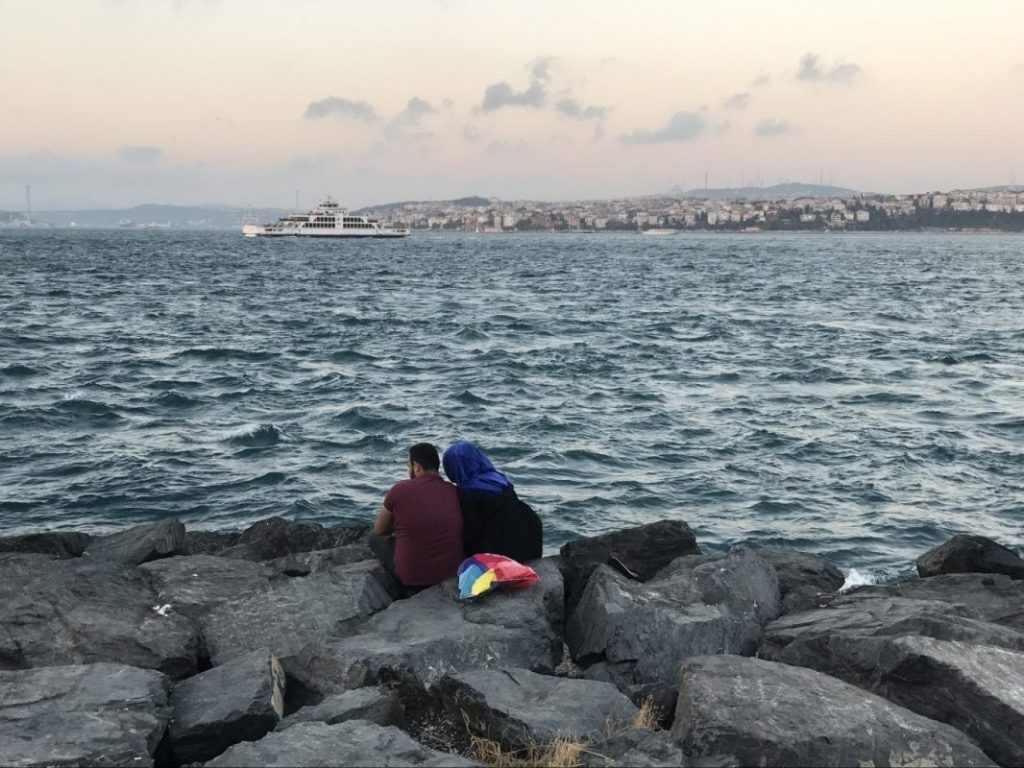 Tours operated by the airport
Turkish Airlines offers free transit tours to passengers connecting to another Turkish flight in Istanbul. The latest of these departs at 4pm; visit the TourIstanbul website for details. These could be a reassuring option if you would prefer someone else to take responsibility for getting you back on time for your flight!
Tips for your Istanbul visit
If you are staying a little longer in the city, check out the 10 things to avoid doing in Istanbul to really have the most authentic visit!
Pushed for time on your layover?
If your layover isn't long enough to experience the city, fear not! Noel from Ten Thousand Strangers has some great suggestions for how you can entertain yourself without even leaving the terminal…
Enjoyed reading about how you can experience your own Istanbul layover? Pin it!