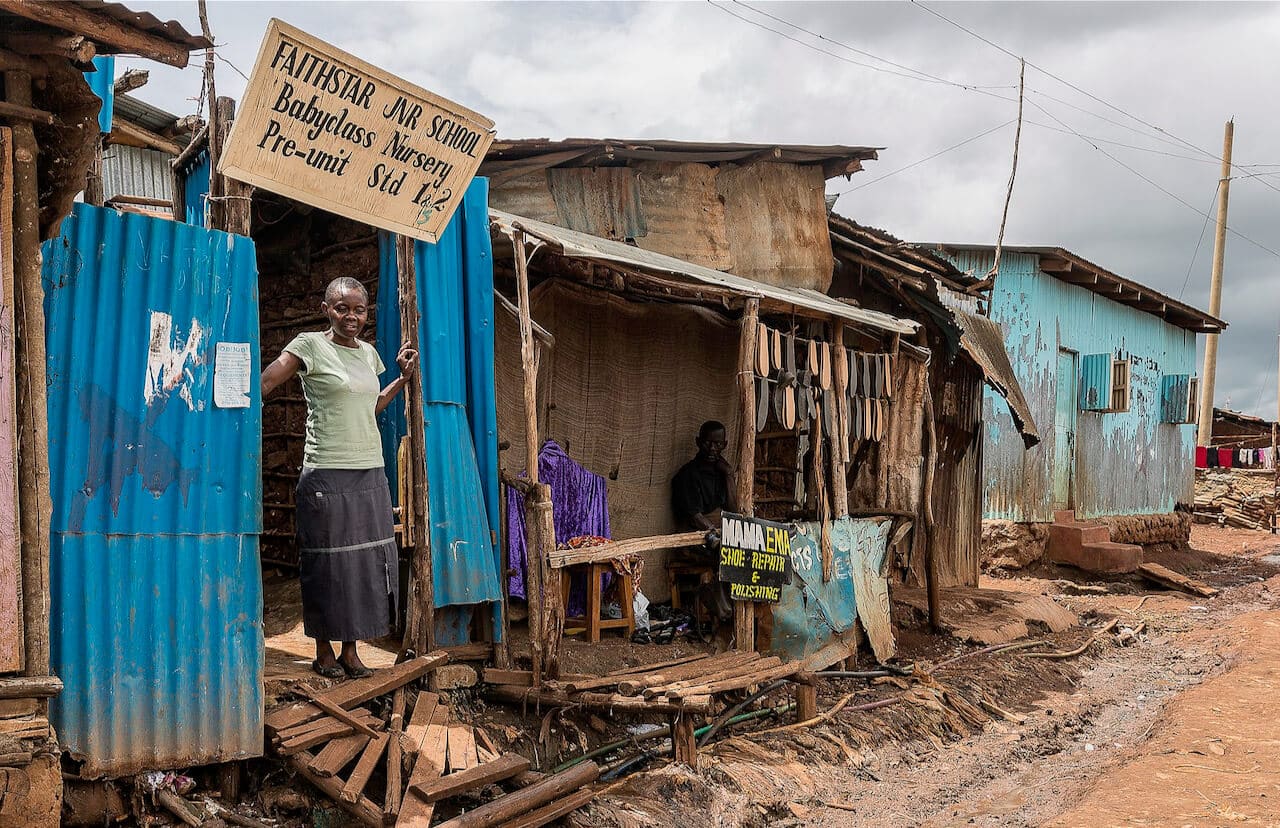 Kibera slum tour: Real life in an African slum
It is really important to me to learn about everyday life in the countries I visit. It doesn't matter whether the country is affluent or impoverished, I want to see behind the tourist veneer and get a glimpse into how people live, the reality of normal life. In the past, this has taken me to supermarkets, residential streets and, in India, a multiplex cinema where I had the samosa special and watched modern Bollywood for an afternoon. But Nairobi was something different. It took me to Kibera.
Not unreasonably, many countries gloss over their poorer areas, would prefer not to show them off to visitors. I visited Namibia some years ago, and we were whisked straight past the townships as though they didn't exist. Kenya's capital, Nairobi, is a place of contrasts: I stayed in a nice tourist hotel, with air conditioning and a pool, a stone's throw from the skyscrapers of the downtown. But Nairobi is also home to arguably the largest slum in Africa, Kibera. With some 700,000 inhabitants, Kibera perches on the edge of the city centre, not far from the national park and wildlife sanctuaries that draw tourists from all over the world, yet it is a place of shacks and poverty. I had the opportunity to take a tour, and I took it.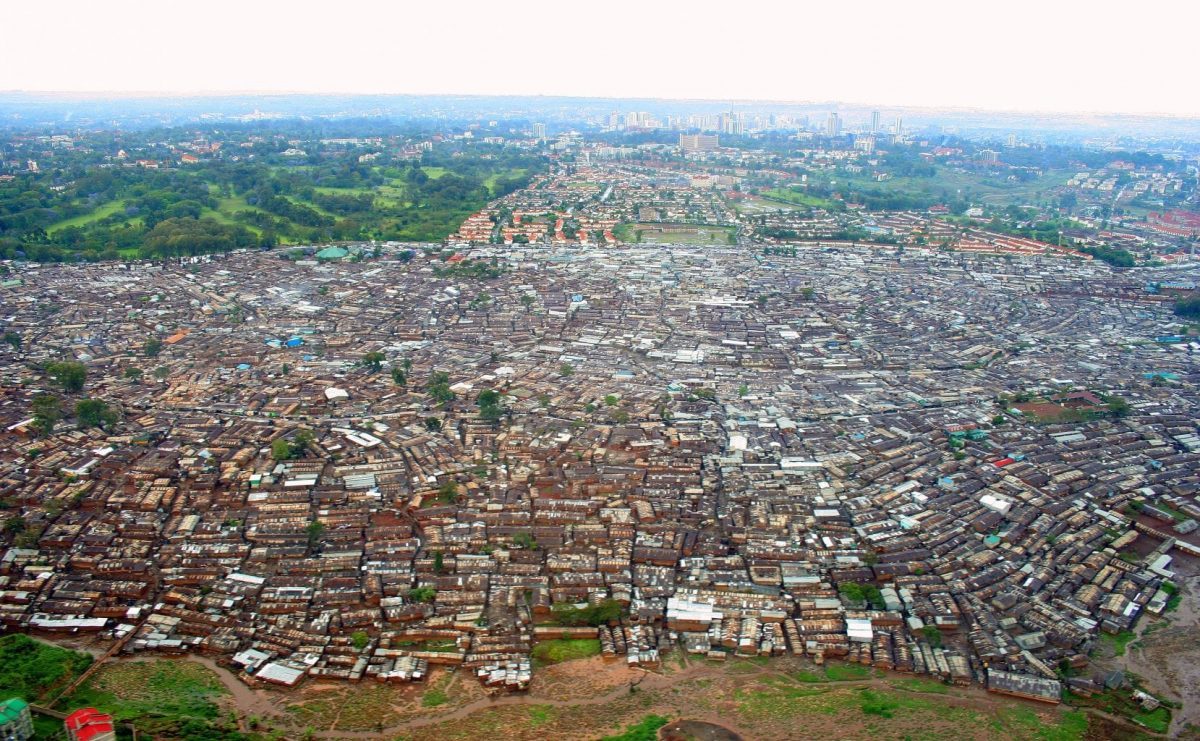 I wasn't sure about the ethics of taking a Kibera slum tour, and if I'm honest, I'm not entirely sure today. My reasons for going were primarily for my own education: to see what life in an African slum is really like, and to fully understand the conditions people have to live in simply because they were born less fortunate than me. My intention was to raise my own awareness, and to help the community in some small way. But the last thing I wanted was to be a voyeur, to parade around town in a tour group flashing my riches and making people feel uncomfortable at best, embarrassed at worst. Fortunately my visit was as low-key as possible; I was in Kenya as a solo traveller and had booked a 2-day private tour (with Dawn in Africa Safaris), and they were able to arrange for me to visit Kibera with a representative of a local charity, and – most importantly to me – on my own. And what an experience it was.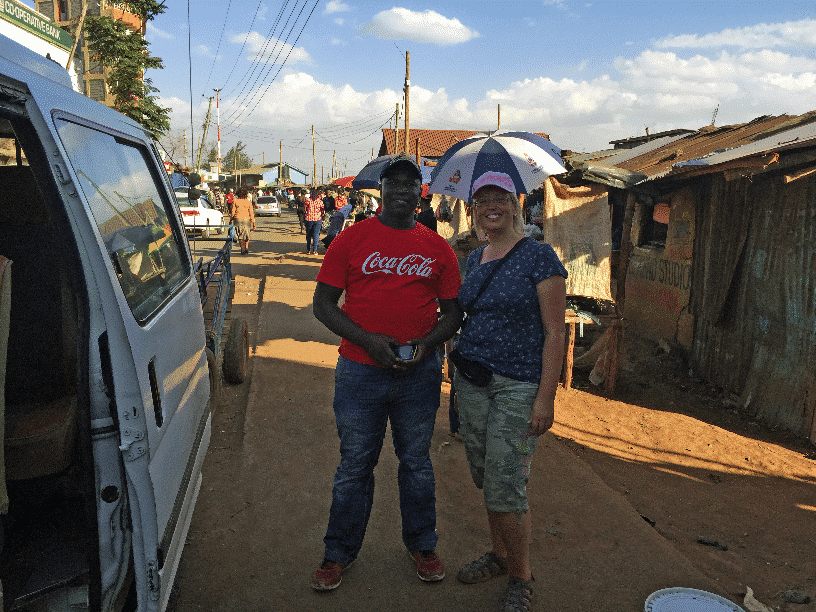 I was met on the outskirts of the slum by David, who runs a community project helping local children express their creativity through a range of means – arts and crafts, modern and traditional dance, videography and many others. What can at first seem superficial is in fact very valuable for these kids; aside from providing them with a safe place that keeps them occupied and out of trouble, it provides mentorship from the adults involved. And the skills they learn lead to employment, primarily in the tourist industry which is a big part of the local economy, as well as the opportunity to get out of Kibera and travel around Kenya – and even overseas – giving performances. David and I sat in his office on the top floor of a ramshackle wooden building as he filled me in, and my eyes were opened wide by his passion and commitment.
Afterwards, David took me on a walk around the eastern part of Kibera. The township is made up of a number of "villages" which blend one into the other, and not all of which are welcoming to strangers. But here in his home district, we were greeted on the street by his friends and family. The streets were narrow in places, wending between the tightly-packed wooden buildings (to the point that I hit my head – hard – on an overhang, which was more than a little embarrassing). The ground beneath our feet was buried under several layers of rubbish. It was exactly how I had pictured an African slum, and difficult to digest. The refuse underfoot, the smell of garbage, and the families living side-by-side amongst all this, purely because they were born here and this was their lot in life. Life in Kibera is hard.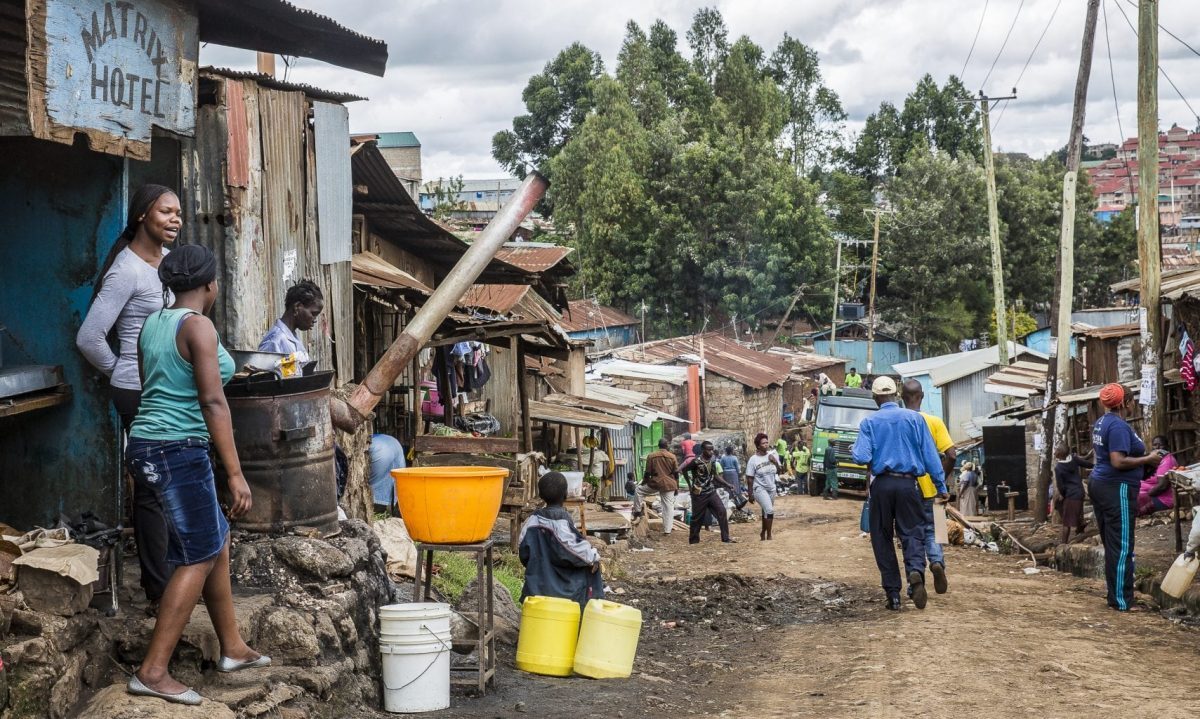 But the people were incredible. David introduced me to everyone he knew along the way – all of them friendly, welcoming, ready to shake my hand. His family members would appear from nowhere – a teenage niece who met up with him to collect some money, brothers and sisters who would appear for a quick hello. We visited a local bone carver, who took the bones of cows from the slaughterhouse and cut and polished them into jewellery to sell to tourists. He showed me the process, in a rickety workshop thick with bone dust. In his little sales room I selected a few pieces to take home with me, knowing that the important thing was to buy something, regardless of whether I liked it. But the little bracelets and necklaces made great souvenirs, as well. One of the salesmen surprised me when he asked where I was from and I told him Stoke-on-Trent. "Ah, Stoke City!" he said, referring to our local football team which was currently in the UK Premier League. Nowhere on my travels has anyone known where Stoke-on-Trent is, and yet here in the slums of Nairobi I found someone who knew of the city and had watched its team on television. He was a Manchester United fan, but you can't have everything.
We visited a community centre who have set up a project to generate electricity using refuse from the local public toilets. Living conditions in Kibera are such that in-home plumbing is very rarely available, so these community toilets are common, and the method of generating electricity from this inexhaustible source was ingenious. We also went to Kibera Town Centre, a building with offices, public showers and a small coffee shop where local people could buy their espressos and lattes and have some dignity, knowing that they were having the same experiences as their richer cousins in the city centre. In a side room was a bank of computers; these are free to use, and enable Kibera's residents to have email and Facebook accounts, and all the other things needed in the modern world to communicate and look for employment. It was a fabulous place.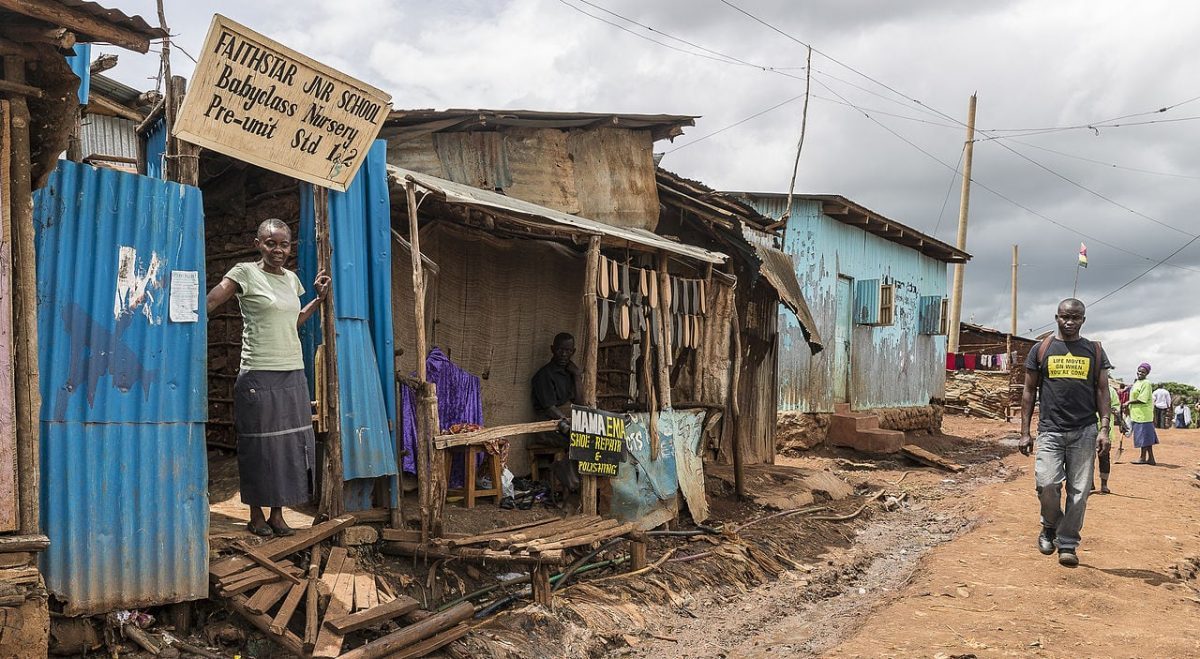 Everywhere I visited, I was handing out donations. It felt awkward and patronising, but would have felt so much worse if I hadn't. My general donation was £5-£10 sterling, and to this day I don't know if that was insultingly extravagant or insultingly little. All I could do was follow my own instincts and hope for the best.
I also had the opportunity on our tour to visit David's adoptive family. His own parents died young, and he was raised by a local couple who still live in the community with their children and grandchildren. And so I was privileged to go behind the street façade into their home, through a courtyard into a back building where the four grandsons were doing their homework on the floor, next to their bunk beds and with an old tv playing on one wall. We made awkward conversation; David insisted on taking photos. I think I was interrupting them, to be honest, but they were so generous to allow me to come into their home, and the children were full of smiles. After a chat with the adults in the courtyard, we were on our way again, with me once again dishing out money like some dishevelled fairy godmother. It didn't get any easier.
Other than the photos in the home, and a few on the outskirts of the slum itself, I didn't take any pictures while I was in Kibera. In fact, other than some money and my phone, I didn't take much with me at all. Taking photos in the streets would have been hugely inappropriate, but David very kindly took some for me after my visit and emailed them to me. Having said that, I don't need photographs to remember the images of the slum, the streets full of people living their lives in difficult conditions, and the entrepreneurship and determination to better their lot that I experienced everywhere around me. It was embarrassing how driven they were compared to myself and the majority of us back home.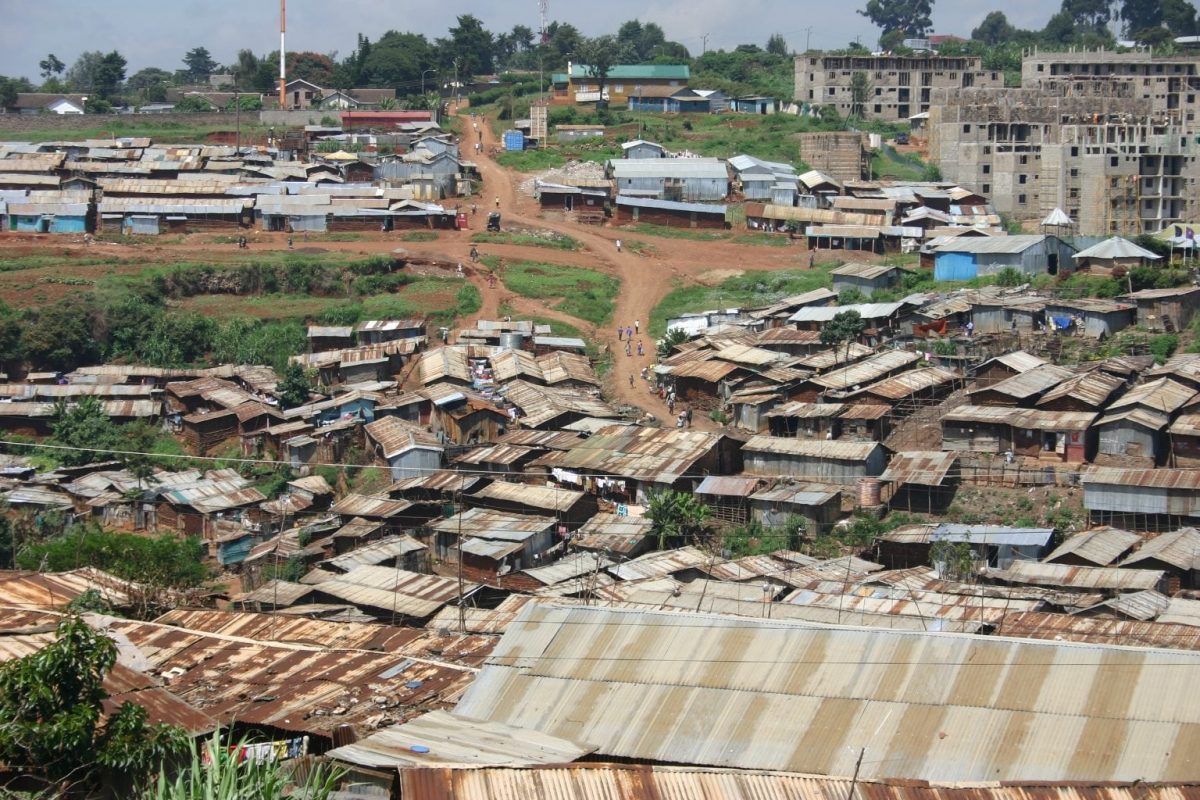 ---
Where is Kibera?
Covering a sizeable chunk of Kenya's capital city, Kibera lies to the southeast of the city centre and close to Nairobi National Park. It can be easily reached in combination with the major tourist sites of the area, but must be visited with a local guide.
How can I help the community of Kibera slum?
After I visited Kibera I was on the lookout for some way in which I could help the community. The projects I came across were all local, and aside from the donations on the day it is difficult to transfer money to them. Then, some months later, I came across Anno's Africa. A project very similar to the one David runs, Anno's Africa works with Kibera children, teaching them performing arts and, especially, ballet. They do a lot of good work in the community and have some prominent backing outside Kenya, particularly in the UK where the charity is registered. I urge you to visit www.annosafrica.org.uk to find out more.
---
Inspired to take your own trip to Kenya? Check out this inspiration for your own 2-day tour!
To compare life in Kibera with another of the world's biggest slums, check out this post on the district of Dharavi in Mumbai, India.
Considering your own Kibera slum tour? Pin this post to re-read it later!