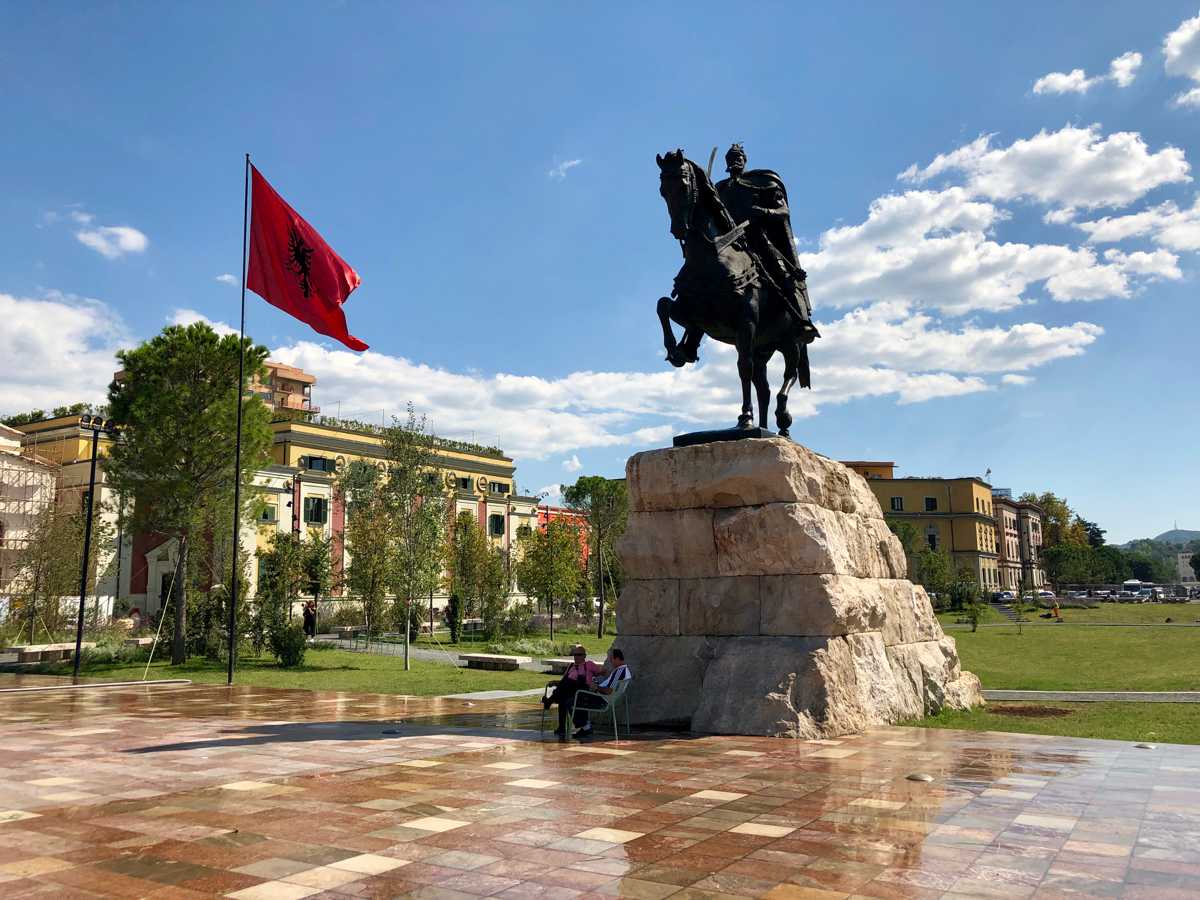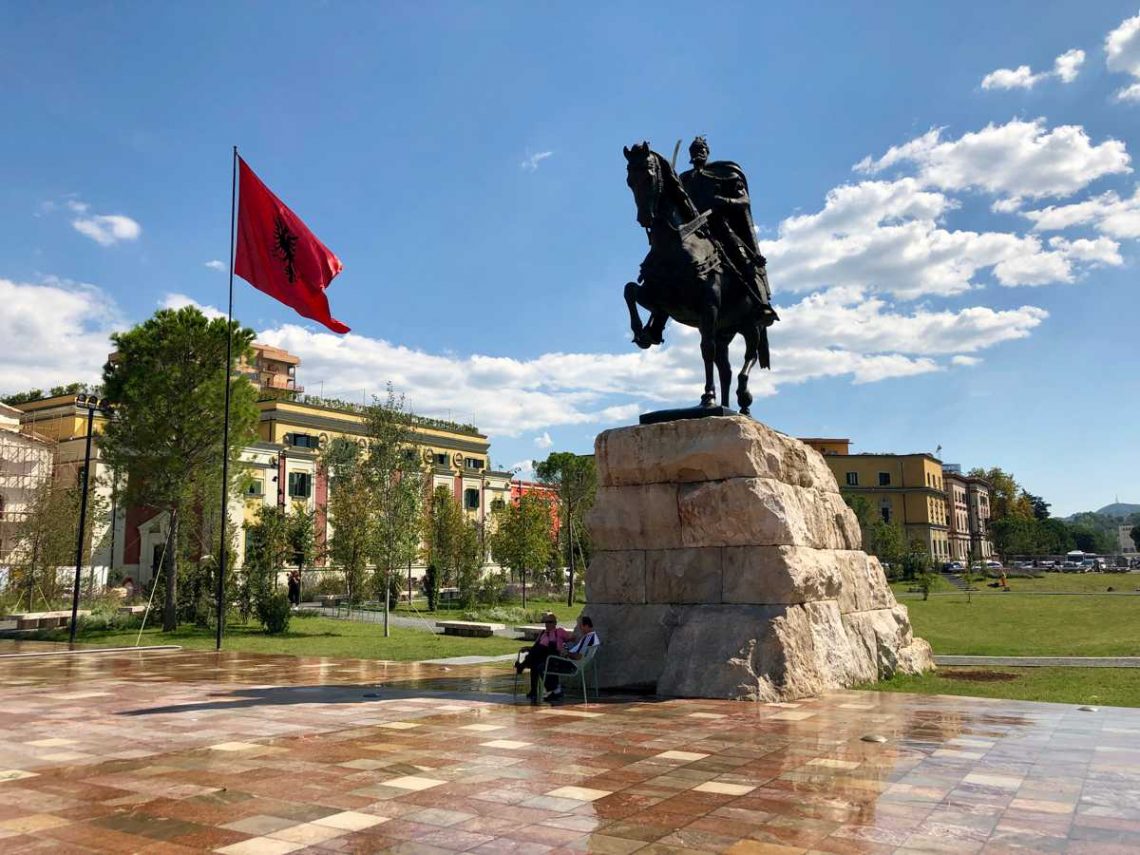 One day in Tirana: Taking the Kotor to Tirana bus
If you're visiting the small Balkan nation of Montenegro, you will likely be focussing your trip on the popular coastal towns of Kotor and Budva. But if you fancy something a little different during your stay, why not take a day trip to Albania's capital, Tirana?

Drita Travel runs daily buses from Kotor via Budva and Montenegro's capital Podgorica to Tirana, which makes a day trip cheap and easy under your own steam. Tack it on to your Balkan tour to experience another side to this fascinating region.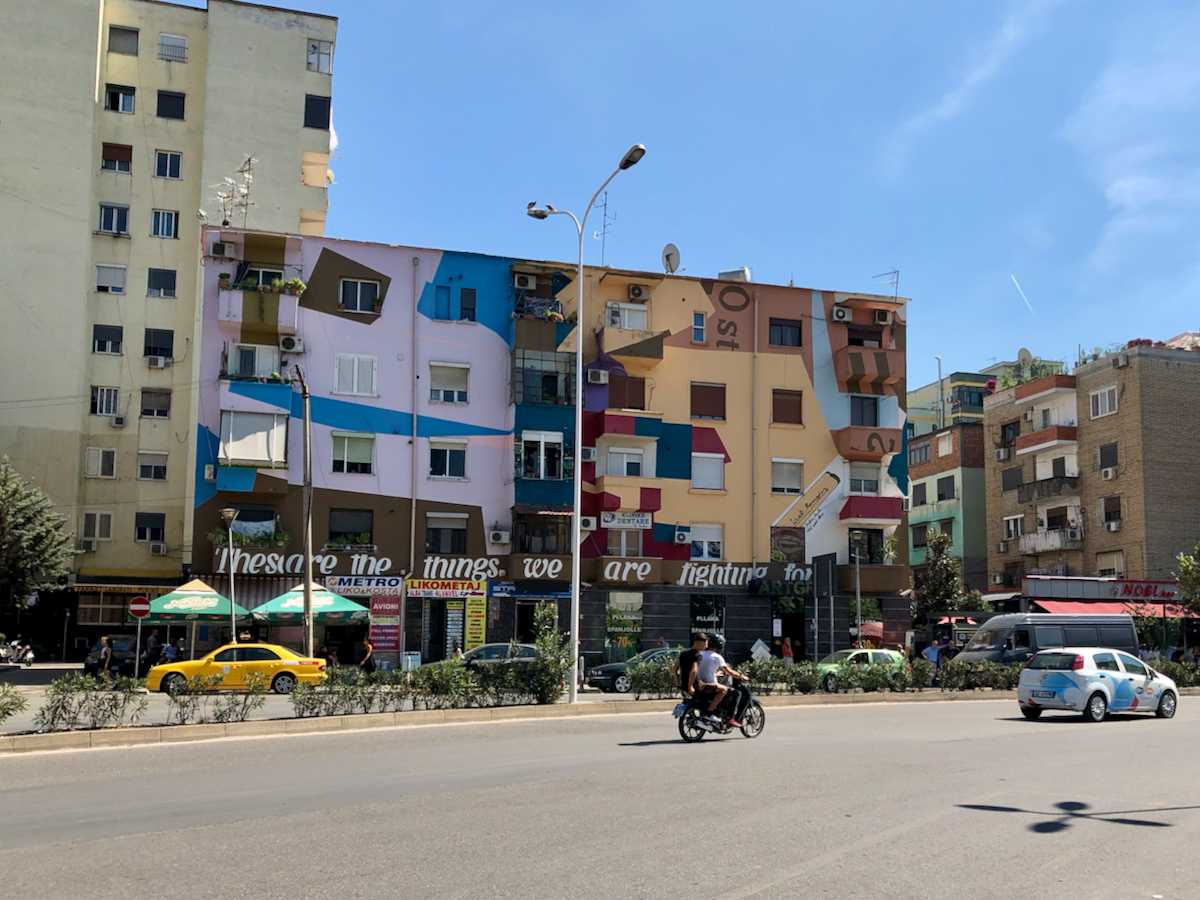 Why visit Tirana?
Tirana, capital city of Albania, lies at the heart of a nation which was off-limits to most foreigners until as recently as the 1990s. Run as a hard-line communist nation by Enver Hoxha from 1944 until his death in 1985, the country was closed off to the outside world and is only now starting to appear on the tourist map. A day trip to Tirana will give you a glimpse into another culture, as you discover a nation emerging from its recent past and rediscovering a much older history of which it is fiercely proud.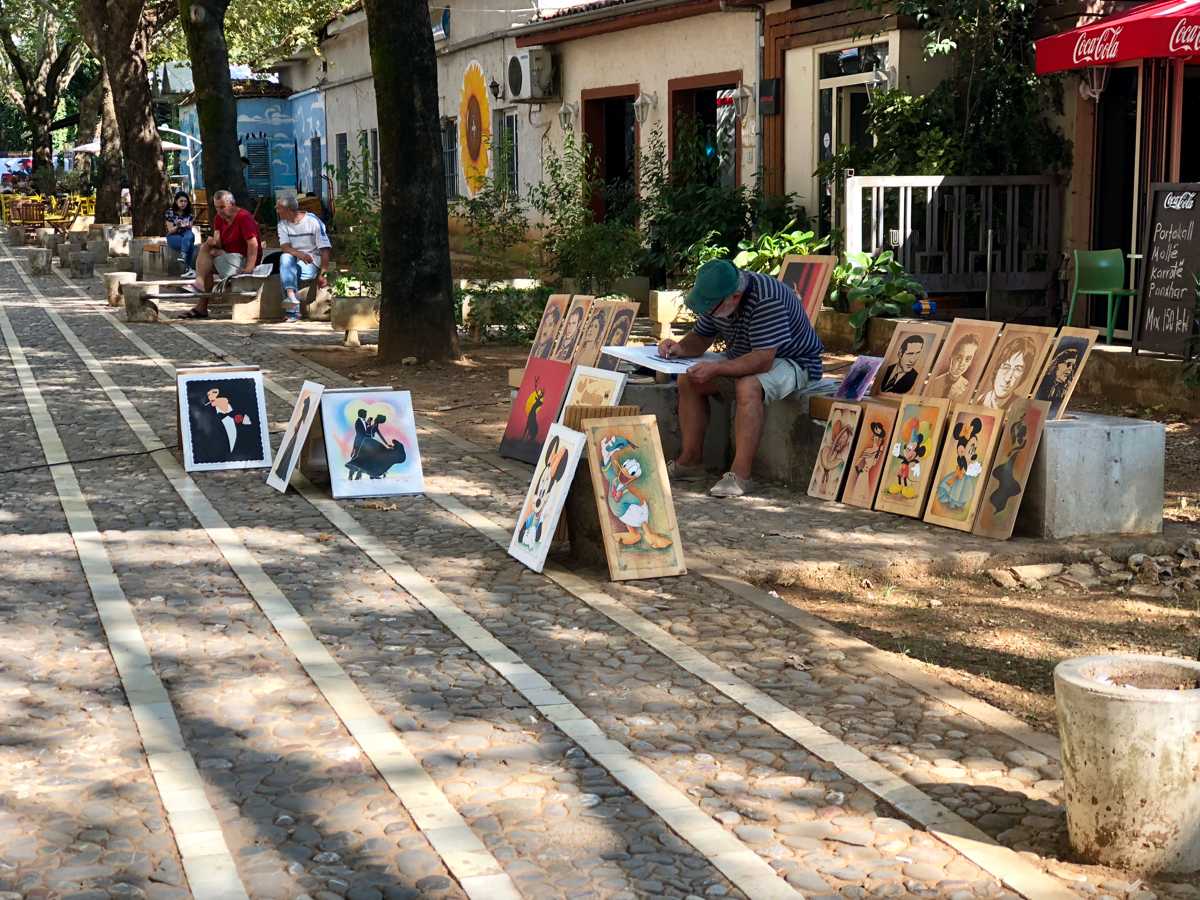 How to get to Tirana from Montenegro
Drita Travel operates a daily Kotor to Tirana bus route, which leaves Kotor early in the morning, passing through Budva and then Podgorica bus station before striking south for Tirana. Departure times in October 2018 were 06:45 from Kotor, 07:30 from Budva and 09:00 from Podgorica, arriving in Tirana at 12:15. Arrival times in Albania are, though, at the mercy of border control; when I visited, we arrived in Tirana at 13:15.

Return departure from Tirana to Kotor is at 18:00, arriving in Podgorica at 21:30, Budva at 23:05 and Kotor at 23:45.

The day is long but buses are comfortable, and the 5 hours I had in Tirana were enough to get a good feel for the city. It is, of course, perfectly easy to spend a night in the city if you are travelling from Kotor and prefer a little more time to explore.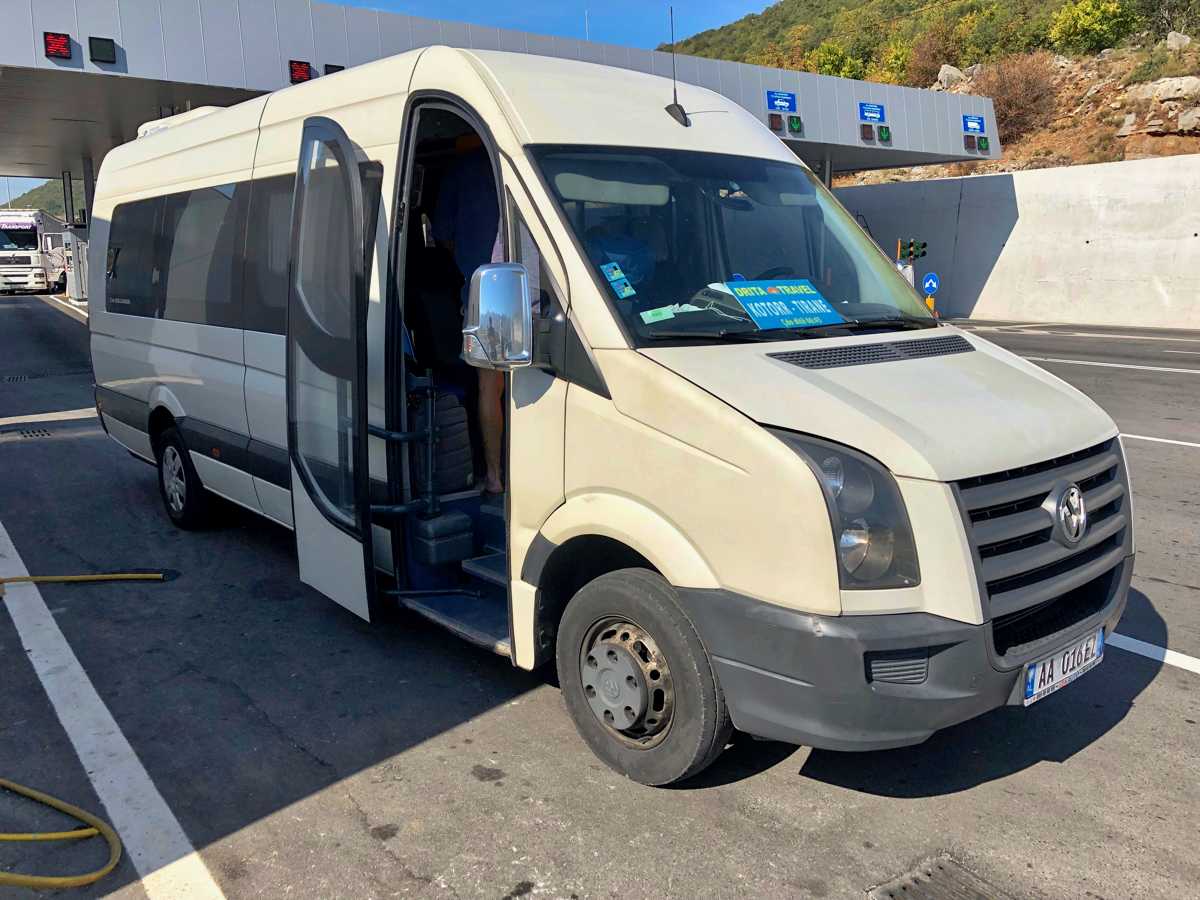 Taking the bus and crossing the border
I travelled from Podgorica, leaving from the small but efficient bus station where you can buy food and drink before your bus departs. Display boards indicate the stop where you will find your bus; Drita Travel's vehicles are small half-size coaches, clearly marked with the company name and route in the front window. Buses have space underneath for suitcases, and are clean and comfortable inside, with air conditioning and seatbelts. There is no need to arrive much in advance of your bus, as you can board right up to the departure time; bear in mind, though, that departures from Budva and Podgorica very much depend on traffic conditions, as they are not the first stops on the route.

The next destination from Podgorica is the Albanian border. Entering Albania was easier than getting back into Montenegro later in the day; make sure you have the correct travel document with you. The Montenegrin border agents were, in my experience, strict at all the border posts which I visited during my Balkan trip, and the Albanian border is no better or worse. Border guards will board the bus and collect passports, which will be taken away and brought back again. EU nationals will not get a stamp going into Albania, although they will get one heading back into Montenegro.

After the border, there is a stop in the northern town of Shkodër before striking south on a good dual carriageway to Tirana. En route there is a rest stop where coffee and food can be purchased; note that the Albanian currency is the lek, but in most places it is possible to pay in euro (the currency of Montenegro) if you don't have any local currency.

Arrival in Tirana is at the international bus station, which is approximately 20 minutes' level walk from Skanderbeg Square and the heart of the city. Make a note of your location, as this is where you will also pick up the bus for the journey back.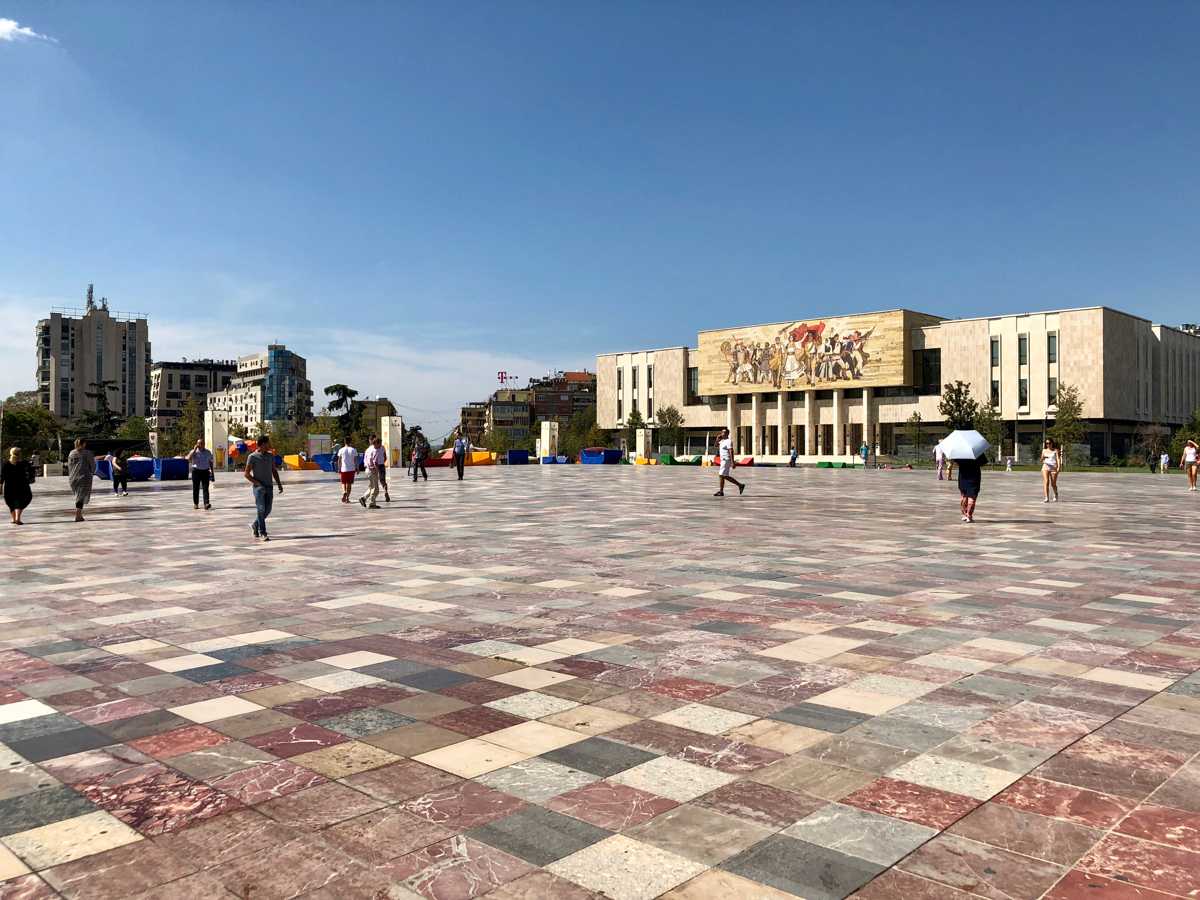 Things to do in Tirana
Now that you've arrived, it's time to decide what to see in Tirana! The city's main sights are close together and quick to visit, so it is possible to view the highlights in a tight window of time.
Read on to discover what to do in Tirana to see the best of the city in a few hours.
Take a free walking tour
I love a free walking tour. After all, they are "free" (or at least tips-based), so there is no commitment – if you're not enjoying it, you can move on and do something else. But they are generally a great way to learn about the city and meet a local or two.
Tirana, of course, has its own equivalent. Check out the details at Free Walking Tour Tirana!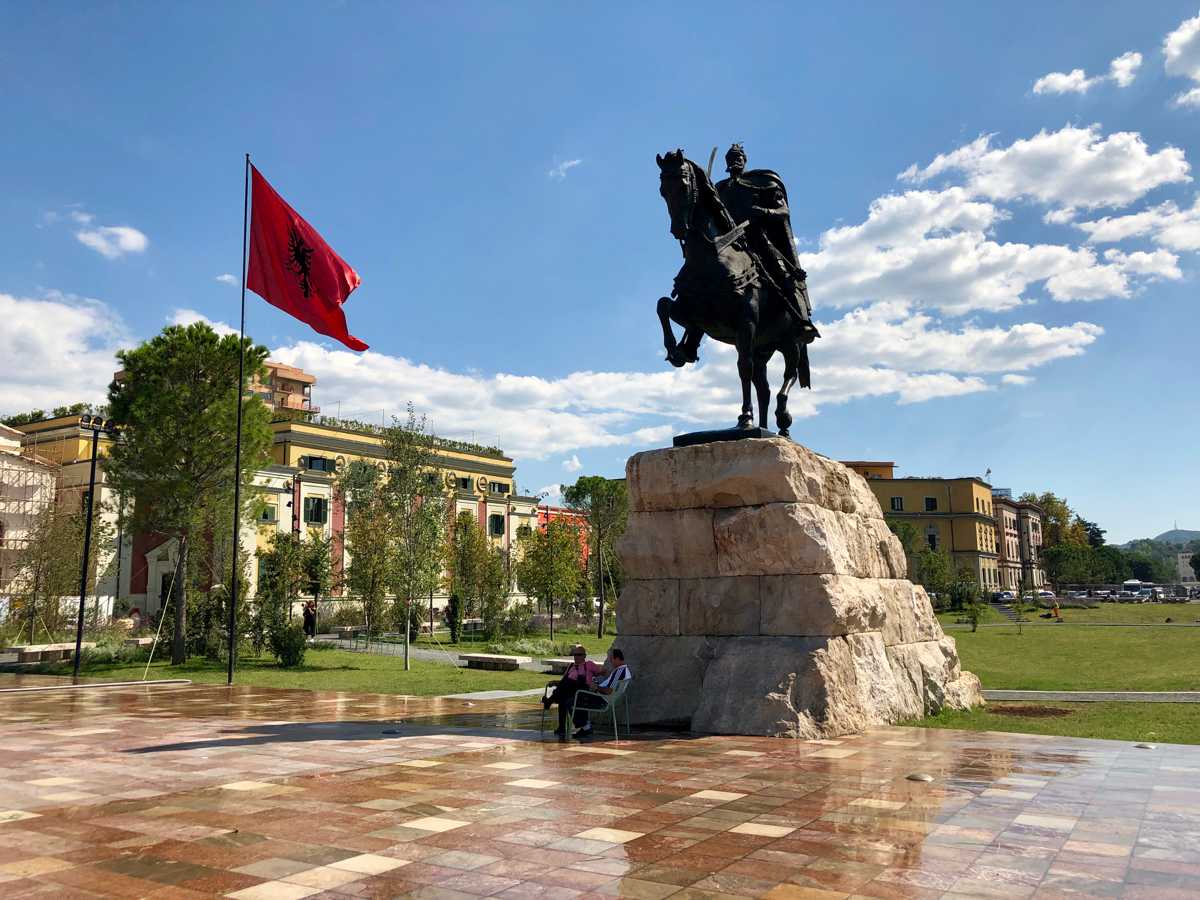 Skanderbeg Square
Probably the most popular of Tirana's things to do is a visit to Skanderbeg Square. This vast public space, in the literal and metaphorical heart of the city, has been recently renovated to provide a splendid arena for concerts, outdoor events and just hanging out on a warm summer's day.
Located around the outskirts of the square are the Et'hem Bey mosque, the National Museum of History, the city's iconic Clock Tower and the magnificent statue of Skanderbeg. Water features built into the square's surface both clean and cool the space in the summer months.
Statue of Skanderbeg
Skanderbeg was the nickname of George Castriot, an Albanian nobleman of the 15th century who became a renowned military leader under the Ottoman Empire. Albanians are proud of their famous son, and his statue has pride of place in the southeastern corner of the square that bears his name. With a massive Albanian flag as a backdrop, this is a must-visit location for anyone looking for an iconic image of the city.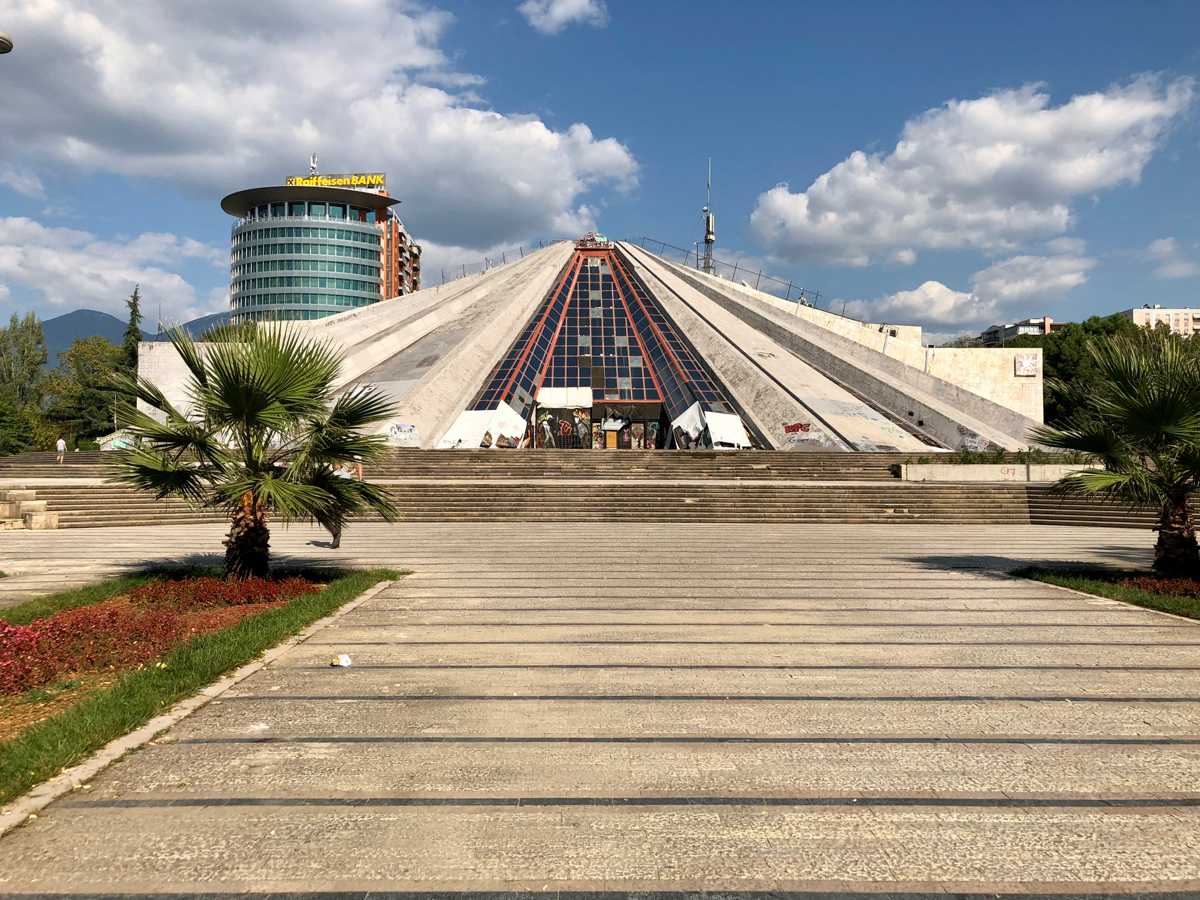 Pyramid
In the 20th century, Albania became infamous as one of the most hard-line socialist nations of Europe. Under the dictator Enver Hoxha, the country was closed to outsiders and its residents prevented from travelling abroad; Hoxha even broke Albania's alliance with the Soviet Union after the death of Stalin, believing its policies too lenient. The Pyramid, located on Bulevardi Dëshmorët e Kombit, was completed in 1988 and intended to serve as a museum of Hoxha's life following his death 3 years earlier. When Albanian communism crumbled in the 1990s, however, the pyramid fell into disrepair and is now a vandalised shell – perhaps a fitting tribute to the man who kept Albania isolated for so long.
Et'hem Bey Mosque
Located on the eastern edge of Skanderbeg Square, Et'hem Bey mosque dates from the late 18th century. Closed under Communist rule, it reopened in 1991 just as the socialist regime was starting to crumble; today it is restored as a place of worship for some of the 58% of Albania's population who identify as Muslim.
At the time of my visit, the mosque was closed for renovation. However, it is normally possible to visit; the mosque contains some unusal art including trees and other images not normally found in a Muslim holy building. Dress code applies.
Postbllok (Checkpoint)
A quirky destination in a very quirky city, Postbllok is a monument to some of the most tangible aspects of communism in Eastern Europe. Included are a small bunker of the type built by Enver Hoxha all over the country to protect from invaders; it is possible to enter the bunker and get your very own ankle-high view of the city from the gun emplacements. Close by is a remnant of the Berlin Wall which has been preserved here as another reminder of a period to which nobody wants to return.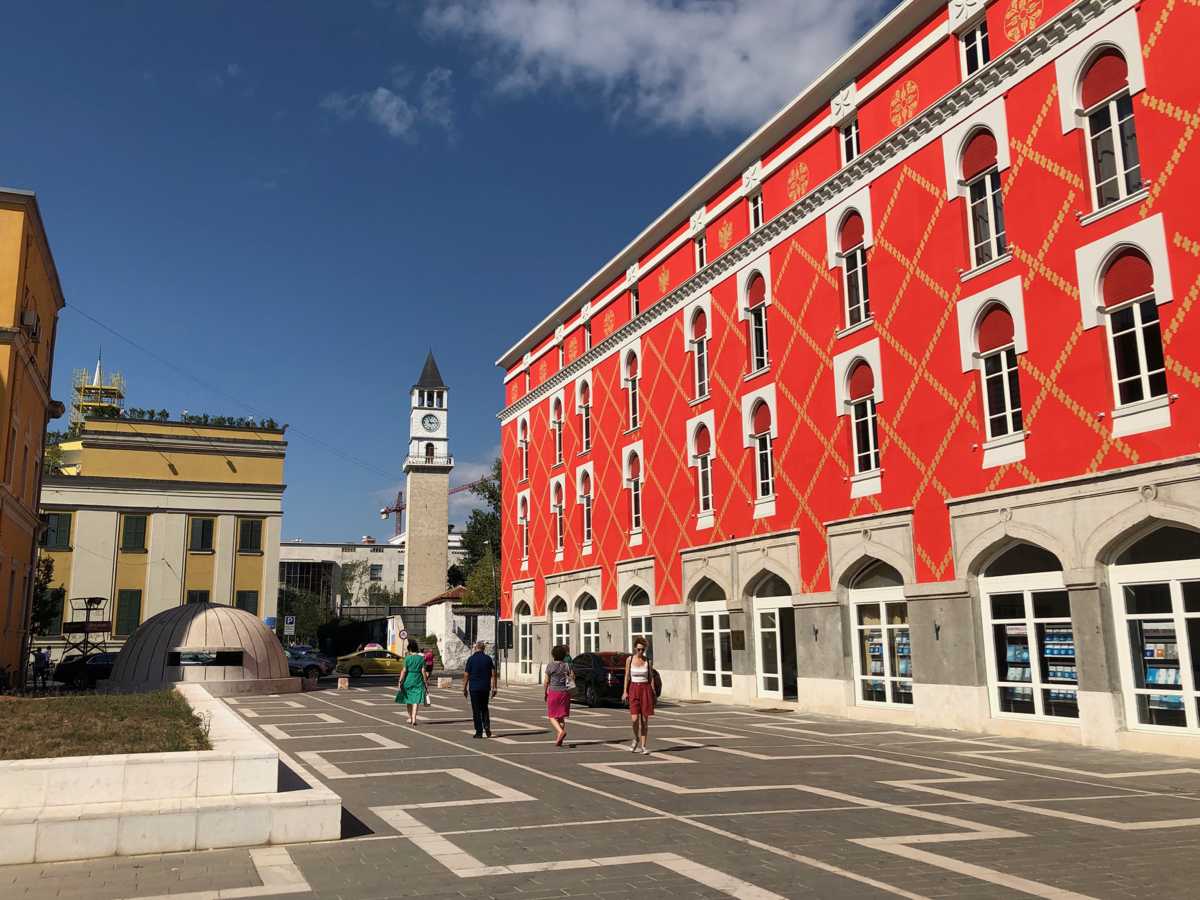 Restored historic buildings
It's easy to imagine Tirana as nothing more than a socialist concrete jungle, but there are some surprisingly beautiful buildings in the downtown which are even more impressive for extensive renovation and a serious coat of paint. Restoration is still very much ongoing, but a stroll to the south of Skanderbeg Square will both transport you back in time, and also demonstrate the pride that Albanian's have in their pre-communist heritage.
Mother Teresa Square
Home to the National Museum of Archaeology and the Polytechnic University of Albania, Mother Teresa Square sits at the end of the long avenue extending south from Skanderbeg square, and is the perfect place to turn around and head back to the centre of the city. Mother Teresa is known for her work in India, but she was in fact an ethnic Albanian (born and raised in what is now Macedonia), a fact of which Albania is naturally proud.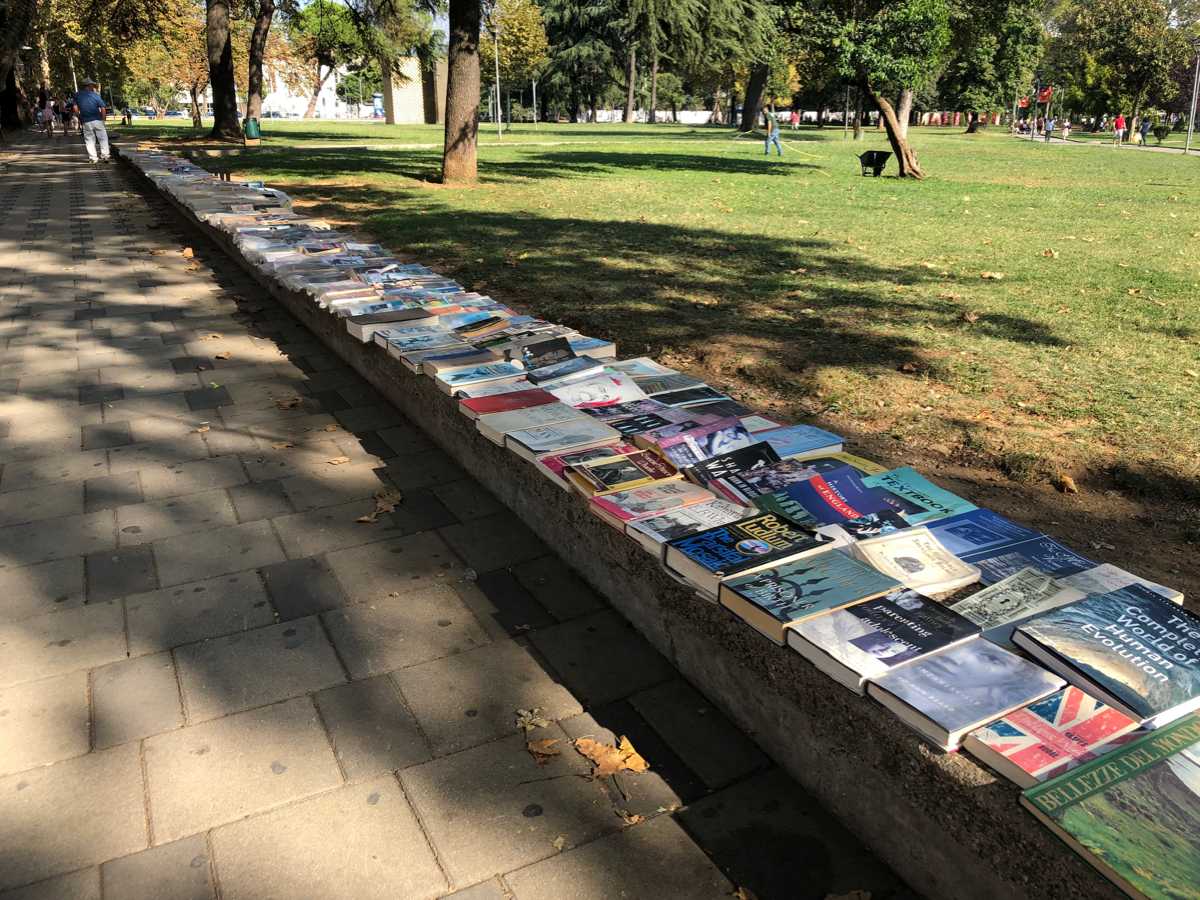 Park Rinja
As you head back to the centre, you will pass Park Rinja, a perfect place to stop and rest weary feet in one of the cafes. The park also plays host to booksellers who lay out their wares for passers-by in a throwback to communist times.
Pazari i Ri
Tirana's central market, Pazari i Ri is well worth a visit for a slice of genuine local colour. Once just a fruit and vegetable market, it has been renovated in recent years and a wide range of foods can now be found here. It's also a great stop for a bite to eat! Note that you will not be able to spend euro here, so make sure you have some lek to hand if you are only in the city for a short time.
I Love Tirana sign
It seems like every city has one, and Tirana is no exception. Snap a selfie in front of the I ♥ Tirana sign on Bulevardi Dëshmorët e Kombit for some serious bragging rights! The sign can be found on the western side of the road, on the edge of Park Rinja.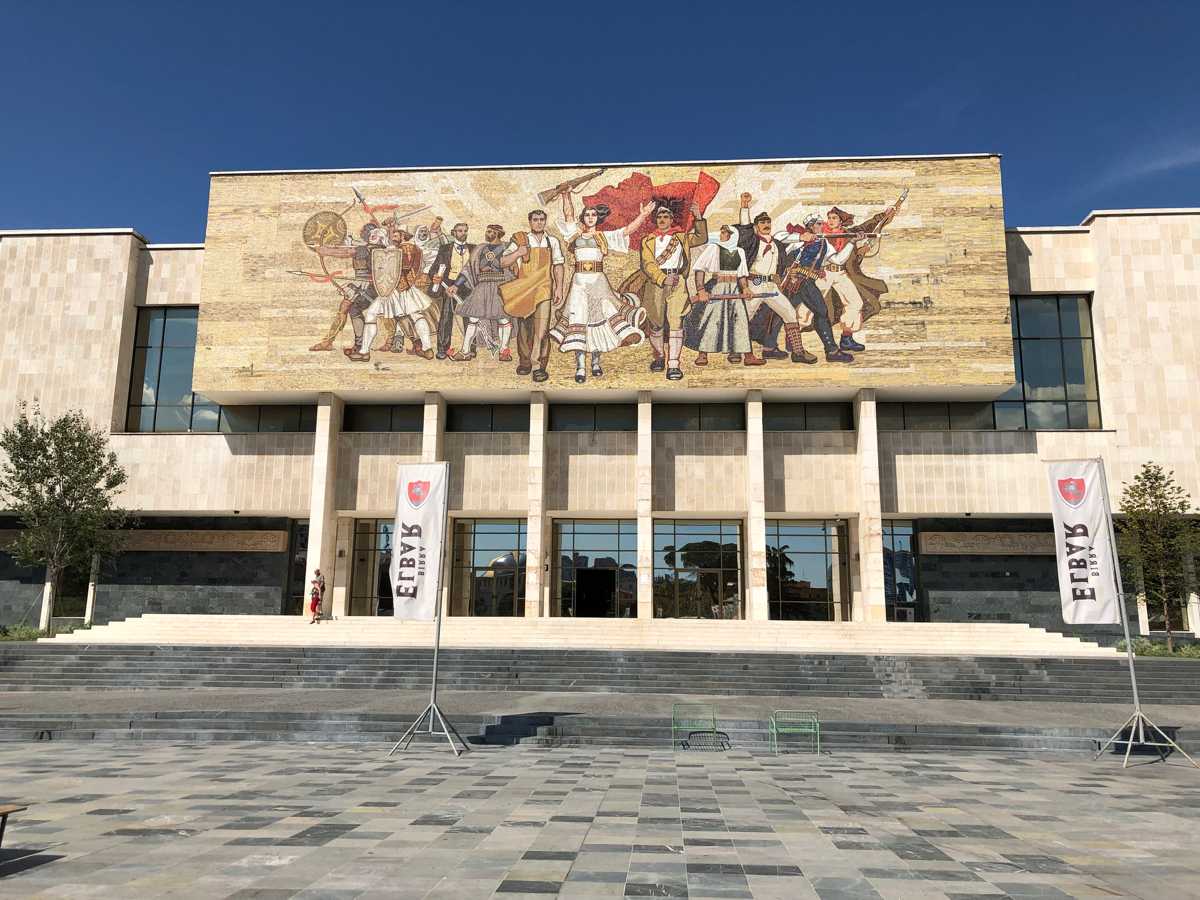 Tirana's museums
Tirana has a number of museums worth exploring, but if you are pushed for time, these two are worth a particular efford.
National Museum of History
Dominating the northern end of Skanderbeg Square, Tirana's National Museum of History explores the history of Albania from 60,000 years ago to the present day. Exhibits include Antiquity, the Middle Ages, Communist Persecution and the life of Mother Teresa. The museum is open every day except Mondays, and costs 200 lek to enter at the time of writing.
Bunk'Art 2
The smaller cousin of the huge Bunk'Art 1 museum located in Tirana's suburbs, Bunk'Art 2 brings this quirky museum to the city centre. Housed in a bunker originally constructed for the Ministry of Internal Affairs but never actually used, the museum uses video exhibits to document the persecution suffered by Albanians under the Sigurimi, Albania's secret police, from 1912 to 1991.
The museum is hard to miss at the southeastern corner of Skanderbeg Square; entrance costs 500 lek. The museum is open every day from April to September, and is closed on Mondays and Tuesdays the rest of the year.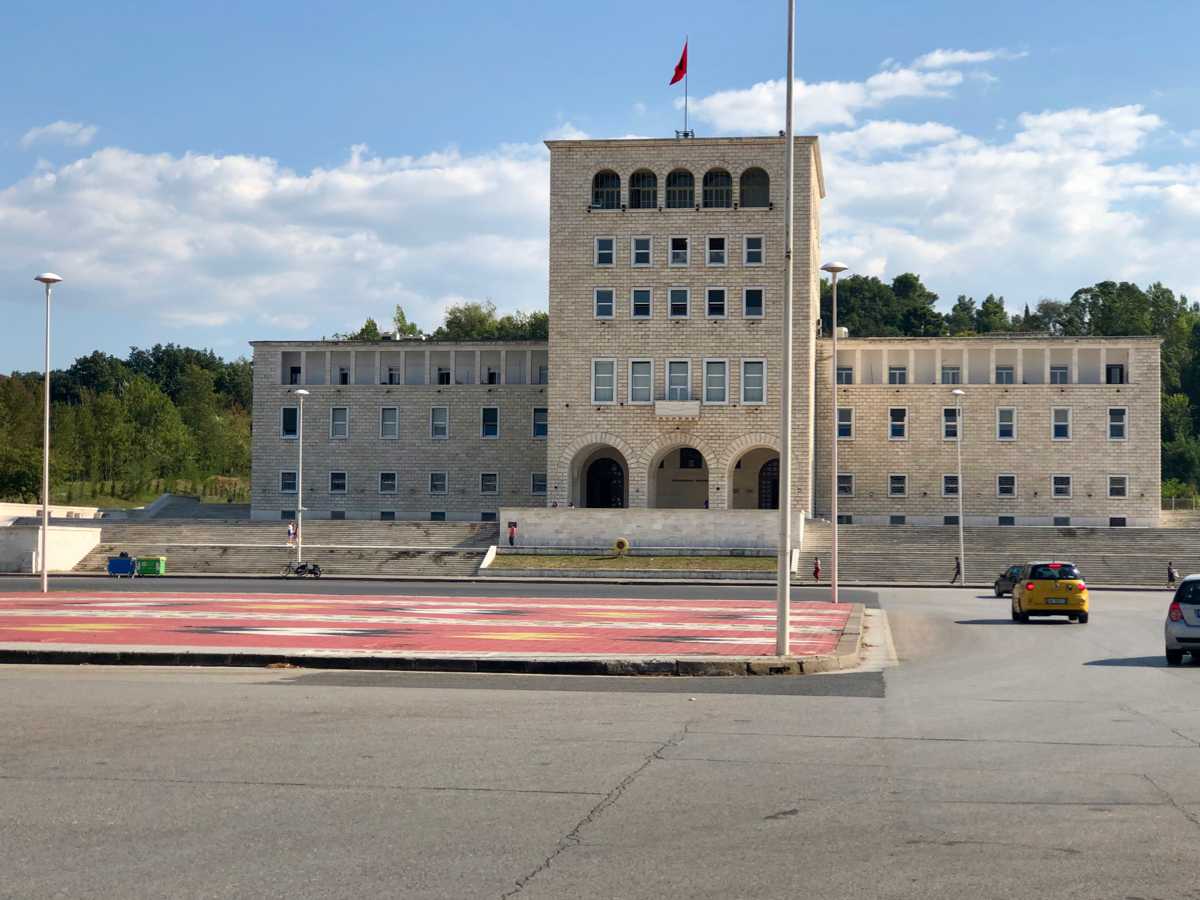 Where to eat in Tirana
There is a multitude of restaurants in Tirana to choose from, and you will be spoiled for choice. I ate at Bar Sabati, a small restaurant close to the clock tower and Et'hem Bey mosque, where I was served home-cooked food by a friendly local couple.

Café culture is strong in Albania, and western-style coffee houses are common; I can recommend Mon Cheri Bar just off Skanderbeg Square, where coffees and cakes are accompanied by free wifi and multiple electrical outlets for the essential traveller recharge!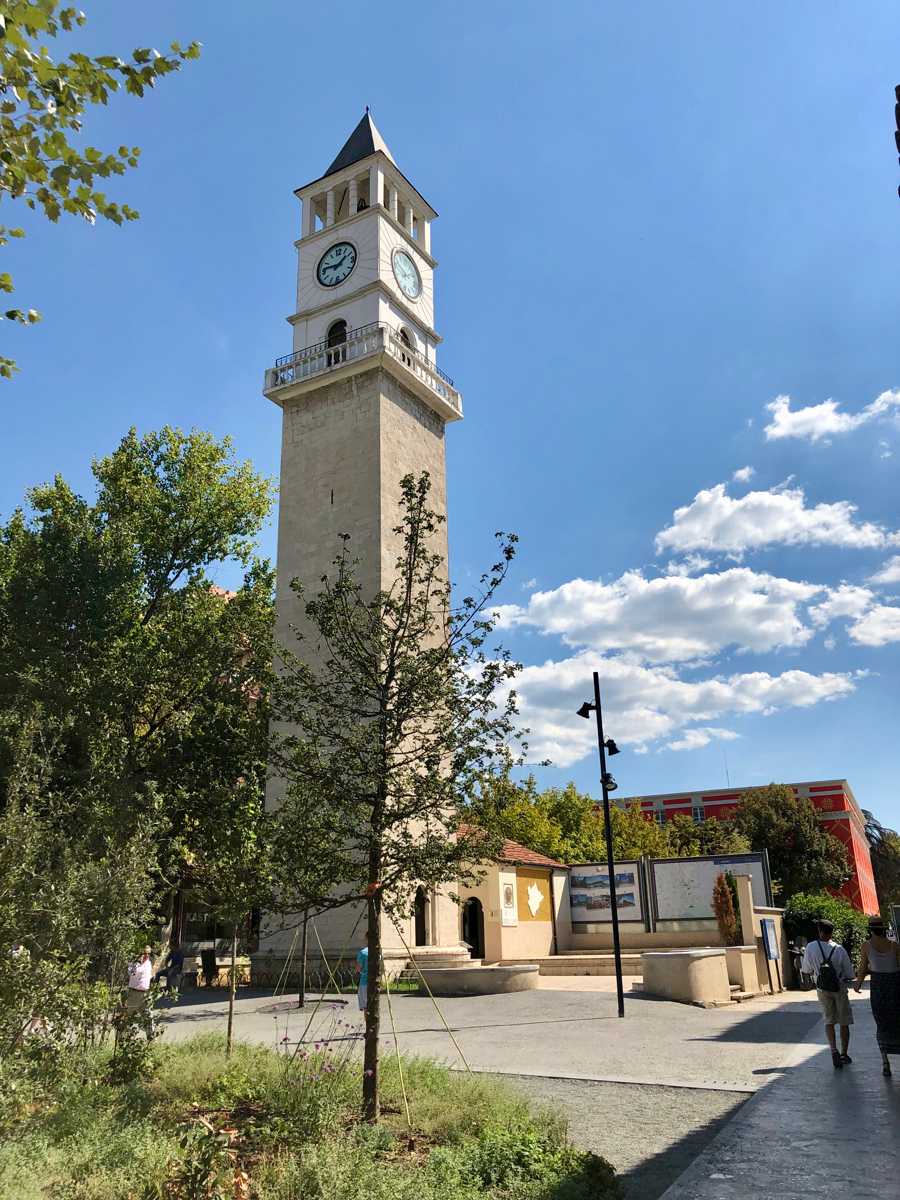 Language and money
The local language, Albanian, is unlike any other language in Europe. It is written using the Latin alphabet, so it is possible to pick out the odd word; luckily, though, most locals speak varying degrees of English, with young people being particularly fluent. No knowledge of Albanian is therefore needed, however it's always appreciated if you learn a few words.
The currency of Albania is the lek, which is used nowhere else in the world. It is easy to exchange money in Albania, and ATMs are plentiful. If you are visiting for the day as I was, it is also possible to spend euros in most shops and restaurants; change will be given in lek. Markets will likely only accept local currency.
Map of Tirana